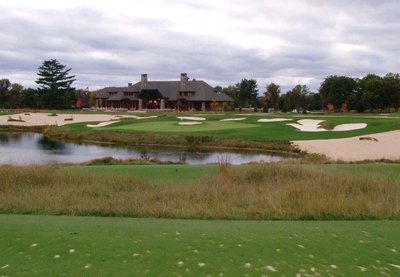 CBS Sports golf broadcaster Gary McCord's recent visit had him singing the praises of Pure Michigan when it comes to our favorite summertime landlubber sport. McCord made many visits to Warwick Hills Golf Club, in Grand Blanc, for the Buick Open both as a broadcaster and a professional golfer, but last week he got to tour around Northern Michigan and check out some of our renowned courses.
I met McCord years ago when I covered golf tournaments – and golf courses – across America for PGATour.com. Where would I have sent McCord, were I setting his itinerary, on his Pure Michigan vacation? He's a fun-loving guy, so I'd send him to my current favorite fun public Michigan golf courses:
FOREST DUNES GOLF CLUB, Roscommon. This dynamic Tom Weiskopf design races and jumps through the silent Huron National Forest like a runaway whitetail. Wide, fast running fairways flanked by cobblestone cart paths lead to classic, bunkered green sites with traditional barber striped flagsticks with red flags. The layout and strategic angles have golfers calling their shots like billiards players, and the pristine course is just about as manicured as a pool table; I spotted course superintendent Jim Bluck, who has been nurturing the grounds for a decade, on his knees hand-trimming the grass around a tee marker with scissors and a brush! Holes such as the sixth and tenth, aptly named "Gamble" and "Decision," offer multiple fairway options, and the short par-four 17th presents a drivable green. Go get 'em! An expansive, pleasant and thorough practice facility encourages you to spend the day in this fortress of solitude. On-site luxury home rentals include a Monday-Tuesday Special offering two nights lodging and two days of unlimited golf for only $319 per-person! See www.ForestDunesGolf.com
RED HAWK GOLF CLUB, East Tawas. It's an adventurous trip through towering trees and down hundreds of feet into nature's deep valleys. Arthur Hills clearly amused himself when designing this rollicking, risk-reward ride. Stand at each tee and smile at what you see; then buckle up! Red Hawk's property is quiet as a church, and the deer, foxes, and eagles are right at home. See www.RedHawkGolf.net
Other Michigan "fun favorites" include Treetops Resort's Tradition Course, in Gaylord; Tullymore Golf Club, in Stanwood; The Arthur Hills Course at Boyne Highlands, in Harbor Springs; Mountain Ridge Course at Crystal Mountain Resort, in Thompsonville; Eagle Eye Golf Course, in Lansing; and The Jewel, Grand Hotel's golf course on Mackinac Island.
My favorite fun "19th hole" post-round stop is The Frog Tiki Bar at Houghton Lake's Springbrook Inn. Though it's just six miles west of I-75 on M-55, thirsty travelers are virtually transported to the Caribbean by the island décor, constant Jimmy Buffett music and videos, and frozen drink specials. Though land-locked, owners Matt and Kathy Grover set sail for fun and whimsy in the pines daily at 3pm in the summer and weekends through October. Log on to www.SpringbrookInn.com
Michael Patrick Shiels, who hosts a statewide morning radio show, may be contacted at MPSbigshow@aol.com