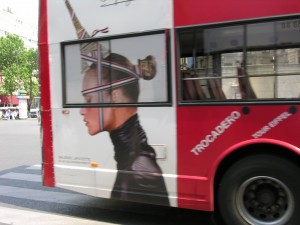 Some might opine that "budget Paris" is an oxymoron. I beg to differ. Many of the pleasures in the city that Ernest Hemingway described as "a moveable feast" are free and there are savvy ways to save. And just because you haven't won the lottery doesn't mean you can't indulge in a few frivolous fantasies—especially if you're not spending a fortune on a hotel room.
Thanks to a previous job that sent me to Paris at least twice a year I've stayed in dozens of hotels—from a few five-stars (back in the good old days of expense accounts) to mainly budget properties on the Left Bank. Some were so snug I could touch both walls from a narrow bed; others so noisy I had to sleep with the TV on full volume to drown out the street noise.
Finally, I've found a terrific, inexpensive gem in the fifth arrondissement. I almost hesitate to reveal my discovery for fear that it will be fully booked when I next want to check in. But I'm feeling magnanimous, so put this in your Paris file and book far in advance.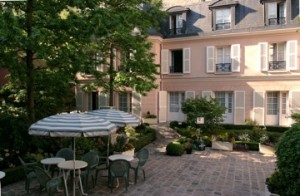 Hotel des Grandes Ecoles (75, rue Cardinal Lemoine ) has 51 rooms ranging from €120 to 150. Décor is grandmother-style but rooms are comfortable and immaculate with wi-fi. Some, on the main level, open right out into the garden. What's sets this apart from most budget hotels is the idyllic, peaceful location down a cobblestone path leading to a Provence-style courtyard garden where guests mingle and enjoy alfresco picnics.
Proximity to the Sorbonne explains the hotel's name. The Metro Cardinal Lemoine is two minutes away. The Bastille, Luxembourg Gardens, Notre Dame Cathedral and more delights of the Latin Quarter are all nearby.
One pleasant evening I was sitting in the garden trying to decide where to go for dinner when I struck up a conversation with a New Yorker, also traveling solo. From her bag she produced a sumptuous feast, all purchased two minutes away on the lively Rue Moufftard. She invited me to share her paté, goat cheeses and crusty baguette.
I decided to go foraging too. Rue Moufftard is crammed with inexpensive restaurants, bars and cafés, plus butchers, bakers, fromageries, fruit vendors, chocolate makers and more. There's also a library, laundromat and a store called Kin that sells funky fashions from Nepal. At the wine store Madame keeps a tempting stock of chilled bargain Champagne.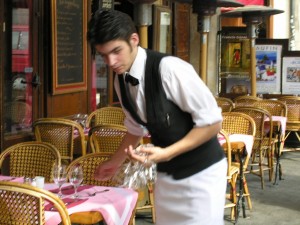 I also explored my local restaurants. Taking the advice of Marie, the chic hotel director, I headed to Le Petit Pontoise (9, rue de Pointoise), a cheery bistro with the menu listed on blackboards. An immense artichoke steamed and served with a mustard sauce preceded a perfectly pink rack of lamb with a herbed crust served over roasted vegetables. Other specialties include duck parmentier—a sort of gourmet shepherd's pie consisting of layers of duck confit and potatoes topped with foie gras. But who's counting calories in Paris?
I also found a dud. The Brasserie Balzar offered mediocre food and the kind of arrogant service that gives dining in Paris a bad name. They sat me at a table so close to the people beside me I was tempted to snatch a frite from my neighbour's plate. My bill arrived with an addition error (€20 too much) and it took 40 minutes to have it rectified without so much as  a "je suis désolé."
Opened in 1686 and touting itself as one of the oldest eateries in the capital, Le Procope's (13, rue de l"Ancienne Comédie ) distinguished patrons have included Voltaire, Balzac and Hugo. It's filled with portraits and busts of famous literary figures and the service is friendly and flawless. This is your place to splurge on a seafood platter or their three-course Philosopher's Menu for €35.
On another wander near my hotel I discovered the Paris Mosque (39, rue Geoffroy Saint-Hilaire ) across from the Jardin des Plantes.  Apart from being a place of worship, the Mosque houses a tea salon, Moroccan-style restaurant, souk and hamman where you can buy a package (€38) that includes entry into various steam rooms, a paquet of black olive soap, a gommage, massage and cup of mint tea. An extra €20 buys an exotic tagine or couscous lunch.
The décor is right out of Arabian Nights with mosaic tiles, trickling fountains and filigreed lanterns. The vibe is a bit confusing unless you speak Arabic. My feeble French worked just fine everywhere else in Paris but not here. Resorting to sign language I finally found the change room where lockers require a one Euro coin. Eventually I pulled on my bikini bottoms (bathing suit or bottoms are mandatory) and steamed away with a bunch of topless women. After applying the black soap and I took a shower and waited in line for the gommage. There are no private rooms here, so if you like your privacy this may not be the place for you. I climbed onto a plastic table while a fierce looking woman wearing a glove with the texture of a pot cleaner scrubbed me from head to toe. While she exfoliated she screamed at her colleague across the room.
I showered off a ton of dead skin and proceeded back to the entry room where an equally fierce looking masseuse gestured me to climb aboard her table. She too spent the entire massage yelling at her colleague. However, she did take a break long enough to whisper in my ear en français, that if I slipped ten more euros into her pocket she'd give me a much longer massage. This French I understood. Her technique was excellent, so I agreed.
Should you decide to visit the hamman check their website for women's' and men's' hours, bring your own towel, bathing suit, soap, shampoo and hair dryer…and a sense of humor.