It's looking like 2011 is going to be one of the worst years for golf course superintendent firings in recent memory. Already a number of high-profile golf clubs, mostly in the Northeast, have axed or allowed their superintendent to depart.
The two biggest names to get let go were Mark Michaud, the long-time superintendent at Shinnecock Hills Golf Club, and Matthew Burrows at Winged Foot Golf Club.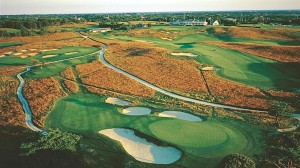 The Michaud firing came as a complete surprise to many including the tightly knit superintendent community of eastern Long Island. Shinnecock hosted the 2004 U.S. Open with Michaud at the helm.
As one superintendent told me of Michaud's work, "He always put out a great product."
Other clubs looking for superintendents include Rhode Island Country Club, which hosted the U.S. Women's Amateur this year, Wykagyl Country Club, New Rochelle, N.Y., Worcester (Mass.) Country Club, The Patterson Club, Fairfield, Conn. and Canterbury (Ohio) Golf Club.
The word is that the firings are not over. One person I spoke with who has a handle on the golf turf industry across the country predicted, "(there's) more to come."
(Photo: Shinnecock Hills)