For me, one of the fascinating aspects of researching historic golf courses and their stories is the writing found in newspapers. In the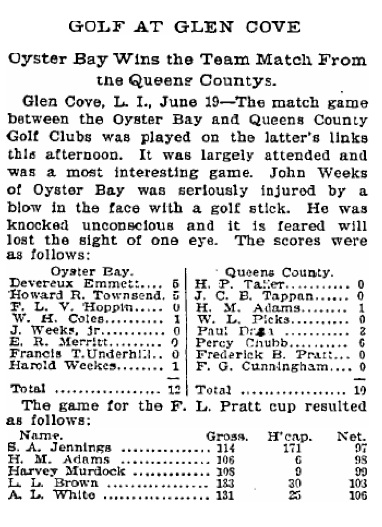 era before World War II and stretching back to the late 1800s, what was considered news and how it was covered by the various daily and weekly newspapers is much different from today.
This story from the June 6, 1897 issue of the Brooklyn Daily Eagle is a perfect example of how information was conveyed then and what was considered important. The plight of John Weeks was only written up in this story and never found its way to the news section of the paper. In the issues of the Daily Eagle following the accident, I could find no follow-up to how he fared. It seems apparent the golf match between Queen County Golf Club, now known as Nassau Country Club, and Queens Bay was more important than poor Mr. Weeks.
In the scores below the article Harold Weekes is listed as a member of the Oyster Bay team. He might have been a relative of John Weeks. I found Harold in another story listing him as a member of Oyster Bay, but without the third e in his last name. If he was related to John, he obviously so no need to make sure John was getting proper medical attention and went ahead with his match, which he won.
At the time, the "crack" player for Oyster Bay was Devereux Emmet who would later have a fine career as a golf course architect. He was the designer of Oyster Bay and the original Queens County layout, which Seth Raynor modified in 1914.