The finding of the emerald ash borer east of the Hudson River may not be all bad news. According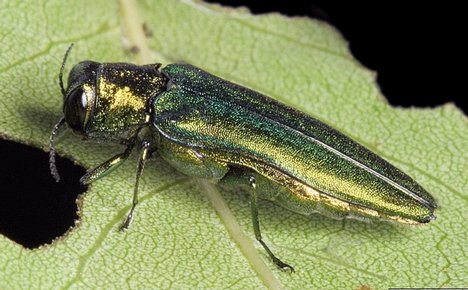 to this story by the Associated Press. The insect has the potential to destroy every ash tree in North America.
"But the discovery of an emerald ash borer infestation in the Dutchess County village of Rhinecliff last month may signal a victory in the battle to stem the pest's spread: Foresters believe the colony was caught less than a year after it got established, a big step given that the beetle can go unnoticed for years."
According to the Wikipedia entry on emerald ash borer found by clicking here, "The potential damage of this insect rivals Chestnut blight and Dutch Elm Disease. Since its accidental introduction into the United States and Canada in the 1990s, and its subsequent detection in 2002, it has spread to 14 and adjacent parts of Canada. It has killed at least 50 to 100 million ash trees so far and threatens to kill most of the 7.5 billion ash trees throughout North America. The emerald ash borer is now one of the most destructive non-native insects in the United States; it and other wood-boring pests cause an estimated $3.5 billion in annual damages in the U.S."
A detailed explanation of the emerald ash borer infestation, including how home owners can identify it, can be found here.
One theory on how the insect arrived in North America says that the bugs came via wooden pallets that had been improperly treated at their point of origin, most likely China.