I was surprised and happy to see that the Lyman Golf Center, a Mark Mungeam design, that I wrote about is one of the honorees of the ASGCA's Design Excellence Recognition Program. You can read about the Mungeam course by clicking here. (The second hole is pictured.)
Here is a portion of the ASGCA press release.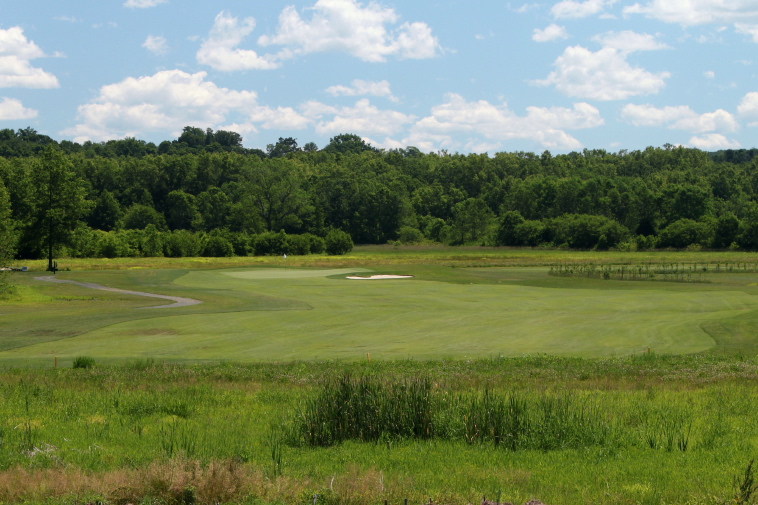 The Design Excellence Recognition Program shines a light on the innovation and problem-solving skills required of today's golf course designs, whether the project is a "small" bunker renovation or a full-scale 18-hole layout.
All of the nominations were reviewed by a panel of golf industry leaders, including representatives of the Club Managers Association of America, Golf Course Superintendents Association of America, Golf Course Builders Association of America, National Golf Course Owners Association and "Golf Digest" architecture writer Ron Whitten.
Lyman Golf Center, Middlefield, Conn./Mark Mungeam, ASGCA: A challenging economy placed Golf Center development on hold. So, a multi-season practice tee area was implemented as a revenue boost and parking was reduced to accommodate a large putting "course" for young families. Also, approval from the local Wetlands Commission allowed for construction of less-expensive, pier-supported bridges at various course locations.
Bowes Creek Country Club, Elgin, Ill./Rick Jacobson, ASGCA: A "smart growth" initiative by the City of Elgin required an alliance of multi-disciplinary professionals to oversee its sustainable development. The layout was inspired by the prairie/savannah landscape of the region, and buffer zones adjacent to the creek were planted with native prairie grasses to filter surface runoff.
Granite Links Golf Club, Quincy & Milton, Mass./John Sanford, ASGCA: The project took 10 million cubic yards from the famous "Big Dig" site, used the material to close two landfills and built 27-holes of golf with incredible views of the Boston skyline, harbor and Blue Hills. It also reduced the excavation disposal budget for the Boston Central Artery project by $100 million.
Mira Vista Golf & Country Club, El Cerrito, Calif./Forrest Richardson, ASGCA:  Execution of a comprehensive Master Plan based on members' desires to restore the original 1920 design by Robert Hunter, manage overgrowth of trees, and reduce water consumption by 20 percent. Results included 19 fully restored greens, 44 restored bunkers, reconstructed tee complexes and conversion of selective turf areas to drought tolerant native grasses.
Phillips Park Golf Course, Aurora, Ill./Greg Martin, ASGCA: The 80-year-old facility, part of the city's parks department, had a dwindling market share. An Improvement Plan included modernization and full golf course reconstruction, clubhouse, parking relocation, practice facilities and three-hole junior course that serves as a First Tee facility.
The Eagle Course, Twin Eagles, Naples, Fla./Steve Smyers, ASGCA: The course needed a renovation that would relocate greens to increase visibility and variety, redefine landing areas for more shot options and other design refinements. The solution was to shape holes and orient tees, landing areas and greens complexes to the natural movement offered by the lakes, woodland edges and dome-shaped wooded wetland areas.
(Photo: Brett Zimmerman)