Chris Tritabaugh, the superintendent at Northland Country Club in Duluth Minn., has been named the superintendent at Hazeltine National Golf Club in Chaska, Minn., replacing long-time superintendent Jim Nicol.
"Hazeltine National had over 130 candidates apply for the golf superintendent position.   Chris was offered the position because of his agronomist practices, familiarity with the climate in this region, operating style, attention to detail and skills in maintaining course conditions," said Hazeltine member Jim. N. Andersen in an email.
He would not comment on the circumstance of Nicol's departure but wished Nicol's "the very best," after 15 years of employment at Hazeltine.
In an email, Tritabaugh said he is thrilled with the opportunity.
"As a Minnesotan it gives me a tremendous amount of pride to be given the privilege of plying my trade at the highest level of Minnesota golf. Hazeltine is the standard bearer for golf in my home state and I am honored for this opportunity," he wrote
This will be quite a change for Tritabaugh who had much to do with the restoration of Northland, a Donald Ross design. Not only will Tritabaugh be moving hundreds of miles south, he'll also be the head man at a somewhat modern golf course. Hazeltine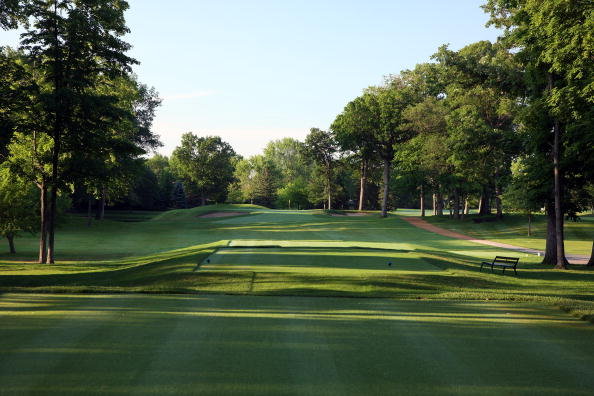 opened in 1962 and is a Robert Trent Jones design. It has undergone significant renovations over the decades, the most recent alterations were performed by Jones's son, Rees Jones.
Tritabaugh spearheaded much-needed tree removal during his at Northland as he sought to recapture the openness of the original Ross layout . Hazeltine prides itself in being tree-lined.
Another difference between Tritabaugh's past and future is that while Northland was a quiet club well away from the limelight, Hazeltine has been in the spotlight almost since it opened.
The club has hosted the U.S. Women's Open (1966, 1977), U.S. Open, (1970, 1991), PGA Championship (2002, 2009) the 1983 U.S. Senior Open, the 1996 U.S. Mid-Am and the 2006 U.S. Amateur.
The next time Hazeltine is scheduled to be on the international stage is in 2016 for Ryder Cup.