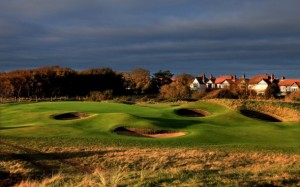 Peter Aliss, while on the air with ESPN, Thursday morning said that Royal Lytham & St. Annes does not make the grade as a links golf course.
"This isn't links golf, you see. We could move this course 25 miles inland. It's soft. You don't see the grass as greens as this. The fairways are soft, (golf balls) not bouncing off into he rough. The greens are medium slow. That's not link golf. But it's still beautiful golf and the course is in magnificent condition considering all the rain. You can't do anything about, you know, weather conditions."
Aliss made the point of saying, though, that he loves the club. Taking the Old Course at St. Andrews out of the equation, he likes Royal Lytham best of all the Open rota venues.
"This is my favorite. This is one where you'd be a member. cause everything is comfortable and cozy. It's attractive. It's not a monster course stretching out for miles. You can play permutations of little holes, get back to the clubhouse. It's fun."