Prior to his winning the 2010 Travelers Championship for his first PGA Tour victory, Bubba Watson was considered a massive underachiever. Since notching that victory, though, Watson has lived up to the expectations that followed him for years.
He won twice in 2011 and this years was crowned Masters Champion with a dramatic playoff victory highlighted by a mind-boggling slinging approach from the woods to the right of the 10th fairway at Augusta National Golf Club that landed on the green, securing him a par and the green jacket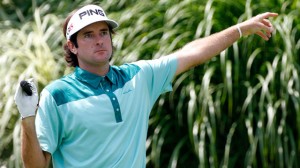 .
Because of that shot and others like it, Watson has been anointed a player with not just loads of talent but also a magnificent imagination. While he may hit shots that few others of his counterparts can, I think the imagination aspect is overblown.
For instance, speaking at the 2011 Travelers Championship media day, Watson told the assembled, in response to a question of mine, that his driver is set for him to only be able to hit fades, that it is literally impossible for him to hit draws with it. If he needs to turn it left to right (he's a left-hander) Watson has to hit whatever fairway metal is in his bag that day.
Adding to my doubts about Watson's thinking was this answer Sunday in response to a par he made at TPC River Highland 15th. The hole is a drivable par-4 that extends back to about 300 yards. On Sunday, with the tournament leaders folding  or about to fold, Watson was climbing the leader board when went for the 15th green, knocked it deep into the pond left of the green and made a four, missing a playoff with eventual tournament winner Marc Leishman by one. Watson shot a 5-under-par 65.
In the press room after the round, Watson was asked,  "Was there any thought to laying up there?  Did you feel like you need to maybe eagle given some of the numbers out there today and your position?"
He response, I find brain boggling.
"No.  I hit 4‑wood.  I carry a 4‑wood, not a 3‑wood in there.  It really doesn't go that far, maybe get to the front of the green if I hit it perfect.  So it's kind of like a lay‑up anyway," he said. "But I've hit it in the water so many times and made par so many times after hitting the water, so I'm used to it.  So my caddie said, 'you're probably still going to make par.'  I said 'yeah,  I'm used to hitting it in the water.  So I'm good.'"
The pin was back left on the green for Sunday's play. Had Watson, in fact, laid up,  put his short approach on the green and two-putted, he had another chance of victory. At least with that route he had shot at birdie. By hitting 4-wood, he all but gave up on the idea of making anything less than par.
CBS announcer Ian-Baker Finch sent a wave of chuckles through the Travelers media area late in Sunday's round.
Third-round co-leader Roland Thatcher carded a two-over 37 on the front nine but came alive on the back. He birdied 12, made eagle on 13 and parred 14 to put himself right back in the hunt. On the 15th, though, his tee shot went way left of the green—way, way left, landing well into the pond.
"It wasn't a bad hit," Baker-Finch opined, bringing a moment of levity to the press area.
This from the PGA Tour:
The PGA TOUR Policy Board on Monday granted a full allocation of FedExCup points to the PGA TOUR's fall tournaments beginning with the newly reconfigured 2013-2014 schedule. The PGA TOUR season will begin in October 2013 with the current Fall Series and conclude in late September 2014 with the TOUR Championship.

"With the fall tournaments moving to the front end of the PGA TOUR schedule, the Policy Board believes the next logical step is for these tournaments to kick off the FedExCup and begin awarding full points," said PGA TOUR Commissioner Tim Finchem. "All of these tournaments have been very successful and certainly deserve to be part of the FedExCup competition."

With respect to the system to determine the 50 PGA TOUR membership cards through the Nationwide Tour beginning next year, the Policy Board reviewed three options and decided to seek further input and feedback from the PGA TOUR and Nationwide Tour Player Advisory Councils before making a final decision.