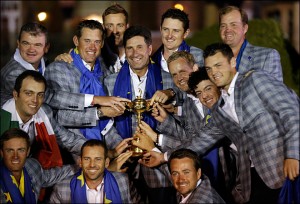 My friend Brett Zimmerman compiled these numbers from Sunday's Ryder Cup singles matches. It it easy to see why Europe produced the biggest comeback in the competition's history.
Europe made 3 eagles and 48 birdies, US had two eagles (both by Jason Dufner) and 42 birdies.  Europe was -25 and the US -14.
The biggest discrepancy came in the first 5 matches out, all Europe victories.  Europe made two eagles, 26 birdies, and seven bogeys while the US made 19 birdies and 12 bogeys.  Europe was -23 and the US was -7.
They must have finally adjusted to the green speeds.
It was mentioned how the final two matches had four guys who had earned 0 points in the team matches.  Easy to see why, on Sunday all 4 were +1 for their rounds.