In no uncertain terms, , James R. Hansen's A Difficult Par,  the biography of Robert Trent Jones, is a must read, indispensable golf literature.
Jones, who designed and remodeled hundreds of golf courses around the world in a career that began in the 1930s and ended in 2000, is one of the most influential members ever in the world of golf, not just golf course architecture, but golf in general.
The title comes from Jones's one-dimensional theory that a golf hole should be a difficult par but an easy bogey.
At times, this meticulously and scholarly researched book isn't easy reading—because of the subject matter and not the well-written prose.
There are many facets of Jones do deride. For instance, from the very beginning Jones was employing questionable business practices so that he was in effect billing his customers twice. There were shadow companies, some located outside the United States,  set up to hide money. Then there was his lifelong drive to be "the most famous golf course architect in the world," which appears to have fueled his desire to wipe away as many Golden Era (before 1960) designs that he could through renovation. His sons, Robert Trent Jr. and Reese, both golf course architects, have been estranged for almost all of their adult lives and each battled with their father along the way.
What is most disconcerting about Robert Trent Jones is his blatant not just disregard but dismissing of any architecture besides his own. He talks a good game and bows to the correct touchstones (The Old Course, St. Andrews Scotland, Pine Valley in New Jersey and National Golf Links of America on Long Island), but in his work  he shunned the designs of Charles Blair Macdonald, Donald Ross, A.W. Tillinghast, Alister Mackenzie, who he claimed was his favorite architect, Seth Raynor and any other designer from that era whose work he encountered.
If he had to incorrectly portray the work of those who came before him in an effort  to put bolster his theory of "modern" design, then so be it.
Hansen quotes Jones as describing early layouts as "old penal style architecture, where the green were flat and surrounded by a maze of clam-shell traps with a bottle neck-entrance and where only one problem was involved—the golfer had no choice other than to hit a perfectly executed shot to the green."
It's a crock. Jones was more detailing his designs than those of the great golf courses in the U.S. and Great Britain.
In the United States, Golden Era architects were heavily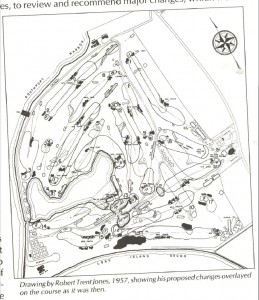 influenced by the links course of Great Britain. When they designed layouts, the majority of their greens had wide openings in front so the ball could be played on the ground, a hallmark of links golf, They also frequently created a preferential path to the hole, setting up a preferred side of the fairway, usually guarded by trouble, from which to approach the green. Jones and his staff repudiated those classic tenets on their own designs and when renovating the work of others.
According to Hansen, in 1953 Jones considered 80 percent of the 5,000 courses in the United States, "out of date." When one realizes that many of the the country's finest designs were not yet 30 years old and some were barely 20, Jones's assertion is ludicrous.
"I spent a lot of time taking out cross-bunkering and other penal attributes of the older courses and putting in options that would help those (high-handicappers) players. In effect, I was cleaning up architecture," Jones said.
If he meant cleaning in the way one cleans or guts a fish, then he was correct, he was cleaning.
Thankfully, dozens upon dozens of layouts have seen the errors of their ways and undone the work of Jones. In many instances, though, his evisceration is beyond repair, even at high-profile courses like the Country Club of Fairfield (Conn.) where Jones eradicated the Biarritz green.  The trademark swale is now part of the 10th fairway. (The Jones plan for Fairfield, a Seth Raynor design, is above. Not all of his suggested modifications were adopted by the club.)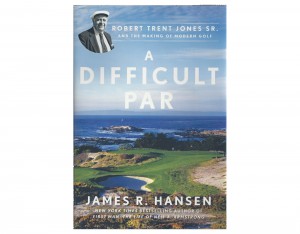 Ironically, Rees, who according to RTJ rejected his advice and theories on design for his entire working life, has been hired a number of times to renovate RTJ's work. In redoing many of his father's courses Rees substantially altered the design including green surfaces.
If there is one gap in A Difficult Par, it is that there is little chronicling of what great golf courses Jones visited or played here or in the U.K. He apparently saw Pine Valley, he worked at National and there is a reference to the ninth green, the Biarritz, at Yale, but little else. So, other than traveling to the U.S. Open, which in some years was played on a standout design, did Jones specifically visit layouts to study them? Jones was also was in Europe quite frequently and worked in Ireland where he produced one of his most maligned designs next door to one of the world's greatest courses, Ballybunion, but no mention is made of him ever visiting other Irish layouts while there or even venturing over to Scotland at some point in his many trips. Could it be possible he never visited the Old Course?
If Jones had seen it, he probably would have considered it archaic and out of date.