Of all the large cities I've set foot in my life, New York is unquestionably my least favorite. I've been there perhaps 30 times, enough visits to know that if I'm within the confines beyond 24 hours I feel as if I'm a worse person, morally, intellectually and spiritually.
I wish I were kidding.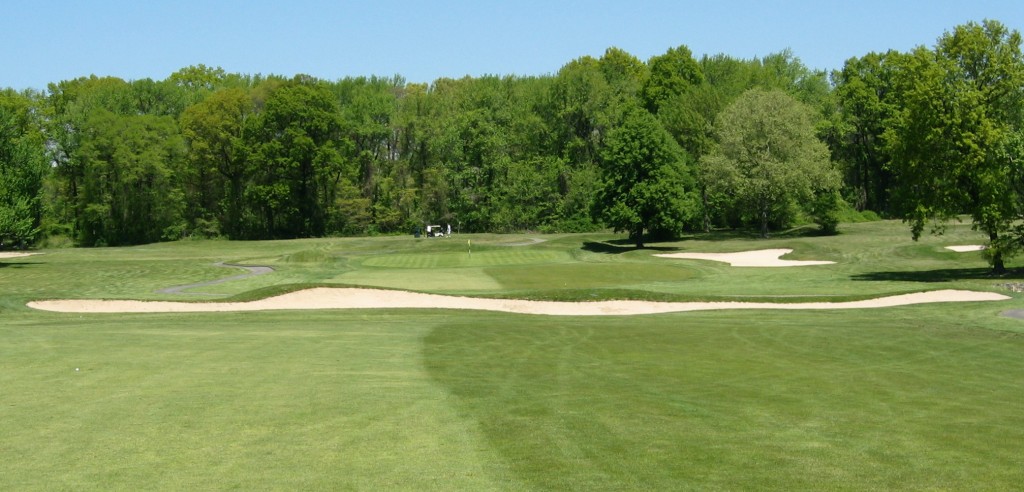 That being said, this past summer my friend Geoff finally convinced me to play golf within the confines of New York City at the 36-hole Pelham Bay and Split Rock Golf Courses. Considering that the layouts, including the one we played, Split Rock, a John Van Kleek design, are located in the Bronx makes it an even more remarkable accomplishment. The Bronx is where Edgar Allen Poe went to live out the last few months of his life in anguished abject poverty. How he ended up dead in Baltimore remains a mystery.
I'm glad I went. It is a very good golf course with fantastic set of greens.
Split Rock is a Van Kleek solo work. He's most thought of as a partner of Wayne Stiles, but did in fact produce approximately 40 layouts of his own.
The Pelham course opened early in the first decade of the 1900s, a Lawrence Van Etten design, according to "The Architects of Golf," followed by Split Rock in 1935. The course website says Van Kleek designed both layouts in 1901, highly doubtful since he turned 13-years-old in 1901.
Split Rock has one of the most enjoyable pre-round walks I've encountered. The distance from the clubhouse to the first tee is probably a half-mile along a sand path that runs under a rusting railroad bridge that is supported by massive gray stone blocks and then through a heavily wooded area. Horses and their riders also frequent the trail, as stables are part of the facility. (Can you imagine being a horse living in the Bronx?) By the time you have made your way to the course your surroundings have been transformed from city to country.

Split Rock in no uncertain terms is a joy to play and most likely qualifies as a genuine diamond in the rough. In June of 2011 the conditions were excellent, thanks in part to a few weeks of ideal growing conditions and a superintendent who knows what he's doing. There was plenty of grass on fairways and greens, the putting surfaces were smooth and rolled true while the bunkers had the right amount of sand and were consistent from one to the next.
It appears that Van Kleek's goal at Split Rock was to create a stellar layout for the daily fee player.
A New York Time story from June 2, 1935 chronicled the improvements and upgrades to the city's golf courses.
"Mr. Van Kleek is convinced that with careful planning and adequate maintenance a municipal course can measure up to private one both in interest and in condition, despite the high proportion of beginners among its habitués and the intensive use it receives."
From an architectural standpoint, Split Rock stands up to or exceeds many of the private layouts in and around New York City and fortunately has only been tinkered with on a few occasions. Architect Mike Devries is consulting there and has made some positive alterations.
Bobby Jones raved about Split Rock after viewing the two Pelham layouts. His visit there was covered by the New York Times in the May 1, 1936 issue.
"I must admit that what I saw, particularly at Split Rock, was exceedingly gratifying and entirely worth the visit," he said. "The work that John R. Van Kleek, supervising architect for the Park Department in charge of golf courses, has done architecturally there is splendid and I want to commend him very highly."
Split Rock was built and Pelham renovated by the Works Progress Administration.
It is at the greens that Split Rock distinguishes the course.  Van Kleek produced series of putting surfaces that often feature bold contours that are a surprise to encounter and a joy to negotiate, a style rarely seen on municipal layouts. They remind at once of Herbert Strong's work at Engineers Country Club or any of a number of Seth Raynor or Charles Banks courses. The 7th, a Double Plateau, is the finest of that style I've ever seen that was not produced by Raynor, Banks or their mentor Charles Blair Macdonald.
The 11th features two knobs, not symmetrical, that dominate the green and require players to deal with one or both no matter where the flag is located.
The mound in the middle of the 15th, about two feet high, should be contended with glee since such a striking feature is found on a scant few layouts. For our round, the flagstick was set on top of the mound. Out of blind luck my approach from the roughstopped five feet from the pin, a good enough shot for me to receive accolades from the group on the next tee. I made the putt for birdie.
The 18th green brings the round to a close in stunning fashion with a series of frozen emerald waves running through the long, narrow putting surface, as if the golfer is riding the tide to shore.
Van Kleek green complexes also remind of other architects besides the aforementioned. The fifth is benched into a steep slope on the left with the right a sharp-edged drop off, is reminiscent of Devereux Emmet at places such as Leatherstocking Golf Course and Dudley Hill Golf Club.
The greenside bunkering that flanks the putting surface is reminiscent of Stiles's work. There are also a few instances of sand that extends back from the greens parallel to the approach.
All 18 greens are open in front although on some holes, as with the 120-yard fourth, Van Kleek necessitates a carry over a sand hazard well short of the putting surface.
The bunkering is artistic with flowing forms that do not overpower the aesthetic of the holes or the greens they guard. They exact a just penalty to the poor shots
Van Kleek designed a course that is forgiving off tee with very few fairway bunkers, the notable exception being the par-4 11th hole with it's massive hazard spread across the entire fairway and which can come into play on the long tee ball. It is pictured above. If there is one weakness to Split Rock it is the fact that with so few fairway bunkers on the par-4s and par-5s, driver can be utilized 14 times.
The terrain runs from nearly flat to gently rolling. There are very few blind shots with a solid amalgamation of one-shot and two-shot holes with short, medium, and long versions of each. The three par-5s can be reached by longer hitters. From the white tees they play 436, 447 and 448 yards.
The original hole corridors were generous and, for the most part, remain that way. The effort to keep trees from encroaching on play is admirable. Rarely do you have the enclosed feeling you would expect from an older municipal course cut out of a forest. Usually that's a recipe for impeded lines of play and poor turf, the result of limb and root encroachment, although holes 7-9 do have a confined feeling.
Even with my deep disdain for all things New York, I'm delighted I played Split Rock and I look forward to getting back there again
(All photos: Anthony Pioppi)
Note: Bob Labbance and Kevin Mendik authored a wonderful biography, "The Life and Work of Wayne Stiles," with a chapter dedicated to John Van Kleek. You may be able to find a copy by clicking here to access the Wayne Stiles Society website.