My head moves when I putt.
I know it does. I can feel it. On video, I can watch it. I talk to it and ask it not to move. S0metimes it listens, other times it doesn't.
I don't move all the time but when I do there is no consistent reasons why. I sometime move over long putts. I sometime move over short putts. I move over putts to win a match and putts for quadruple bogey.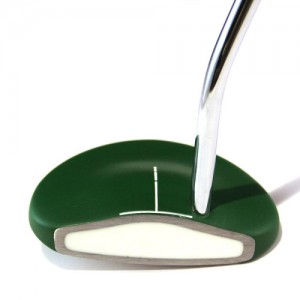 I'm not the only one who is afflicted by this malady. In fact, I'd like to meet the golfer that is free of it.
In an effort to aid head-movers the world over, Mantis Golf has come out with two putters that are the color of grass, the object being that hues are in harmony with the putting surface and not some jarring object (I'm thinking of the two-ball putters) that grabs your attention and makes your head sway when you should be focused on that little orb near your toe line.
"Watch the ball, not the putter," is the catch phrase.
The Mantis Original and the Mantis "B" Blade list for $159.99. The original comes in right-handed and left-handed models, but the blade is only for the right-handed at the  the moment. Both come with the shafts running from 33 to 35 inches, or can be sent with an uncut shaft, grip included.
Tour players have/are using them. A quick Internet search found that Tag Ridings had one in his bag this year.
Mantis sent me a B Blade model and I gave it a go. I'm not sure what turf variety the putter color is supposed to be mimicking, bent, Poa, Bermuda or maybe even "a cross, ah, of bluegrass, Kentucky bluegrass, Featherbed bent, and Northern California sinsemilla."
The concept is cool. It makes total sense. I like the feel and the balance of the putter. The ball comes off the face cleanly with no bounce.
Does the concept work? It did for me, at least some of the time, and that's a start. Will it work for you? Why not give it a try? You have a problem, you know, your head moves when you putt.