For the past few years there has been an ongoing debate/discussion about the photo you see on the right. Many people have stated that it is Seth Jagger Raynor. It's not, and those of us who have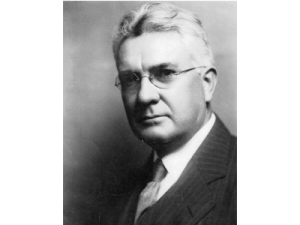 studied photos of Raynor and this one knew that.
Thanks to the work of Raynor-Macdonald-Banks researcher Nigel Islam, the truth has been discovered, or perhaps, rediscovered.
Speculation by some, me included, thought it might be architect William Langford but a recent comparison of Langford photos, including ones from his time at Yale University, debunked that theor
Okay then, who is it?
The answer is Charles F. Frazier
The proper response is: who?
So where did Islam find the answer to this nagging question? How about on the history page of the Mid-Pacific Country Club, which, ironically, is most likely the last course Raynor ever designed. In all likelihood, many Raynor fans have been to that page, seen the Frazier photo and let it slip from our memories.
According to the club website, "Charles R. Frazier, together with a group of sixty-four prominent Honolulu businessmen, organized a country club and golf course as one of the amenities promised in the brochure for his Lanikai development."
Frazier went on to be the club's first president.
In 1925, Raynor was in Hawaii to layout a course for the Royal Hawaiian Hotel, now the Waialae Country Club host of the PGA Tour's Sony Open. The group from Mid-Pacific that would have heard of Raynor's work and approached him about designing a course for them, which he did.
Raynor, and his wife, left Hawaii in late 1925. He died Jan. 23 while in Florida for the opening of Paris Singer's private course, not the Everglades club as commonly thought.
Waialae opened in 1927. In 1928 the first nines holes at Mid-Pacific were completed.  The back nine was completed in 1949 under the guidance of architect Willard G. Wilkinson who, according to the website, closely followed Raynor's plans.