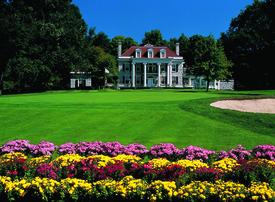 HERSHEY, PENNSYLVANIA — For Milton S. Hershey, it was always about family. From the moment he began planning "his" town at the turn of the 20th century, the chocolate magnate made a commitment to create an array of recreational and cultural opportunities for its residents, his employees. It began with a picnic and pleasure grounds called Hershey Park (the name changed to Hersheypark in 1971), where factory workers could spend time off with their families, and ultimately evolved to include countless facilities and activities.
Among those activities was golf. In 1932, Mr. Hershey hired Scottish golf course architect Maurice McCarthy, whom he had tapped two years earlier to design the West Course at Hershey Country Club, to sketch a nine-hole layout that became known as "The Juvenile Golf Club." True to its name, that club became the nation's first public golf course specifically created for players under the age of 18. When it opened, youngsters paid 35 cents for nine holes, and any adult golfer had to be the guest of a junior player.
In 1969, the nine-hole layout was renamed Spring Creek Golf Course in honor of the water hazard that winds gently through McCarthy's design and repeatedly challenges golfers. In 2006, Tom Clark oversaw a course renovation that included three new hole designs, restoration of six existing holes, a tee-through-green irrigation system, turf grass replacement throughout the course, and the addition of 220 playing yards. Spring Creek now stands as the area's longest nine-hole golf course, an intricate par-33 course stretching 2,200 yards, and is a proud affiliate of golf's First Tee program.
Spring Creek is one of four courses in the Hershey Golf Collection, which comprises a total of 63 holes. The other three are spectacular and distinctive 18-hole courses for the more experienced golfer – Hershey Country Club's East and West courses and Hershey Links.
Through the years, however, one thing hasn't changed. In Hershey, it's still all about family. That's why Hershey features such travel packages as the "Golf Fore Family Experience" for $100 per foursome, which includes everything a family needs to enjoy a leisurely, memorable experience at Spring Creek Golf Course.
The town of Hershey has made significant enhancements during the past three years, resulting in $185 million worth of new offerings for guests. Hersheypark boasts more than 65 rides and attractions, including 11 exhilarating roller coasters – more than any other park in Pennsylvania – and The Boardwalk at Hersheypark, which is home to nine water-based attractions.
A sure way for guests to make a visit to Hershey and Hersheypark even sweeter – and an even greater value – is by adding an overnight stay at one of the three Hershey Resorts properties. These properties offer benefits and packages to make planning and paying for a summer vacation even easier to digest.
At The Hotel Hershey, the "Grand Expansion" is complete, adding a new luster to the grand hotel opened by Mr. Hershey in 1933. There are 278 guest rooms, plus an outdoor recreation complex and a variety of other amenities. Hershey Lodge offers 665 rooms, and Hershey Highmeadow Campground provides 300 sites that range from tent areas to deluxe cabins. To put it simply, Hershey, The Sweetest Place On Earth provides a range of accommodations that make the ideal home base for any multi-day stay.
From the flying swings at Hersheypark to the swing of a golf club at any of the four courses in the Hershey Golf Collection, the town of Hersheyoffers experiences, attractions and opportunities that are as individual as each member of the family. And with so many memories just waiting to be unwrapped in one sweet place, the community created by Mr. Hershey is the ideal spot for a family vacation.