Many years ago, a friend of mine returned from an extended golf tour of the Caribbean looking very tanned and relaxed. He presented me with a good bottle of rum and laughed, now that he could sit comfortably, about the cherry-red bottoms he and his girlfriend had acquired while sun-bathing in the nude. But given his devotion to golf, which is total, he talked surprisingly little about the game.
"By the way, how did you find the golf down there?" I finally asked as he whirred up a batch of pina coladas.
"Oh, it was O.K. I guess," he replied. "Not bad for the tropics."
Not bad for the tropics! An entire archipelago damned with faint praise. My mind's eye conjured browned-out fairways and runway-style holes that did little to inspire good play. The compensating factors—balmy weather, white sandy beaches, the limpid blue sea—were certainly good, but I resolved on the spot to pack my snorkel and trunks, but not my clubs, on my next visit to the islands.
Thankfully, I changed my mind a few years later. Successive trips to Jamaica and Puerto Rico convinced me that good and sometimes great golf could be found in the Caribbean.
However, the big payoff came in 1986, when I was invited on a deluxe golf cruise of the islands aboard the Norwegian-registered Sea Goddess, a floating chateau offering creature comforts far beyond the imaginings of a starving young freelancer. From the shelter of Francis Bay in St. John, we sailed 270 nautical miles through the night to reach La Romana in the Dominican Republic, a sultry river port chockablock with banana boats and black-hulled Panamanian sugar freighters. We had made the long overnight journey for the sole purpose of playing golf at Casa de Campo ("House in the Country"), a 7,000-acre resort on the island's southeast coast that even then was synonymous with golf in the Caribbean.
Built in the late 1960's by Gulf + Western, the American conglomerate which owned the sugar mill in La Romana, Casa de Campo promoted itself as the "Caribbean's Most Complete Resort." A case could be made. There was an equestrian center and polo fields. A palm-shaded beach beside an open-air restaurant. Tennis courts. Water sports. River and deep-sea fishing. A shooting center with trap, skeet and sporting clays. An improbable replica of a 16th-century Mediterranean village clinging to a cliff high above a coiled river with a Grecian-style amphitheater at its center. And guest rooms designed by native son Oscar de la Renta, who had attracted a high-society crowd to the sprawling property.
Even the more jaded passengers on the cruise, and there were several, were impressed by the resort.
Having traveled this far, the players on board were keen to test their skills on the course with the funny name. Dientes del Perro, it was called—Teeth of the Dog.
Pete Dye, who turned 87 last year and is acknowledged as the game's greatest living designer, had yet to make his reputation when he ventured to the Dominican Republic in the late 1960's. At that time, the nation was an unsteady banana republic still reeling from General Trujillo's dictatorial rule. Little did Dye know that his handiwork at Casa de Campo would put the fledgling resort on the map and provide him with plenty of work for the next 40-plus years.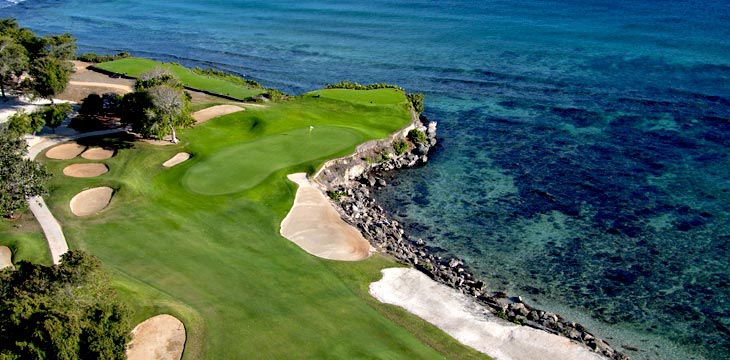 Apart from its aesthetic and strategic appeal, the story behind the building of Dye's iconic course, inarguably the finest in the tropics, deepens any golfer's appreciation of it.
While Dye had already built Crooked Stick, The Golf Club and Harbour Town by the time he arrived in the Dominican Republic, no project before or since has sparked his imagination or tested his mettle like Casa de Campo. Given the chance of a lifetime to create a seaside course on terrain rarely allocated for golf course development, Dye, then as now a P.T. Barnum in khakis, made the most of his opportunity.
After a helicopter tour of the wave-battered coast produced nothing, the ever-resourceful Dye attached a ski tow rope marked in 100-yard increments to the stern of an old motorboat and slowly trolled the coast to figure out how many holes he could fit in along the shore. Most builders would have walked away from a three-mile stretch of encrusted coral rock denuded of topsoil. Not Pete.
Working alongside a small army of Dominicans who hand-cleared the densely vegetated site with machetes, Dye formulated his ideas for golf holes without a formal plan. With little if any growing medium available, soil was created from sand, red dirt and cachaza, a sugarcane byproduct, and hauled to the site in a long procession of oxen-drawn carts. The soil was spread and raked before the fairways were hand-sprigged. Dye buttressed the seaside tees and greens with irregular chunks of coral sledge-hammered from shore. Jagged and yellow, these rocks resembled dientes del perro—teeth of the dog.
In his book, Bury Me in a Pot Bunker, Dye said he "learned firsthand that land responds more positively to the raw-boned hands of the laborer than to the steel-faced jolt of heavy machinery. Whatever delicate features Teeth of the Dog possesses are a direct result of the hard work of those Dominicans who took such pride in their work."
Dye's well-worn quote about his labor-of-love links–"I built 11 holes, God built seven"– happens to be true. Other courses have holes that run along the sea, but Teeth of the Dog's signature holes are in the sea, their tees and greens cantilevered into the ocean. Three of these holes are spine-tingling par threes with more surf than turf in play, but the inland holes, routed through sugar cane fields and stands of teak and coconut trees, are the strategic glue that holds the Dog together. Even an initial round on this walker-friendly links, a friendly Dominican caddie at one's side, reveals Dye's genius: doglegs perfectly angled, hazards ideally placed, a balanced routing with excellent pace and variety that brings players to the sea on both nines.
Needless to say, my long-ago round on Teeth of the Dog was the highlight of the cruise, notwithstanding the round-the-clock Champagne. I've been privileged to return many times since to Casa de Campo to savor a course that Pete, if you twist his arm, will admit is his all-time favorite among the many he's built. Much like Donald Ross at Pinehurst No. 2, Dye, who maintains a residence at the resort, has spent the better part of his adult life tweaking and grooming Teeth of the Dog. Except for a few back tee placements and the newly resurfaced paspalum greens, it's still the same course he built alongside 300 loyal Dominicans over 40 years ago.