It's uncanny, really, the similarities to Dr. Emmett Brown, the wild-eyed, time-traveling inventor played by Christopher Lloyd in the hit movie trilogy, Back To the Future (Part 1-3). That hat-challenging mane, those cantankerous eyebrows, the mischievous smile and acute stare—everything's there, sans the ghost white hair or the plutonium-powered flux capacitor.
Doc Brown's eccentric-scientist persona is a fitting alter ego for Tom Wishon, the celebrated and habitually rebellious golf club designer who, for the past 37 years, has been zealously knocking the club designing industry on its self-righteous fanny and, in the process, gaining status as one of its most knowledgeable and sought-out experts. That you might not recognize the 59-year-old's name is of little consequence; if you play golf, he knows you. But you can bet a year's subscription to The Golf Channel that the game's bigwig brands—Titleist, Callaway, PING, TaylorMade, Cleveland, Nike, Adams, Mizuno—know Wishon.
And no wonder. His unrivaled résumé includes:
designing and custom fitting clubs for many of the game's biggest names, including Harvey Penick, Payne Stewart, Ben Crenshaw, Scott Verplank and Bruce Lietzke;
54 design "firsts," including the first titanium driver introduced in the United States;
teaching nearly 200 clubmaking schools and more than 2,500 different clubmakers, underscoring his being inducted into the prestigious Professional Clubmakers' Society Hall of Fame in 2006;
serving 13 years on Golf Digest magazine's technical panel;
and authoring eight books and more than 200 magazine articles on clubmaking, shaft technology and custom club fitting.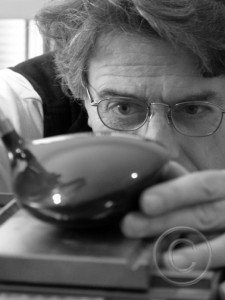 "Tom's a straightforward guy with a great reputation," says author, golf historian and former Golf Illustrated editor Al Barkow. "And it's a reputation that's well deserved." Those sentiments are echoed by Golf World equipment editor E. Michael Johnson: "Wishon is refreshingly candid, someone who is passionate about his business," he says. "Tom is one of the game's more forward thinkers who thinks as far outside the box as possible."
So unusual is Wishon's "outside the box" paradigm that 10 years ago, the Greeley, Colo., native was tendered a mid six-figure salary, a crew of 30 engineers and a cushy vice president of R&D title to head up golf club design at Titleist. That he turned down the end-of-the-rainbow offer and subsequently opened his own clubhead, shaft and grip engineering operation in Durango, Colo., elicits even more comparisons to the capricious Doc Brown: Wishon speaks his own mind and blazes his own trail, often at the expense and chagrin of the industry's biggest companies.
"[Wife] Mary-Ellen and I came to Durango in the fall of 2001 and simply fell in love with the area," recalls Wishon, explaining that the nature of his business allows him to live anywhere provided there are regular FedEx deliveries. "Now we sell my original club component designs—the heads, shafts and grips—to clubmakers all over the world." Tom Wishon Golf Technology includes a 7,000-square-foot research-and-development workshop and component warehouse in the town's burgeoning Grandview district, as well as a just-completed R & D and custom clubfitting operation at Dalton Ranch Golf Club just north of town.
Proving name-brand bulk is no substitute for small-business brains, Wishon continues to outpace the Titleists and TaylorMades from his modest but well-equipped workshop. He's armed to the teeth with every conceivable gizmo: a TrackMan™ launch monitor, SAM PuttLab, clubhead MOI (moment of inertia) machine, "Green Machine" specifications device, ball flight modeling software, two laptop computers, as well as a $35,000 swing robot. Still, this self-described "old dinosaur" still pencils every single club innovation on paper, eschewing computerized CAD/CAM software utilized by his well-funded counterparts.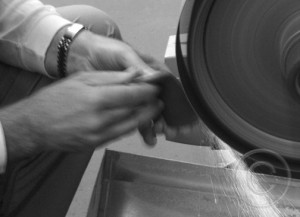 Wishon's considerable drafting skills come in handy when new-design orders are placed with trusted toolmakers—renowned craftsmen that have worked with Wishon since the early 1990s—who convert his drawings and molded epoxy epiphanies into working forms. Then, a top-rated foundry (where many name-brand clubheads are produced) casts or forges a working product. "It can take up to 24 months to create a new clubhead," he explains. "Sometimes we have to make three or four generations, going back and forth to the production foundry, before deciding it's right for the marketplace."
It's a lengthy and decidedly expensive process, so Wishon has to ensure a final design has multiple-year shelf life to cover the costly R&D investment. "The worst thing that can happen to a small business like mine is to have a model fail after its first year," he says. "We had that happen. Once. It was a driver with a internal rotating weight arm engineered to control ball flight. I just had to make it because it was so cool, but it proved too expensive for our clubmakers to sell."
Then there's the expense of producing, storing and shipping the final product. Tens of thousands of clubheads, shafts and grips are warehoused on site, all managed by just 14 employees, including Wishon and wife/business partner Mary-Ellen, who market the components exclusively to skilled independent American and international clubmakers.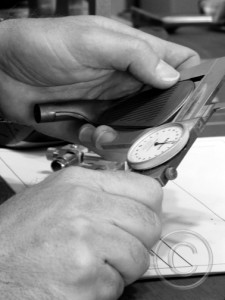 Clubfitting is another passion for Wishon. He has written several books on the subject and offers minutiae-detailed analyses of clientele golf swings and putting strokes at his Dalton Ranch shop. That information can then be used to build individually customized clubs for the player. What's eyebrow raising is the affordable price: A 14-club complement of Wishon signatures (including driver, fairway woods, hybrids, irons, wedges and putter) is no more than a name-brand set sold in pro shops—about $1,500-$2000, including the two-hour fitting, which is conducted over two days.
The Path Less Traveled
Wishon's double dogleg path to Durango has been a remarkable one. After an impressive junior golf stint at Greeley Central High School, he made the varsity squad at the University of Nebraska but subsequently was booted off for refusing to cut his hair. "It was 1968, and I was barely 17," he remembers. "So at that point, I quit golf until a loudmouth challenged me to a round of golf during my senior year. The next day we had a heated grudge match for $20. I shot 77 after not playing for almost three years, kicked the guy's ass and got the golf bug again."
Did he ever. Following graduation, he quickly earned his PGA of America membership card and taught himself to repair and refinish clubs at the historic nine-hole Mill Valley Golf Course near San Francisco. That's when the young Wishon—an fervent rock-and-roll concert aficionado who later would need hearing aids in both ears—had a jaw-dropping flirt with destiny after being invited to a studio jam session with the legendary Steve Miller Band.
Recalls Wishon, "Steve had a house and recording studio just off the first green at the course. When he wasn't touring, he and his 'roadies'—all really good golfers—would come down, play their Les Paul guitars and just hang out. Steve had just signed a contract with Capital Records to do his first album and his contract drummer was unavailable. He soon found out that I could play, and asked me come by and lay down some drum tracks so he could get a feel for how the drum parts should be played for all his new songs."
Wishon's percussions were strong enough to make the final cut of "Mercury Blues" on Miller's generation-defining "Joker" album. However, his hopes of playing music professionally came to an end when Miller suggested, in no uncertain terms, that Wishon keep his day job. "He told me, 'Tom, you're a good drummer, but you're not that good of a drummer. Stay in golf where your passion and skills are.' I was crestfallen, but I did have my 15 minutes of fame."
Actually, Wishon heeded Miller's timely counsel and significantly exceeded that old Andy Warhol idiom. In 1980 his budding club repair business led to a friendship with renowned clubmaker Ralph Maltby (no relation to former PGA Tour player and present NBC golf analyst Roger Maltbie), who hired Wishon as the vice president of sales at Maltby's new component company, GolfWorks. Six years later he became president of Dynacraft Golf Products where he grew them from $1 million to $25 million in sales, then in 1993 he moved to Austin, Texas, to serve a nine-year stint as vice president and chief technical officer for Golfsmith International.
The Verplank Conundrum
It was at Golfsmith that Wishon was asked to design and build clubs for Scott Verplank, a five-time winner on the PGA Tour. "Scott had the finest sensation of perceiving feel for the golf club than anyone I had ever worked with," recalls Wishon. "Unfortunately, he had injured both of his elbows and insisted on playing graphite shafts in order to dampen the club's vibration.
"Well, whenever I made him a set of clubs, there were always three or four that he didn't like because of little variations in their 'bending feel' at impact, and I'd usually have to remake those clubs several times before he would give us his OK. Deciding there had to be a better way, I started looking at stiffness over the whole length of the golf shaft, at a time when the industry was rating shaft stiffness with only one measurement."
That's when Wishon discovered mass-produced shafts had detectable variances (by better players) from one to the other. Thus, he invented a rudimentary system of analyzing and measuring stiffness at two critical points—the grip end as well as something new, at the clubhead end of the shaft. After painstaking analysis of more than a hundred graphite shafts supplied by one manufacturer, he was able to identify only 10 that were precisely matched.
"Just before the 1999 Master Card Colonial Invitational, I brought the new irons to Scott on the range, and after he hit balls with each club, from the wedge through the 2-iron, he told me, 'They're all perfect. They all feel the same.' That was when I knew we had to start measuring the whole shaft's stiffness profile, not just the grip end's."
Years later, most of the major brands still measure shaft stiffness from one point. Wishon now measures, designs and custom fits shafts using a seven-point system.
Working with Verplank became a touchstone experience for Wishon. His frustration with imperfect "matched sets" was further compounded by giant "OEMs," or original equipment manufacturers of golf clubs, which he says short shrift golfers by selling limited, standard, 'one-size-fits-all'  sets with little if any consideration to an individuals' height size, swing speed, flexibility, golf athletic ability level, swing characteristics and other highly critical factors.
"One of my big bugaboos," he says, "is the standard off-the-rack driver, every one of which measures between 45 and 46 inches in length. But the average driver length on the PGA Tour for the last three years has been 44.5 inches. This is the best collection of golf swings on the planet, players that could get more clubhead speed and distance from a longer shaft. But they don't because they can't hit it on center as often, and they can't keep it in play as much. If these guys know they need a shorter driver length to play their best, how the heck can regular golfers hope to achieve their full potential with the longer length drivers that are sold off the rack.''
Wishon laments that even baseball bats and tennis racquets give their enthusiasts far more tailoring options than those found in off-the-rack golf clubs. "Sporting goods companies offer a wide variety of bat lengths, handle sizes, weights for their bats, and you can help dial in your tennis game with specific racquet grip sizes, weights, varieties of string types and string tension.".
Wishon maintains that it's no picnic to get the most from your game with off-the-rack golf clubs, but women will discover the process "10 times as hard." Why? It's a simple matter of profit-driven business decisions. "There is no golf club company in the business that gets more than 10 percent of its revenue from senior's and women's clubs," he says. "So if you're the CEO of a $500 million golf company, and you say that only 10 percent of your business comes from women, how many more golf club options are you going to allow your people to develop in those areas?"
Wishon says the answer—the golfer's path to maximizing potential—lies in custom clubfitting, which customizes the clubs to each individual player's unique combination of size, strength, golf athletic ability and swing characteristics. By tailoring equipment to specific needs, golfers of all abilities, ages and limitations have access to a variety of shafts (steel, graphite) in varying flexes and weights, a huge array of grips, and a cornucopia of clubheads (irons, metalwoods, hybrids), tweaked lie, loft and face angles, and custom fit wedges and putters.
Those options frequently translate into significantly enhanced opportunities for golfers to play better and score lower—anywhere from three to 10 shots. "My clubs, and the clubs of a few other companies similar to mine, are not made a hundred thousand at a time to the same specifications," writes Wishon in Perfect Driver. "They are made one at a time, to your specifications, by a good custom clubmaker.
"They are not 'one size fits all.' They are 'one club, one customer, one clubmaker.'"
That quirky, Emmett Brown persona notwithstanding, the kid from Greeley has done us all a great service, even for those "big box" club manufactures who depend on the game's continued growth. Back to the future? Hitch your wagon to Tom Wishon's virtual De Lorean—it's going to be one helluva ride.         [TAP]