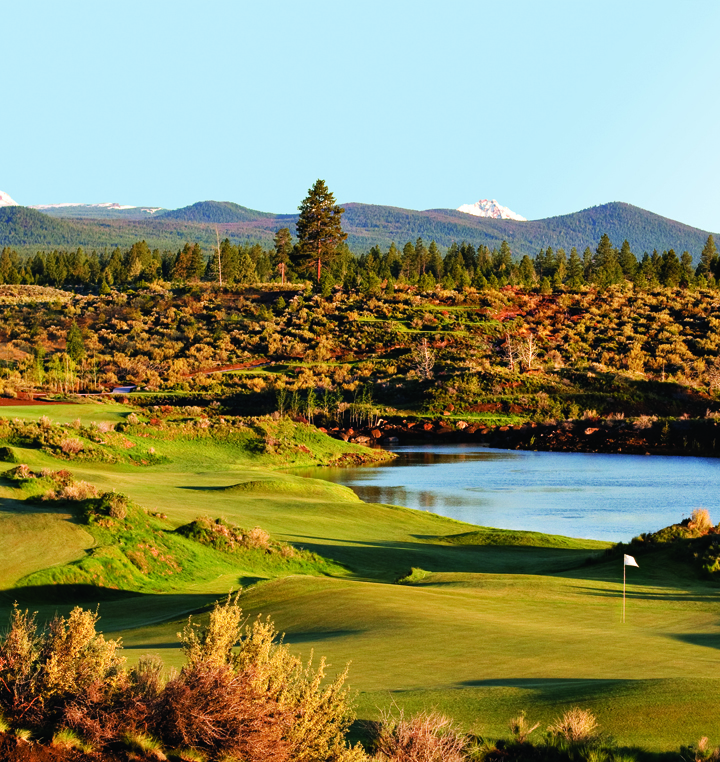 Tetherow Golf Club offers veritable links-style golf in the high desert of central Oregon.  Architect David McLay Kidd's layout is a challenging, engaging and entertaining alternative to the parkland courses predominate in this part of the world.  Fescue grasses, rolling terrain and oft-windy conditions make for a definitive test for golfers of any level.
As is the case with all links golf, it's imperative to keep the ball close to the ground to optimize performance.  In baseball, there are "ground ball" pitchers, and in golf, there are "ground ball" courses.  Tetherow certainly fits that bill.  Golfers who insist on lofting the ball into the air and firing directly at flags will be in for  some less-than-pleasant surprises. Distances must be recalibrated, fairways calculated and read like greens, and one's expectations kept in check.  Some stroke-saving strategies for Tetherow: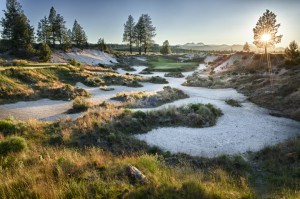 – Pick the spot and don't let your eyes stray elsewhere.  Check out the course guide that PGA Professional, former European Tour player and managing partner Chris Van Der Velde designed himself.  Precise yardages and aiming points will help you navigate around the property.  Find your target, hit your shot the recommended distance, then leave the jaw-dropping scenery for in between swings.
– Your golf ball will roll. A lot. So play for it.  This isn't darts, nor the nearby damp, heavy-aired Willamette Valley. It's links golf at its best, just sans an adjacent ocean or sea; firm and fast fairways are the norm at Tetherow.  Depending on wind direction and strength, and the uphill/downhill aspect, you may have to land the ball 25-75 yards short of your final desired destination – or take two or three extra clubs.  Ignite your imagination!  Change the picture in your mind (much like reading a putt), select the club that will 'paint' that picture and trust your ability to execute.
– Then accept the outcome.   Links golf has been deemed 'unfair' by some due to its quirkiness and unpredictability, but for every seemingly unjust bounce or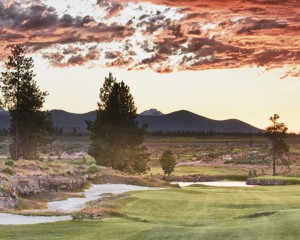 bound of the golf ball, there are an equal number of fortuitous routes the egg can take.  Like that half topped/tomahawked drive that rolls out 150 yards.  Or the shot that is grotesquely off-line, only to find itself in the middle of the fairway or a green.  Fellow Golf Road Warrior Jeff Wallach unveiled what is unquestionably one of the finest miss-hits in the short history of Tetherow Golf Club, when he 'chipped' it to a foot  from behind the 4th green (apparently NOT a hot spot for vacationers to the Bend area, according to the Central Oregon Visitors Association).  Best to accept, adjust and persevere – with a smile on your face – while enjoying all that Tetherow has to offer.