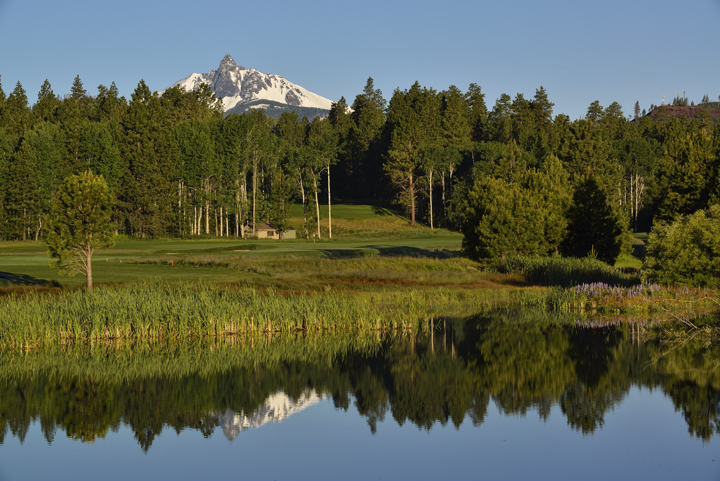 A hike around the revamped Glaze Meadow golf course at Black Butte Ranch, that is.  And what a great layout to actually walk – rare indeed in this day and age of golf courses designed for the motorized cart.  Golf Road Warriors cohorts Jeff Wallach, Tom Bedell, David J. Whyte and myself easily negotiated the revamped Glaze set up in a little over four hours on foot, all whilst enjoying the glorious surroundings.  Despite the fact that the tee sheet was chock-a-block full on this near perfect mid-summer day, the pace of play was just right – even if the golf was more often than not 'less than perfect…'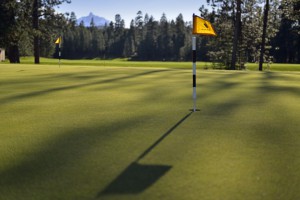 John Fought's redesign of Glaze Meadow, originally opened in 1982 as the sidekick to the Big Meadow course, presents the golfer with a fun, fair test amongst the aspens and pines.  And the ideal venue for Wallach vs. Bedell III – the rubber match of a golf/banter battle royal, from which we could all learn a few things. Glaze starts out gentle enough, although one can already sense the swirling winds that became more predominant on the back nine.  Then "voila" #6: a testy dogleg left par-4 measuring 428 yards from the blue tee markers, with out-of-bounds to the left, trees and the Glaze Meadow tennis complex to the right.  Just the sort of hole that truly beguiles mid to high handicappers, unless a different approach is considered… Brew and cigar aficionado Bedell launched a drive here that scared some of the folks carrying racquets and hitting volleys and backhands.  For someone who doesn't draw the ball consistently (both Tom and Jeff fit this category – although there is a vicious rumor that Jeff was hitting power draws only a few weeks back), a long, dogleg par 4 can in fact be nightmarish.  Why not turn it into a par "4 1/2" and play to your strengths and abilities? Such a strategy might entail hitting less than a driver ( 3 or 4 metal) off the tee to help keep the ball in play, then a fairway club (think 5 metal or hybrid) that is forgiving enough to get the ball somewhere around the green in two shots.  A pitch, chip and a putt, and you might make 4; two putts and you walk away with a 5 – but nothing worse, and certainly not the BIG number that plagues so many 85-95 shooters – and frequently stems from trying to play such brawny par 4's like a Tour player.
Who doesn't enjoy a nine holes of golf comprised of three par 3's, three par 4's and three par 5's?  The Warriors and I sure do, and that's exactly what the back nine at Glaze Meadow presents. Thank you Mr. Fought!  Honestly, it's the perfect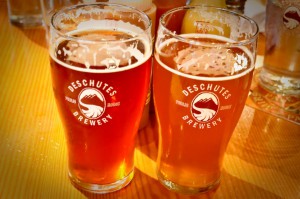 concoction – like a great cocktail, shaken or stirred.  Or better yet, like heading to the Deschutes Brewery Bond Street Public House in downtown Bend (the Old Tom Morris of area breweries) and sampling their finest offerings.  Bedell may have been getting beer-thirsty when his legs pretty much left him on the long, uphill – and suddenly dead into the wind – par 5 12th.  I ended up hitting driver off the fairway for my second shot (not recommended for beginners) to cheat the wind and chase the ball up the firm fairway towards the green.  As Bedell's legs and putting went further south, Wallach closed out the match and collected the $1 in prize money.  A double-fisted takeaway for your golf game from our experience at Glaze:
– Playing for something – anything – introduces consequence, a critical component of learning.  If you practice and play with nothing on the line, as if it didn't matter, you'll struggle mightily when it does.
– Feeling fatigued?  Take care of yourself before it's too late.  Stretch, nibble and hydrate – leave the beers for the 19th hole, though – beginning at the first tee.  Dynamic (hold for five or six seconds ONLY) hamstring stretches are fantastic to maintain good posture throughout a round.  Stay away from f00ds that jack up your blood sugar, and add some electrolytes to your water.  You'll notice a difference on the back nine in your level of concentration and overall 'freshness,' as well as when you walk off the 18th green.
A good walk spoiled?  Not at Glaze Meadow.  More like a leisurely stroll swinging a club through unspoilt and shiningly remodeled terrain.  Cheers!