It's been said more than once that people who live on islands are a different breed. That they're more independent and more self-sufficient than your average mainlander. That they're more friendly than city folk (to one another, at least). And that somehow, they've managed to remain blissfully immune to the vagaries of passing fads. All of this may be true. None of this may be true.  But when you set foot on an island, you can't escape the feeling that you're leaving the hustle and bustle of the modern-day world behind and escaping to a quieter, more peaceful place.

There's something about getting on a boat and crossing a bay or lake, even if it's only a 10-minute journey, that seems to put a much greater distance between you and the ills of modern life. Islanders know this. That's why they live on islands.  But for all their differences from people who live a more landlocked life, in some ways islanders are just like the rest of us. During the week, they work. And come the weekend, the golf enthusiasts among them head for the links. In many cases, they don't have to ride a boat off-island to get there.

Maine offers five island golf courses that can only be accessed by boat. So while the course on Deer Isle, and the one on Mt. Desert Island are technically island courses, because you can drive to them they don't count for our purposes here.  Three of Maine's island courses, Great Chebeague Golf Club, Tarratine Golf Club and North Haven Golf Club, are located in the Gulf of Maine. The others, Frye Island Golf Club and Mt. Kineo Golf Club, are located within inland lakes. Each of them is a nine-hole course. None of them is anything less than delightful.

Great Chebeague Golf Club

Unlike the Frye Island ferry, the ferry to Great Chebeague Island wasn't built for transporting cars. This shouldn't stop you from venturing over to play golf though, since the Great Chebeague Golf Club is located just a matter of steps from the landing. This ferry, which is operated by the Chebeague Transportation Company, departs several times a day from Cousins Island, which is connected by a causeway to the mainland. The 10-minute crossing takes you past Littlejohn Island, as well as a flotilla of colorful sailboats and lobster boats moored in the bay.

The golf course on Great Chebeague was the brainchild of two men, George Spalding and Bert Collins, who decided while picking blueberries one day that the island should have a golf course. The original course, which opened for play on July 4, 1921, included six holes, but was later expanded to nine.

In 1950, a hurricane did considerable damage to both the clubhouse and the course. More than 150 spruce and other trees fell, resulting in a more open, links-style course than it had been before. Since then, other hurricanes (including "Carol," "Donna," and "Edna") have further "contributed" to the course's open feeling.

Great Chebeague Golf Club isn't a championship course in the modern sense — or in any sense, for that matter. There are no punishingly long par 4s. No unreachable par 3s. And no par 5s at all. But it has its own unique challenges nonetheless.

Take the first hole. At 262 yards, it's a short par 4. But the local rule dictates that you may not drive your tee shot over the road from the ferry landing which bisects the hole. You're forced to lay up with a long iron, and from there you have a tricky short iron shot to a small, tilted green. For such a short hole, it doesn't see all that many pars, not to mention birdies.

The second hole is another par 4, this time a longer, sweeping hole that plays downhill to another small green. There's no trouble off the tee, but if you're not accurate with your second shot, you'd better be with your third.

Hole number three plays over a ravine from a tee set deep in the woods. From the fairway, your approach shot has to be played straight uphill to a green that slopes back to front. Go long and you'll have a messy bunch of juniper bushes to contend with.

The fourth hole, the fourth par 4 in a row, plays back across the road, only this time you're allowed to drive over it. Again, your approach shot must travel uphill, as the hole proceeds up an incline set just below the porch of the Chebeague Inn. A shallow green makes hitting this green in regulation a dicey affair.

At the sixth, you come to the first of three successive par 3s. A downhill 110-yarder, this hole is a true test of your distance control. Go long and you'll be on the road. Chunk it and you'll have a tricky recovery shot to play, possibly from a juniper bush.

The seventh is Chebeague's signature hole. The tee is actually located on the dock where you disembarked the ferry boat. From there, you must hit over water to an elevated green set back in a stand of pine and birch trees. No doubt there are more than a few golf balls that have found a watery grave off this tee. Even if you should hit this green in regulation, though, the two-tiered putting surface makes pars difficult to come by. In fact, you may be tempted after playing this hole to head straight back to the dock — or to the bar at the Inn. But you shouldn't. Chebeague's eighth and ninth holes are well worth meeting. And there's always a later ferry to catch.

The Tarratine Club

Ninety miles up the coast from Great Chebeague — and a small world away — is the Tarratine Club, a quiet enclave of golf nestled in a wooded corner of Islesboro. Tarratine is a private club whose members come from all over the country — and the world — to enjoy its rolling links-like fairways and cool, ocean breezes. Tarratine does not allow public play.

The club was founded in 1895, though the course was located on a different part of the island back then. The nine holes which comprise today's course are hilly and challenging; tight tree-lined fairways place a premium on hitting straight tee shots.

From the first tee, located adjacent to the white clapboard clubhouse, you play down a hill to a green set by the shores of Penobscot Bay. At 318 yards, it's not a back-breaker. But the green, like most greens on island courses, is small, making your approach shot tricky.

Hole number two plays along the shore of the bay. Again, it's a short par 4, but tighter than the opening hole. Players would be wise to play a long iron from the tee, then wedge in from there to the green, which slopes down and away from the fairway.

The third hole is a par 5, measuring 428 yards. From the tee, the hole has a real links feel to it as you face a blind tee shot up and over a hill covered with long, golden-brown grasses. If you hit a long tee ball, you may have a chance to go for the green in two. But beware. Just shy of the green there's a deep ravine from which few balls ever return. It may be more prudent to lay up short of said ravine and pitch to the green.

Holes three through six are par 4s that wind their way through the woods. While they each feature characteristically small greens, they're not overly difficult if you can keep your tee shots in the fairways. But at the seventh hole, Tarratine shows its fangs.  Tarratine's seventh is a brute of a par 3. From the back tees, it measures 224 yards, all of them slightly uphill to an elevated and crowned green. Depending on which way the ocean winds are blowing, the shot can require anything from a 3-iron to a driver. Par at this hole earns you some serious bragging rights.

A characteristic feature of the course at Tarratine is its grass-covered mounds. In several fairways, including the dogleg-left finishing hole, these mounds protrude from the fairway with evil intent. Pity the player whose ball comes to rest upon one of them; playing a recovery shot from that long, twisting grass is a difficult proposition.

Another of the course's charming natural features is its wild thyme, which grows in abundance in the rough. The lemony fragrance of the herb is inescapable, and adds to the delight of playing golf in such a peaceful, bucolic setting.

North Haven Golf Club

Like Tarratine, the golf course on the island of North Haven is the kind of course that every golfer will immediately fall in love with. From its simple, unpretentious clubhouse to its soft, velvet-grass greens, North Haven GC represents the epitome of island golf. From the first tee to the last green, it's a good walk unspoiled.

The golf course was designed in the early 1930s by the team of Stiles and Van Kleek and opened for play in 1932. With the exception of some old bunkers that are no longer sand-filled, the course has changed little from their original vision. In fact, the folks here have been hard at work restoring the layout to its original appearance. After many years during which the rough between holes was simply mowed away, they've been allowing it to grow back, adding definition and character to each fairway. These tall, golden grasses are reminiscent of the great links courses of Scotland and Ireland; escaping from them is do-able, but tricky.

Set on a hillside that was formerly part of the Waterman Farm, North Haven is a course that will test every club in your bag. The par 4s range from 255 to 417 yards. There's a dogleg-left par 5 that plays 550 yards. And the finishing hole, a 235-yard par 3, is as tough as they come.

The signature hole at North Haven (though they'd never use such a modern term as that to describe it) is unquestionably the sixth. A 170-yard par 3 from the back tee, it plays over a tidal inlet to a green that's surrounded by mounds and guarded in front by two, tall sentinel pines. Like the other eight holes at North Haven, it's the kind of hole that you enjoy playing no matter how well you play it.

Getting to North Haven can be enjoyable, too — weather permitting. Ferries leave from Rockland two to three times per day, and the one-hour passage takes you past several smaller islands and several hundred colorful lobster buoys. You even have a seal's-eye view of the golf course at the Samoset Resort as you depart Rockland.

Frye Island Golf Course

Frye Island Golf Course is located on a wooded island in Sebago Lake. Until 1998, Frye Island itself was part of the town of Raymond. But in that year, it gained its independence and now is self-governing. Dotted with cottages and camps, Frye Island is a boater's paradise. It's surrounded by some of the best boating and fishing waters in the state. Almost every lakefront home has its own dock, its own boat, its own beach. But Man does not live by water alone. Which is why Geoffrey Cornish, New England's buiest-ever golf course architect, was hired in 1970 to design a golf course for the island. The course Cornish came up with is set inland; the shores of Lake Sebago aren't visible from the course itself.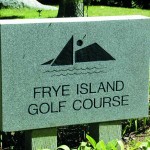 "I guess the trees have all grown up," Cornish said when informed of this.  But Frye Island GC feels like an island course nonetheless. And that feeling begins with the ferry ride that takes you there. From Route 302 in Raymond, you take Raymond Cape Rd. to reach the ferry dock, where a car ferry takes you to Frye Island. Unlike 1970, when Cornish remembers having to sandwich all his work into the four hours between the ferry's departure and its return, today it leaves for the island on the half-hour. At under $20 for the round trip, the voyage isn't a budget buster, and the course that awaits you is worth the added expense.
Frye Island Golf Club used to be called Running Hills. Of the 18 holes Cornish designed, nine of them have been opened for play — those originally designed to be the back nine. That nine opened on Memorial Day, 1972. Islanders and visitors have been enjoying it ever since.  Frye Island is no pitch-and-putt holiday course. It has a 420-yard par 4 and a 520-yard par 5 to test your game, though there are three sets of tees to offer players of every level a suitable challenge. Its signature hole is the par-3 eighth, a lovely one-shotter that plays over a pond to a shallow, sloping green.
Set in quiet, peaceful woodlands, Frye Island is a public course that puts a premium on privacy. It's possible to go an entire round without seeing a soul. In fact, a Frye Island employee was almost apologetic that two groups were on the first tee one weekday afternoon.
"You can usually walk right on," he said. "But today we're having a little tournament."
Frye Island's charms are apparent the moment you step on that first tee. As tight as the opening tee shot is, you may find it hard to believe that you're embarking on a 400-yard par 4. And if you should be lucky enough to get your opening shot on the short grass, you'll have a blind second shot over a ledge to a bowl-shaped green below. If you can pencil in a 4 after playing this hole for the first time, you've done yeoman's work.  To the right of the first green, you may be surprised to see a small propane tank suspended from a tree. It's a bell, used to signal players behind that the green is clear. It serves as a quaint reminder that on an island, nothing is wasted.
At the second hole, accuracy off the tee is again all-important, as a long pond runs up the left side of the fairway. There's not much room off the tee here. In fact, there's a lot more room on the green, since this hole shares a huge double-green with the short par-4 sixth.  Just make sure you're aiming for the right flag.
On hole number three, you have another fairway pond to negotiate.  "We put those in and/or enlarged them," Cornish said of the multiple ponds. "We needed fill for other areas and that's where we got it."  This hole, which can play as long as 420 yards, runs uphill to an elevated green that is surrounded by woods on three sides.
The eighth hole, a 170-yard par 3 over yet another pond, isn't just the prettiest hole on the course, it's arguably one of the prettiest holes in Maine. Tall cattails peer from the edges of the pond, which helps provide water for the local foxes and deer. Don't be surprised if you see a big snapping turtle or two, either. Try to keep your eye on the ball when you get to the green, though. It slopes sharply from left to right and it wouldn't take much of a mis-hit to blow the ball 10 feet by the hole.
Until 1982, the club utilized an old Boy Scout Camp hut for its pro shop and clubhouse. But in that year, an enterprising group of islanders banded together to raise the funds necessary to build a real clubhouse, complete with pro shop and grill room. After your round, it's a nice place to relax and chat with the locals, who receive visitors with equal measures of warmth and curiosity.
If you'd like to see more of Frye Island and its cozy but challenging golf course, log on to their Web site.  You can even download a course guide, so those blind shots and ponds won't come as such a surprise.
Mount Kineo Golf Course
Our final "island" golf course really isn't technically on an island. But because you can only get to it by boat, it qualifies for inclusion here. Mount Kineo Golf Course is located on an isolated peninsula that juts out into Moosehead Lake. Visitors could walk a long logging road to reach Mount Kineo, but it's not accessible to vehicle traffic. Instead, visitors to Mount Kineo board a boat at the public launch in Rockwood and make the almost mile-long journey that way.
The Moosehead Lake region has been popular with visitors for over 100 years. The area was a favorite spot of Native Americans as early as 11,000 years ago. The flint-like rhyolite they found there was widely used for fashioning stone tools. Centuries later, it was timber that brought people to the area, as its vast natural resources helped a growing nation build itself.
During the years between 1880 and 1920, local hotels bustled with activity as people came to Moosehead for rustic recreation. The lake was busy with steamboat traffic as New Yorkers, Bostonians and even Europeans made the trip from Greenville to Kineo over water in elegant fashion. Steamers with names like Comet, Ripple, Fairy of the Lake, and Olivette crisscrossed Moosehead's deep, green waters with men in waistcoats and women in ankle-length dresses.
The big attraction in the Mount Kineo section of the lake was, and still is, Mount Kineo itself. This glacial mountain, with its distinctive, bluish-green rhyolite face, towers over the Kineo peninsula. Mount Kineo, elevation 1789 feet, dominates Moosehead Lake from every angle. At its base, it's been estimated that the lake plummets to a depth of nearly 200 feet.
One of the things that attracted so many visitors was the Mount Kineo House, a grand hotel built by the Ricker family (of Poland Spring Resort fame) in 1848. At one time, it was the largest inland waterfront hotel in America. In subsequent years — as one Kineo House structure was replaced by another, and another and another — the hotel's reputation for elegance and service continued to grow. In addition to its gardens, lawns and wide, sunny porches, the hotel offered guests sandy beaches, hiking trails, a yacht club and last but not least, a golf course.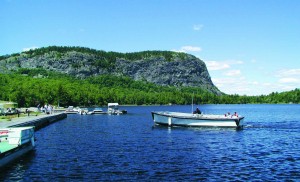 The course, thought to be the second oldest in New England, was built in the 1880s. Originally, it consisted of 13 holes. In the 1960s, though, the course's routing was changed and four of the holes were eliminated. These four holes, which ran up and along the base of Mount Kineo, were called "Cardiac Hill" because of the steep nature of their terrain.
Between 1974 and 1984, the course lay fallow, having been abandoned due to a general lack of play. In 1984, when the course was reclaimed from the fauna that had taken it over, the original greensites were found with help from an unlikely source. According to local lore, for some reason, the raspberries particularly liked those greensites.
"It was easy to find the greens," a Kineo employee said. "All they had to do was look for the spots where the raspberry bushes had grown."  Today, the Mount Kineo Golf Course is well on its way to returning to its former splendor. The members, mostly local landowners, usually have the tree-lined, hilly course to themselves. Lucky, they are. A more tranquil setting you'd be hard pressed to find.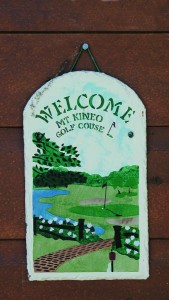 Mount Kineo is a real golf course, one that will test almost every club in your bag. From the tight, par-5 opening hole, behind which Mount Kineo stands a stately vigil, to the tricky, bumpy finishing hole, the course demands strategic shotmaking.  All the holes are scenic. But it's the 138-yard, par-3 fourth hole that takes first prize. From the tee, you hit over water to a green that's set right at the base of the mountain's rocky face. The green, like most of them at Mount Kineo, is small and slopes toward the water. It's not a tremendously difficult hole, as long as you can keep your mind off the scenery long enough to hit the ball squarely.
At the fifth hole, (331 yards, par 4) you'll find the course's only bunker. The seventh hole, another par 3, plays along the edge of the lake. You hit from an elevated tee across a swale to an elevated green. Go right and you'll be swimming.
Mount Kineo's two finishing holes are stern tests. The eighth is a 430-yard par 4 that plays every inch of its length. After a blind tee shot up a hill, you play parallel to a row of cottages to a small green set in a shallow hollow. Even when the wind is favorable, hitting this green in regulation is something to crow about.
The last hole is another demanding par 4. Your tee shot skirts the remains of the old hotel's servants' quarters (which themselves were housed in a building as large as most modern day hotels). It's a tricky driving hole, with several deep depressions — craters almost — that must be avoided if you hope to get on the green in two. The green is one of the tiniest you've ever seen, and has a sharp drop-off on the right side. If you're playing someone in a match, I suggest you try to end it before you reach this hole.
Moosehead Lake has always been renowned for its fishing, boating and moose-watching. The fact that it has such a delightful golf course by its shore is but one more reason why you should venture up for a visit.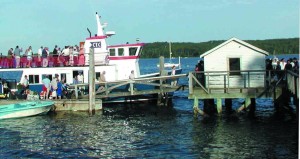 There have been other island golf courses in Maine's history, notably the course on Great Diamond Island, whose members regularly held inter-island matches against the neighboring club on Great Chebeague. That course no longer exists, but perhaps someday another one will take its place. With today's land values and environmental and zoning restrictions, though, it's unlikely that anyone will build another golf course on a Maine island anytime soon. In the meantime, we'll just have to be content with the five great ones we have.
Climbing aboard a boat en route to play golf is the kind of experience that makes living (and playing) in Maine so uniquely wonderful. The sights you see, the people you meet, the peace and quiet you'll enjoy — all of these conspire to make such an experience worth every bit of the time and effort required. So pack up your clubs, untie the bow line, and chart your course for a golf course. Whether you travel by ferry or yacht, you'll be glad you did.