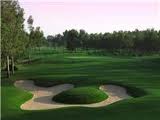 Golf Adventure Awaits on the Turkish Riviera.
If you're a golfer looking for something a little more exotic than another trip over the river and through the woods to grandmother's house this Thanksgiving, the "Turkish Riviera" is making a strong case for itself.  Named Europe's "Destination of the Year" by the International Association of Golf Tour Operators in 2008, the region boasts four courses in Europe's Top 100, as ranked by the U.K.'s Golf World magazine.  This is pretty swift progress for an area that opened its first golf course in 1994.  Here's the lowdown on a place that's become popular with European golf travelers looking for something affordable and different.
The Area
Belek, located approximately 30 minutes southwest of Antalya on the Mediterranean coast, is the Myrtle Beach wannabe of Turkey.  It features 17 different courses, plus numerous hotels offering varying degrees of luxury all along the shore.  Fly into Antalya airport (a four-hour flight from London) and within 45 minutes you can be on the tee.  Belek offers very little other than golf and beaches, but the Old Town in Antalya is worth a visit, as are the Roman ruins you'll find throughout the region, particularly in Aspendos, Perge and Side, which are all less than an hour away.  The construction boom that rolled through the area in the middle of the last decade has abated, leaving many half-finished projects all along the road from Antalya to Belek.  Scenic this drive is not – but you'll certainly know you're not in Kansas anymore.
The Courses
The best of the bunch is actually a links-style course, LykiaLinks, which was designed by Perry Dye.  It looks and plays like a traditional links, with pot bunkers and fast greens.  Others worth playing include The PGA Sultan Course at Antalya Golf Club (designed by David Jones), the Cornelia Golf Club's Prince course (Nick Faldo), and the Montgomerie Maxx Royal Golf Club (Colin Montgomerie).  The course at Carya Golf Club (Peter Thomson) is another favorite.  The 36 holes at the Sueno Resort and 45 holes at the Gloria Golf Resort should be considered second-tier courses but are worth playing in you have the time.  In 2012, a new course is scheduled to open; Belek Golf Club, a Jose Maria Olazabal design, is being built in conjunction with the European PGA Tour and is expected to add an additional championship dimension to the local golf scene.  Generally the courses here feature fairways lined with pine trees – so accuracy off the tee is a must.
Course conditions on the whole are usually very good — and green fees are fair.  Expect to pay between 65 and 150 Euros per round if you're not on a golf package, less if you are.
The Hotels
The Belek area was envisioned to be a golf and leisure getaway spot for all of Europe, so gargantuan four- and five-star hotels predominate, mostly of the all-inclusive variety.
The Maxx Royal Hotel is one of the more glitzy and glamorous places you'll find in this part of the world, but it's hard to imagine feeling comfortable staying there unless you're a Russian mobster with a girlfriend who likes very high-end shopping.  Slightly less over the top is the Cornelia Diamond, where the breakfast, lunch and dinner buffets feature literally hundreds of choices.  The Gloria Serenity resort is another good choice, as is the Sueno Resort for those traveling on a tight budget  Most hotels offer spa facilities and extensive outdoor activities along the beaches.
Things to Know
Turkey is not on the Euro, but Euros (as well as US dollars) are generally accepted in most places.  This can get confusing as you try to convert one currency to another, particularly if you happen across a situation where Turkish lira are required.  At the moment, one lira is worth about half a Euro, which itself is worth a bit more than a dollar.
As an English speaker, you'll be able to make yourself understood with most hotel staff – eventually.  But English is only one of many languages you're likely to hear.  Travelers from Germany, Russia, France, the Scandinavian countries and the Middle East all come to the area for golf and relaxation by the sea.
If you decide to go, definitely book through a travel agent so that you'll have someone to call upon if there are any issues.  Complicated explanations can be lost on the well-meaning hotel staff.
Turkish Airlines offers service to Antalya from Istanbul.  Flights are inexpensive if booked far enough in advance, and the airport facilities and aircraft themselves are of good standard.
Best times of year to visit are what we'd commonly look upon as shoulder seasons – March-April-May and September-October-November.  During these months, it's generally plenty warm enough to play in shirtsleeves and swim in the Med.  Summer months are very hot.
If you go, try to allocate some time to visit Istanbul.  This city at the crossroads of the ancient world is home to 14 million people and its history and tourist attractions could easily keep you fascinated for a week or more.