Thinking about buying a new set of irons?  Have you considered Mizuno?  Whether you're a scratch player, a beginner or anything in between, you owe it to yourself to give them a look.
Why Mizuno?
For decades, Mizuno has earned a solid reputation for the quality of its clubs.  The company's patented, "grain-flow" forging process has yielded model after model of forged irons that better players everywhere have long held in high regard for their feel and playability.  Seve used them.  Nick Faldo used them.  Tiger Woods played them as an amateur before the big bucks from Nike kicked in.  And today, World Number-One Luke Donald, Charles Howell, Jonathan Byrd, Stacy Lewis and others all choose Mizuno.
But forged irons are not all that Mizuno has to offer – not by a long shot.  Ever since the late 1990's, when the company introduced its Comp EZ line, Mizuno has been making a concerted effort to shed its "better-players-only" label and provide clubs that the average golfer can also benefit from using.  In August of 2010, the company introduced the Mizuno JPX line, multi-material designs featuring variable-thickness faces, the highest-allowable COR (Coefficient of Restitution – otherwise known as "spring-like effect"), and a host of other game-improvement features.  If you haven't yet tried one of these clubs, now is the time – particularly since Mizuno has just recently added the new JPX 800 HD to its 2012 offerings.
The JPX 800 HD – Golf's Most Forgiving Club?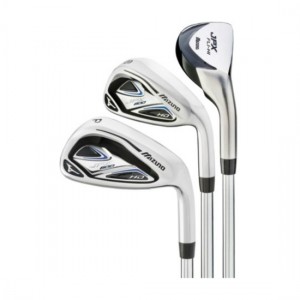 The JPX 800 HD is a super game-improvement iron designed to give mid- and high-handicappers the kind of forgiveness they need on off-center hits, along with the feel that Mizuno is renowned for.  The HD (for "height" and "distance") takes last year's JPX technology a step farther.  The "Hot Metal" face is hot, for sure – you're almost guaranteed to get more distance from trading up to these clubs.  But at the same time, because they offer such a low center of gravity, the HD irons really make it easy to launch the ball high.  In addition, Mizuno has been able to not just enlarge but also realign the sweetspot on these clubs.  They've shifted it to the places on the clubface where miss-hits are most likely to occur – low on the heel and high on the toe.  The result: more forgiveness and better results on miss-hit shots.
"The JPX 800 HD is the most forgiving club the company has ever developed," said Bill Price, Custom-Fit Program Manager for Mizuno.  "It's a high COR, high MOI (moment of inertia) club that delivers just what its name says it will – high distance.  Mizuno has a heritage of making clubs with great feel.  Most golfers know that.   But the brand's excellent game-improvement clubs make it a great choice for players of any ability level or gender."
New Irons that aren't just Irons
Another thing that makes the Mizuno JPX 800 HD line worth consideration is the degree of selection you have as far as set make-up is concerned.  New fitting software for 2012, combined with the 1400 fitting carts Mizuno has around the U.S., ensure that you have the right clubs for your game and your swing.  And here's where things get really interesting – particularly if you struggle with your longer irons.  Some of the options Mizuno offers in its JPX 800 HD line are what the company calls "DLR" clubs – "Direct Long iron Replacements."   Depending on what your club-fitting session reveals, what your "Swing DNA" is shown to be, your club-fitter may recommend that you include in your new set one or more of the Mizuno JPX Fli-Hi clubs.  These are not hybrids per se – they're the same loft, lie and length as the specific irons they replace.  A JPX Fli-Hi iron, in other words, has similar specs to the JPX HD iron.  But the Fli-Hi's low center of gravity and other design characteristics make them just a little easier for some players to hit consistently well.  The JPX Fli-Hi line includes 3, 4, 5 and 6-iron replacement clubs.  You might find that your ideal set includes one or more of these.
The only way to know for sure, though, is to get properly fitted.  Mizuno's Performance Fitting System – which includes a shaft optimizer process – is one of the industry's best.  Over 70% of all the iron sets Mizuno sells are custom-created via this innovative fitting process – and for good reason.  Why wouldn't players want to get clubs spec'd to their swing and golf game?
"I've heard high-handicappers say that their games aren't good enough to bother with the fitting process," said Price.  "What I want to say back to them is that their games might be a lot better if they were fitted for the proper clubs.  It can make a huge difference."
If you're ready to explore the difference the Mizuno JPX 800 HD might make in your game, visit the Mizuno Web site (www.mizunousa.com) and search for the Mizuno Performance Fitting System location nearest you.  A set of JPX 800 HD irons (4-PW + gap wedge) run around $699 with steel shafts, $899 with graphite.