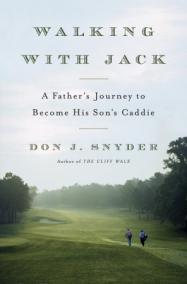 You've never read a golf story like this. Never. The fact that it is true – and that in addition to being a great golf story it so beautifully illustrates the love of a father for his son – makes it all the more remarkable.
Imagine making a promise to your son when he's a young golf prodigy – to serve as his caddie should he ever find enough game to turn pro. And then imagine going to Scotland, in February, and spending day after day in snow, sleet and freezing winds carrying a golf bag full of rocks for 36 holes a day just to get a leg up on what it takes to be a looper. Imagine going on to become a caddie at The Old Course at St. Andrews – at age 60 – and learning from the hardscrabble men who make their living hauling bags on those storied links. Then imagine what that father went on to do for – and with – his son when they actually took on a Texas mini-tour together.
And finally, imagine that the father is one of America's most talented novelists and authors. Imagine the insights you'd get into every moment of this amazing journey from the pages of such a book.
In Walking With Jack – A Father's Journey to Become His Son's Caddie, Don Snyder takes you along on this incredible adventure. And it's one you will never forget.
Snyder's talent for storytelling is only equaled by his undying determination to lay down the truth – in all its gory details. There is conflict here aplenty, coupled with in-the-moment insights that could only have been captured by a writer of Snyder's intelligence writing night after night when the day's work on the golf course was done. You'll come away from reading this book exhausted — but buoyed and full of hope. Every father, son and golfer should read Walking with Jack. In fact, everyone should read Walking with Jack.
In the first parts of the book, Snyder describes what it was like to leave his home in Maine and learn the caddying trade in the Home of Golf – Scotland.  He recounts his days on the course carrying the bags of wealthy (and not-so-wealthy) players who had made pilgrimages to St. Andrews to play Kingsbarns and The Old Course.  He describes the sour German player who treated him like dirt only to become transformed when Snyder treated him with kindness in return and helped him achieve the best round of his trip.  He describes the process of winning over the local caddies, who were none too pleased at first to have an American interloper invading the caddie yard.

The stories are vivid.  There's the one about caddying for the priest from Northern Ireland who had eight 16-ounce beers in his bag – a player who was in town because his best friend's son had recently drowned and who was playing golf because he found his belief in God wavering.  There's the one about the aging player who had packed up his nitroglycerin pills and "escaped" from a nursing home to set off with a friend on a tour of Scotland's great courses.
Perhaps the most poignant St. Andrews caddying story he recounts is that of the father of an autistic son.  The father, whose own father had just recently passed away, was playing a late-afternoon round on The Old Course one day with Don on the bag.  Like many, the father's dream had been to play The Old Course, but in order to do so, he'd had to leave his wife and 30-year-old autistic son back at the hotel, since the son's uncontrollable outbursts might bother other players.  Snyder suggested to the man that they let the last groups play through and that the man call his wife and son to join them on the course, which the man did.  Together, they finished the round in the gloaming and the man holed out at the 18th with tears in his eyes at the joy of being able to play golf with his son – something he never thought he'd be able to do anywhere, much less on The Old Course.
Snyder writes:
"It all worked out perfectly.  The son was making his loud noises and swinging his arms around like some crazy helicopter that would never fly, but it was beautiful to witness the two of them.  It was something I'll never forget. 
I wonder what it must have been like for this father never to be able to fix what was so terribly broken in his son.   What I did today I did for him of course, but also for myself, and for fathers everywhere, I think.  And for my own father, whose presence I felt today out on the golf course.  I think he was looking down on us from wherever it is we go next."
In the second half of the book, Snyder then shifts his focus to the story of caddying for his son, Jack, who'd finished his collegiate golf career on a high note and turned pro, with an eye toward testing his game on the mini tours and seeing if he had what it takes to make a living swinging a club.  For two months, father and son would travel together through Texas playing Adams Tour events, rooming together in hotel rooms, and sharing moments on golf courses that few other fathers and sons ever have the chance to share.
Fathers and sons have complicated relationships, no matter how close they may be.  Being civil to one another at Thanksgiving dinner and on Christmas morning is one thing; traveling together, sharing cramped hotel rooms, and teaming up to tackle the challenges that inevitably arise during a round of pressure-packed tournament golf is something quite different.
Snyder recounts each round in gripping detail.  One minute Jack is going for greens in two (against his caddie/Dad's judgment) – and pulling it off.  The next minute, Dad is praying that Jack will make a birdie "for his mom."  At key moments, putts just miss.  When all hope seems lost, Jack lasers a long iron from 240 and makes a clutch birdie.  Along the way, there's music on the rental car radio, SportsCenter on the hotel room TVs, and a lot of candid father-son talk about dreams and what they're made of.  It's an adventure that takes place at many levels.  Odysseus had it easy by comparison.
And all through the book, Snyder shares the kind of insights that have long made him one of America's most talented writers.  Insights not just about fatherhood, but about life in 21st-Century America for anyone struggling to provide for their families:
"The vast army of fathers out there with our new fears of the next oil delivery, or the pink slip, or the hike in insurance premiums, or the doctor's bill, or the bottom falling out of the stock market, or tuition bills we might not be able to pay.  I suppose we are afraid of disappointing the people who depend on us, or being cut loose from what protected us for so long and ending up as haunted, weary travelers on a night journey, bound for where we might never be certain again."
If you want to know how the story ends, you'll have to buy a copy and discover that for yourself.  Suffice to say that with a father like Don Snyder, Jack Snyder's future will be a bright one no matter what transpired.  And in the hands of a writer like Don Snyder, this is a story that you'll want to read – and talk about – for a long time to come.
This Father's Day, take a walk with Don and Jack.  If you do, I can promise that you won't come back quite the same.