I'm back in Boston after seven days experiencing the very best of southwestern Scotland.  What an amazing trip — great camaraderie with my fellow Golf Road Warriors, incredible golf courses and hotels, and warm welcomes from the Scottish people wherever we went.  Scotland is called the Home of Golf for a good reason, but it's also the home of some of the most hospitable people a traveling bunch of golf vagabonds will ever meet.  Here are some of the highlights.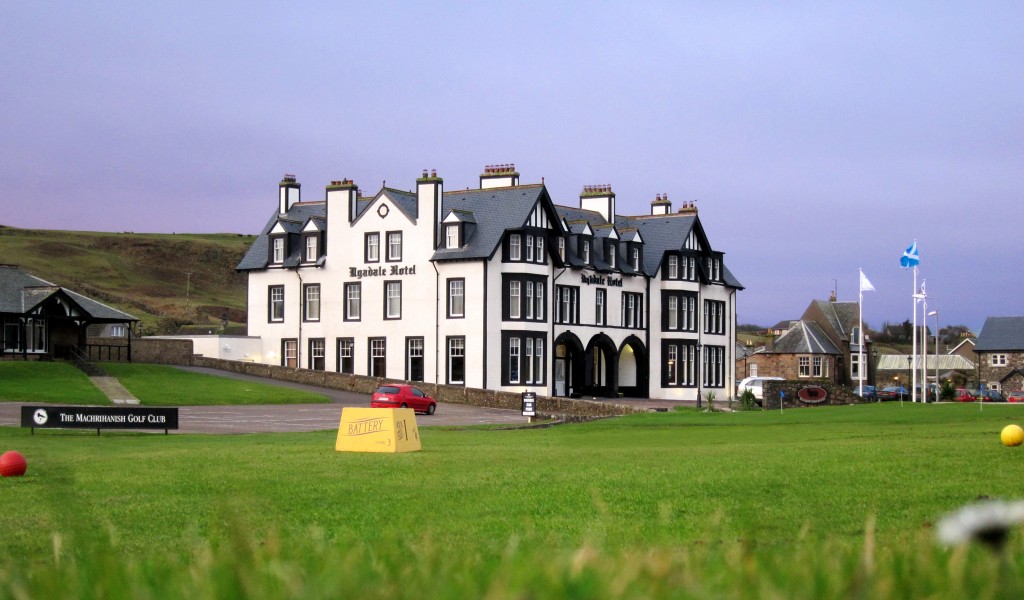 THURSDAY, MAY 10
Our first stop was The Ugadale Hotel at The Village at Machrihanish Dunes.  After a multi-million-dollar restoration, this hotel re-opened in February to rave reviews.  The hotel includes 23 luxurious rooms and suites — many with ocean views — The Kintyre Club restaurant, Serenity Spa, and fitness facilities.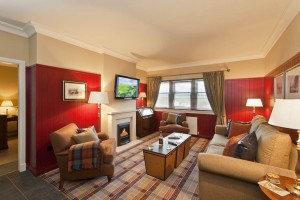 While most of the Golf Road Warriors stayed in rooms at the hotel, David Whyte and I shared one of the luxurious Ugadale Cottages so that he'd have room for all his camera equipment.  The Mach Dunes PR staff set up shop in our living room, which was fun!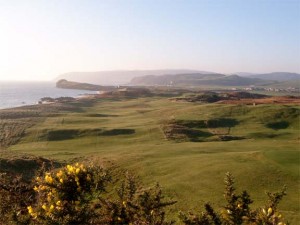 Our first course was scenic Dunaverty GC in Southend.  It poured rain on us, but we persevered and had a blast on this short but challenging course.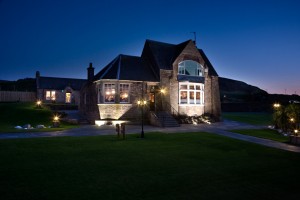 That night, we joined with our hosts from Machrihanish Dunes and some other writers and golf tour operators for dinner in the lively Old Clubhouse Pub.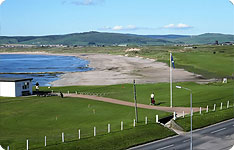 Friday, May 11
Today began with a round of golf on the famed Machrihanish Golf Club course, with its knee-knocking opening tee shot across a corner of the Atlantic.  Along with playing partners Chris Bertram, a writer for Golf World magazine, and fellow Golf Road Warrior James Frank, I enjoyed the round immensely.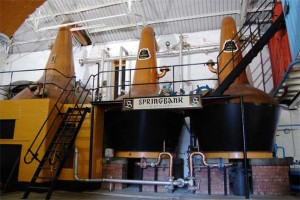 In the afternoon, we all paid a visit to the Springbank Distillery, where they handle all aspects of the whisky-making process in the same location: malting, distilling, barelling and bottling.  We sampled four wonderful — and wonderfully different — whiskies, including the fine Springbank 15 year-old.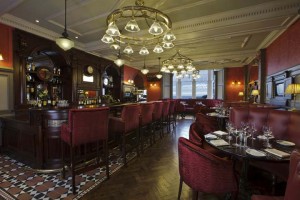 Friday night saw our group gather at The Kintyre Club restaurant in The Ugadale Hotel.  Here I enjoyed one of the finest scallop dinners I'd had in a long time, along with a few glasses of a nice dry white wine and a wee dram of single malt to top off the day.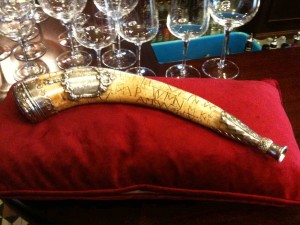 The Kintyre Club has a rich history.  In the early 1800s, a group of Glasgow-area businessmen founded it in order to provide assistance to Campbeltown people in need.  The club disbanded in the 1960s, but its name has been resurrected for the new private dining restaurant at The Ugadale Hotel.  In the spirit of the original club, all annual dues from today's Kintyre Club go to charity.  Shown above is the shepherd's horn that used to be used to call the club to order.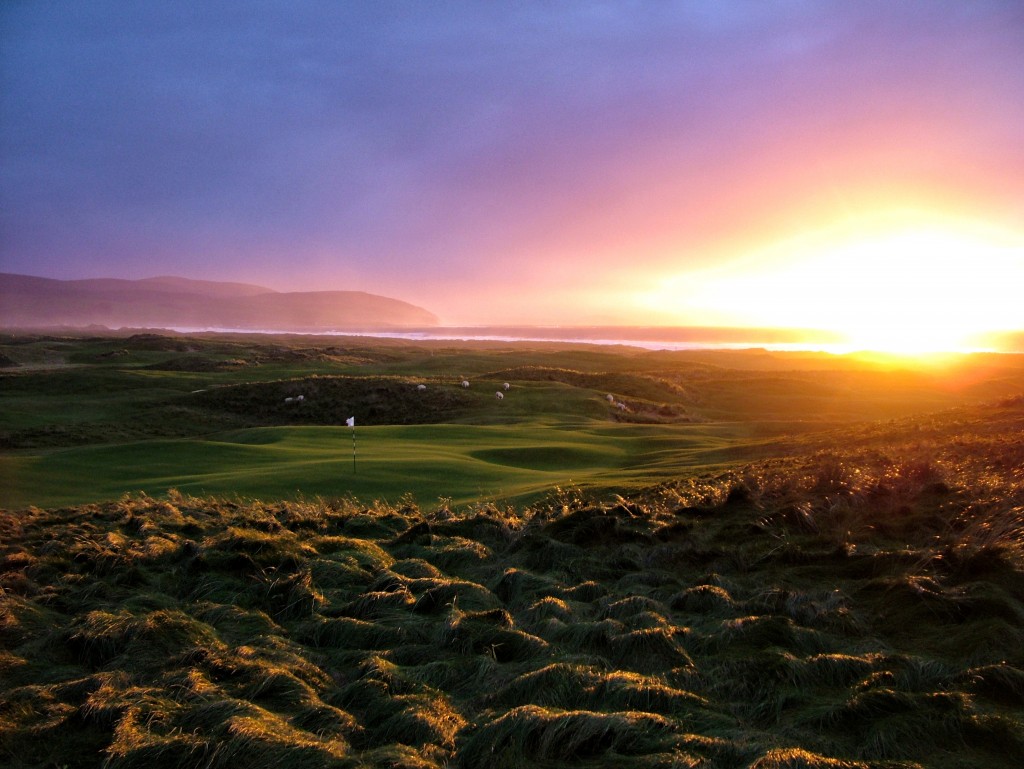 Saturday, May 12
The day dawned bright and sunny, but as often happens in Scotland, a few wee showers raced through before we teed off at Machrihanish Dunes.  Soon, though, they had passed and my playing partners and I spent the day in blissful sunshine enjoying "the world's most natural golf course."  What a track: raw, rugged, blind shots, vexing greens, and incredible views of the sea.  Later in the day, we received word that Machrihanish Dunes had moved up 21 places in  Golf World magazine's list of the "Top 100 Courses in Britain and Ireland" to Number 78.  It's a stunning course, and I expect it will move up higher.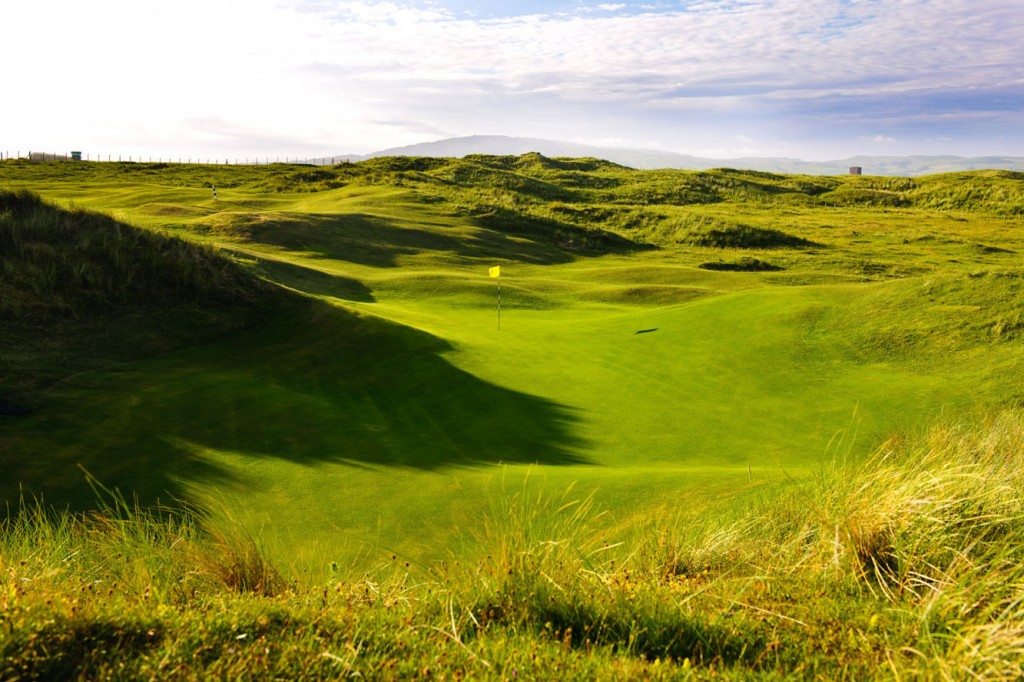 I drove the green of the par-4 13th hole, but alas, was unable to make the eagle putt drop.  Still, I'm happy with two-putt birdies anytime.  And what a setting to have an eagle opportunity.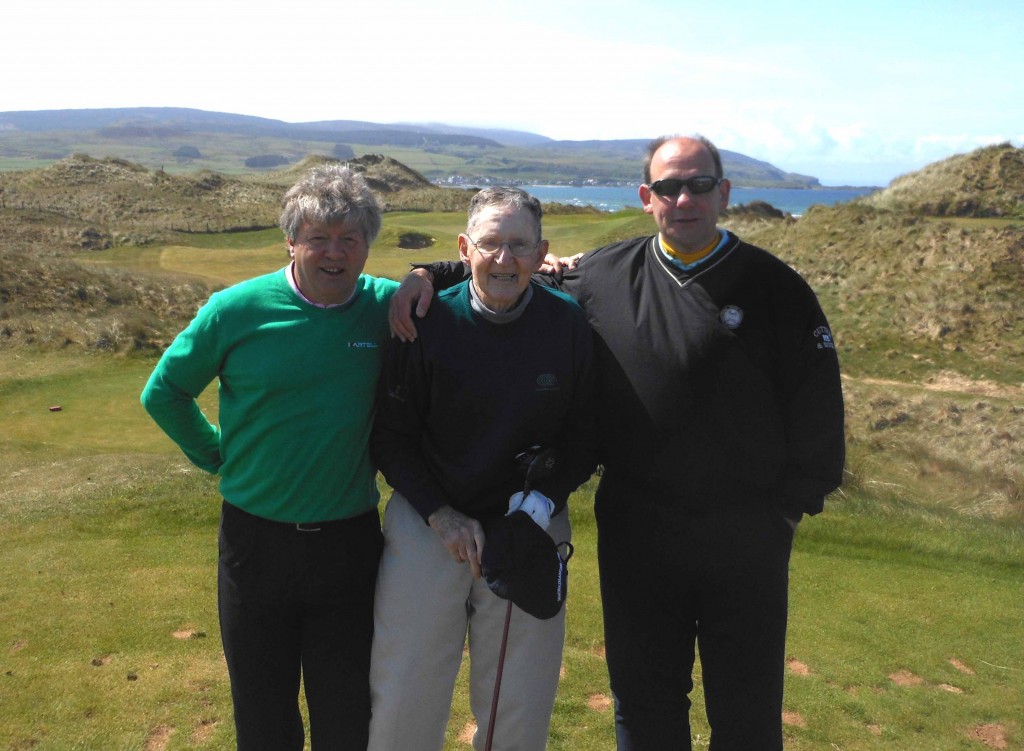 My illustrious playing partners at Mach Dunes.  From left: Alistair Tait of Golfweek, legendary links golf writer Jim Finegan, and old friend Stewart Smith, a golf pro who has his hands in many different things related to golf in Scotland.  Just having the chance to spend some time with this threesome was an honor.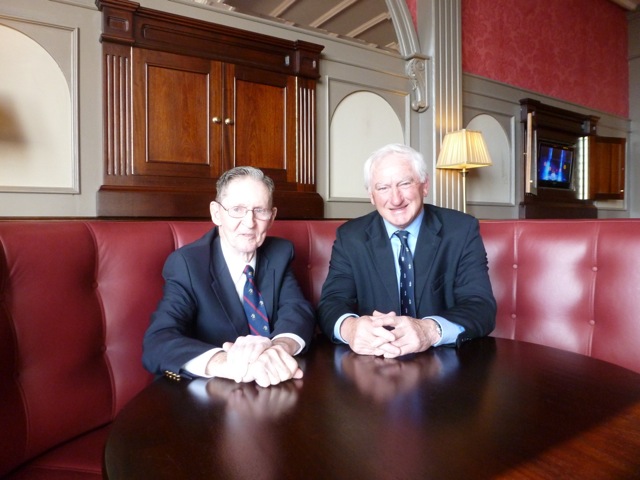 After the golf, Jim Finegan (left) sat down with golf writing counterpart Malcolm Campbell in the Kintyre Club to talk about Machrihanish Dunes and its place in golf history.  You can see an excerpt from that discussion between two of golf's greatest living writers here.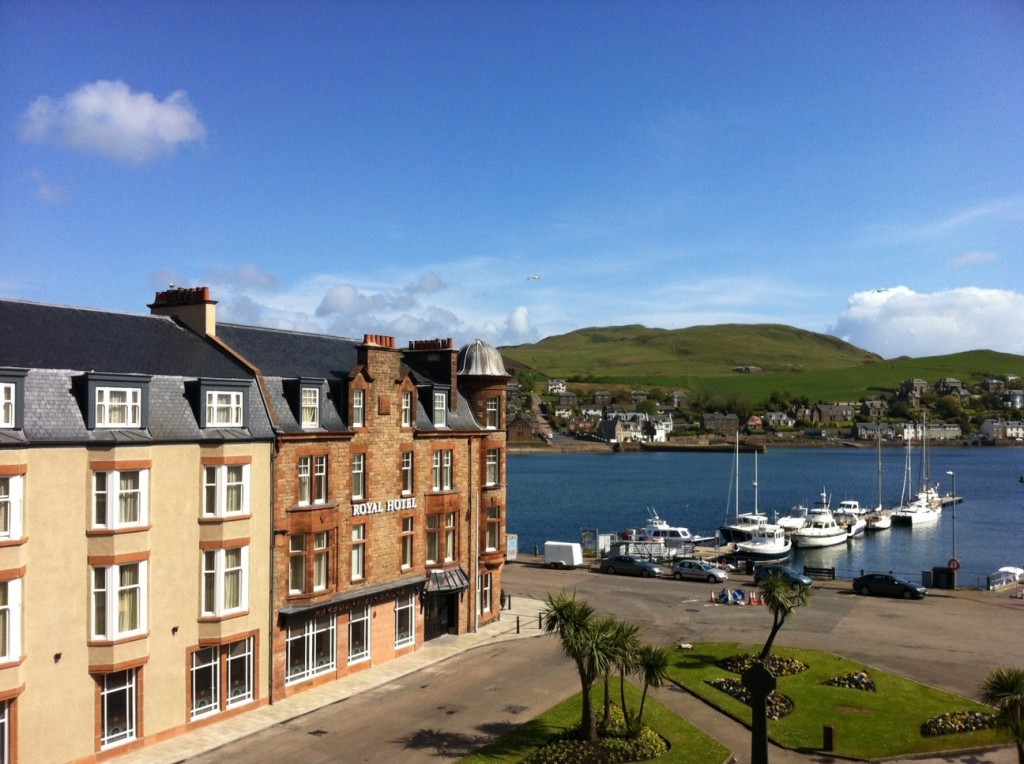 Saturday night, we all attended the grand re-opening of The Royal Hotel.  This historic building sits right on Campbeltown Harbour and will now once again offer four-star accommodations and amenities to area visitors.  Here, in addition to the 23 luxurious rooms, you'll find The Harbourview Grille and The Black Sheep Pub — two wonderful places to unwind after a day on the links.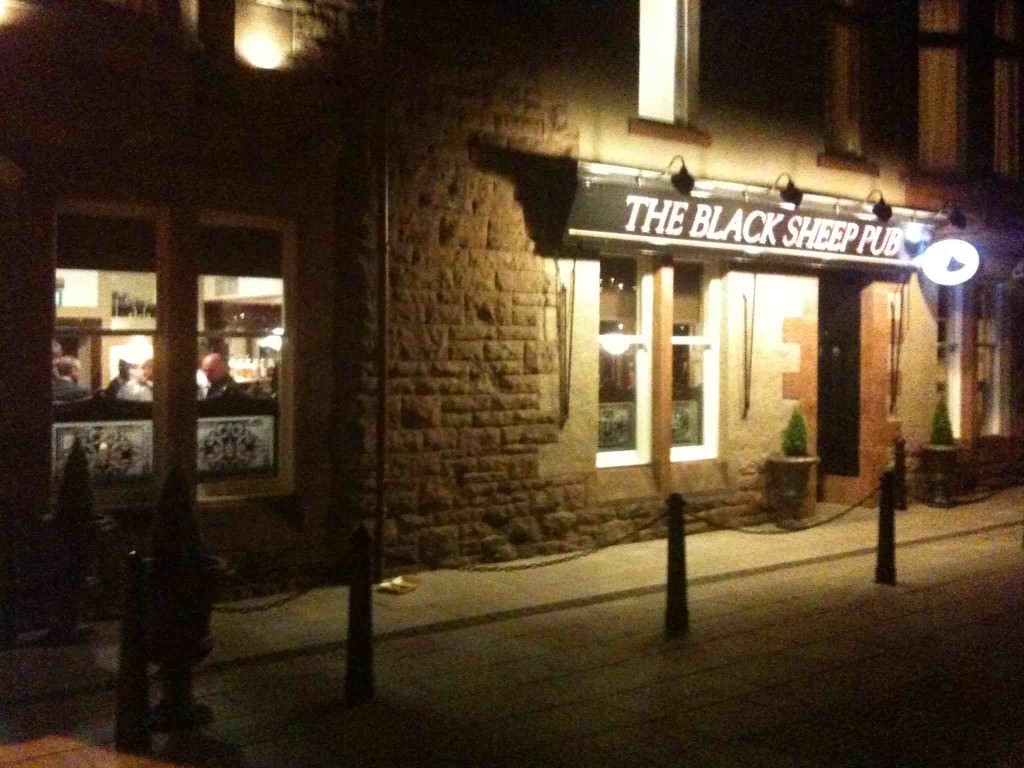 When the sun goes down, The Black Sheep Pub comes to life.  It's destined to be a favorite with locals and visiting golfers alike.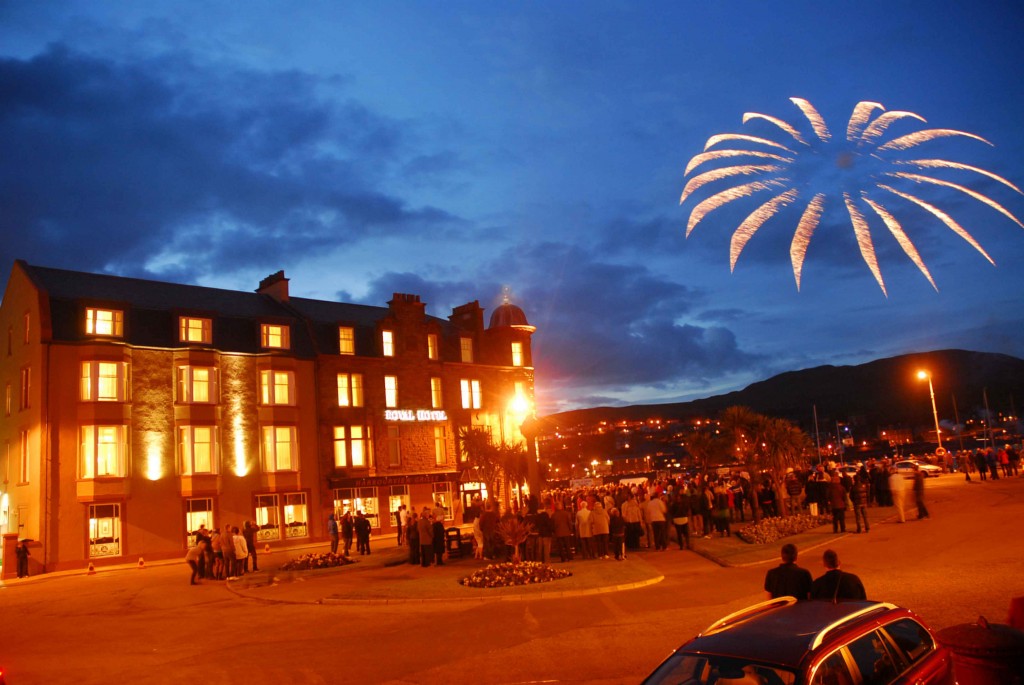 It seemed like every resident of Kintyre showed up to watch the fireworks show presented in celebration of the Royal Hotel's grand re-opening.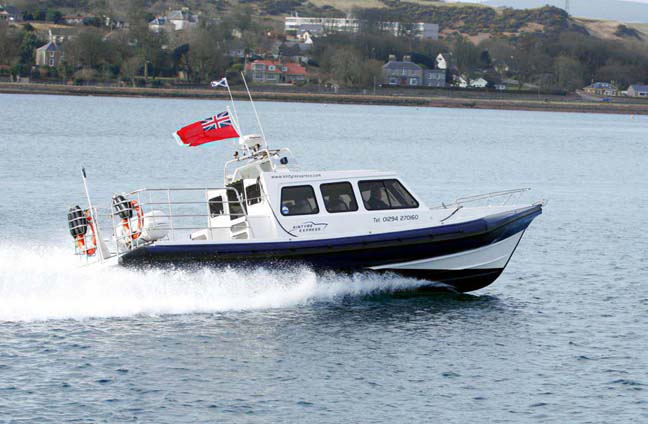 Sunday, May 13
Thirteen was an unlucky number for our Golf Road Warrior group.  Because of (extremely) foul weather, we had to cancel our trip aboard the Kintyre Express and travel to Turnberry by land.  Too bad, because riding the Kintyre Express is one of life's great adventures.  We'll do it next time.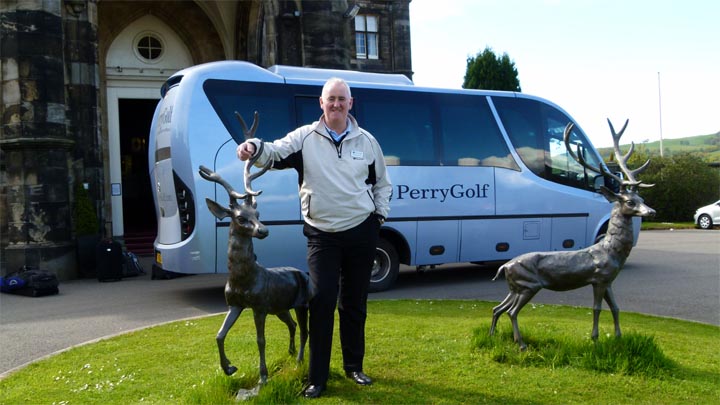 Luckily for us, PerryGolf came to the rescue and our driver for the Ayrshire portion of our trip, Angus McIntosh, met us near Loch Lomond and transported us safely to Turnberry.  Angus was the prototypical professional driver — courteous, knowledgeable, good-humored and always on time.  We enjoyed his company through the rest of the trip and are indebted to PerryGolf for providing his expert services — and their luxury VIP coach.  Talk about traveling in style!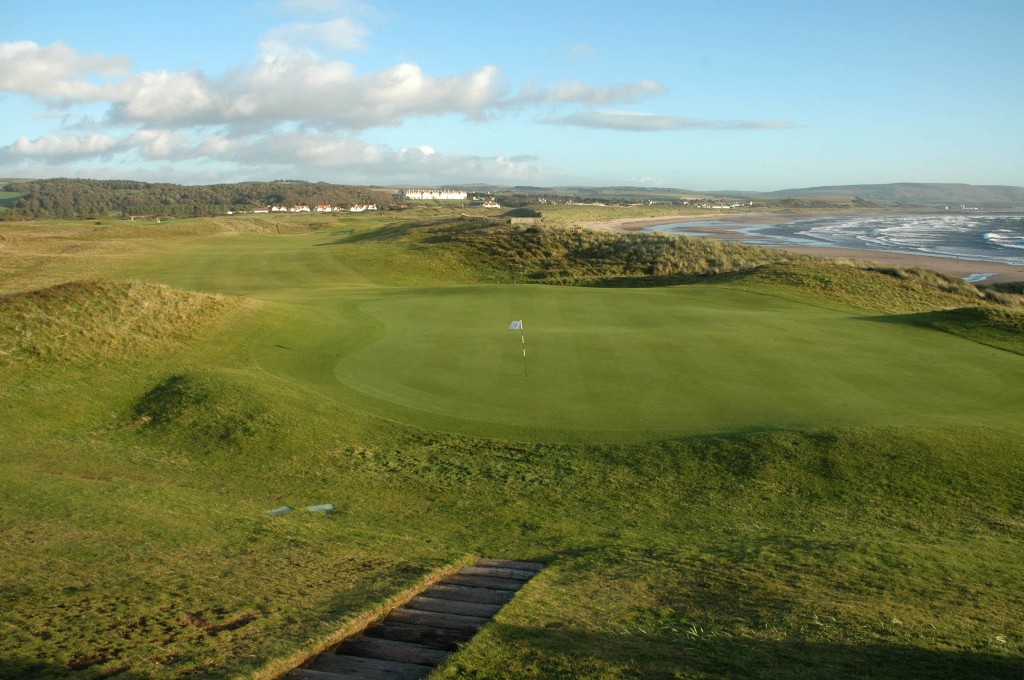 Turnberry's Ailsa Course has always been one of my favorites, and after a hearty lunch in the Tappie Toorie restaurant with Turnberry's jovial Head Golf Professional, Ricky Hall, we set out to play it.  Conditions were nothing like what is shown in the photo — we played in 30+ mph winds and sideways, driving rain that felt like pinpricks on your face.  Still, you can't come to Turnberry and not play, right?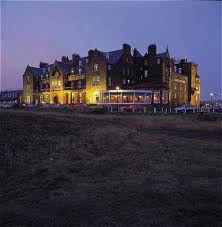 Sunday and Monday nights were both spent at The Marine Hotel Troon.  The Marine's location is ideal for Ayrshire golfers as it overlooks Royal Troon GC and is within a short drive of Dundonald Links, Prestwick and other courses.  It offers a spa, elegant dining, and roomy suites overlooking the golf course and sea.  I had the pleasure of staying the Roberto De Vincenzo suite.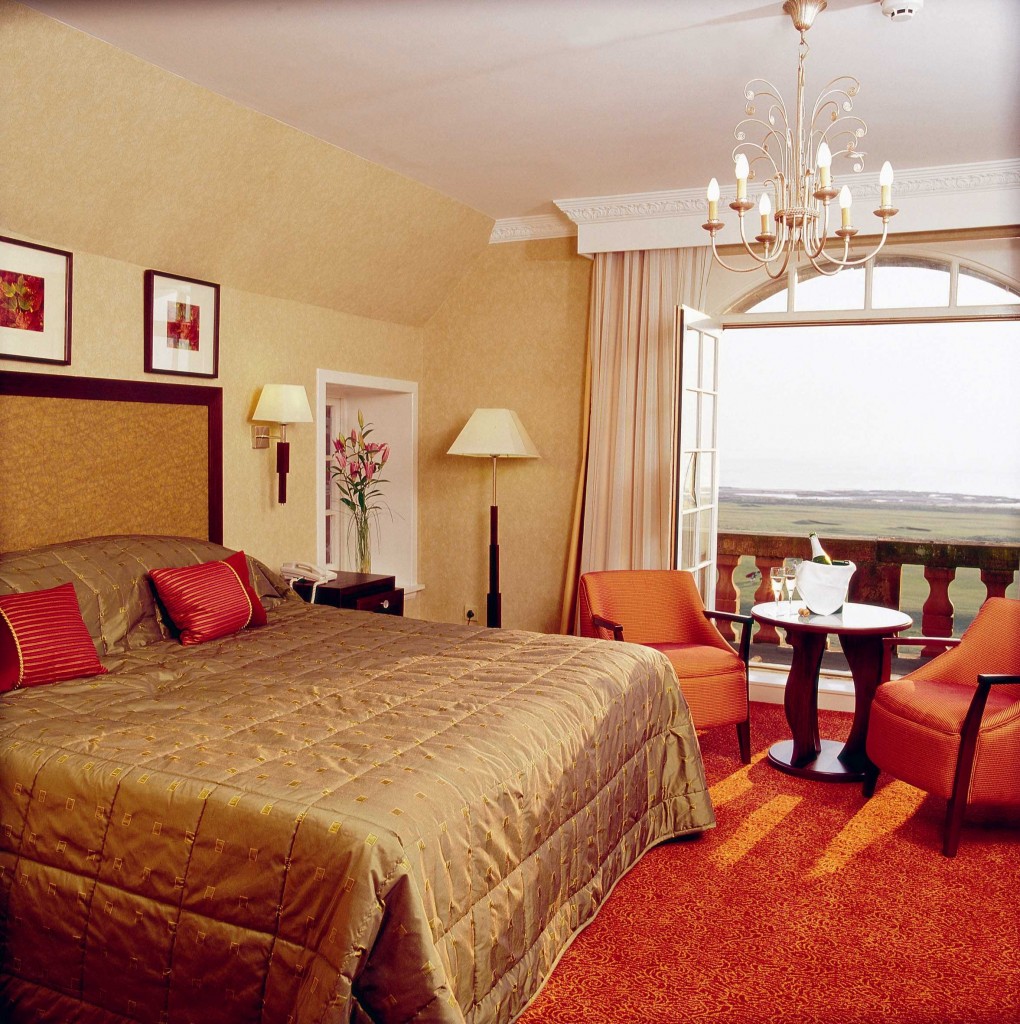 With sweeping views of the ocean and Royal Troon GC, The Marine is a great place to stay but a tough hotel to stay in — because you don't want to stay in your room!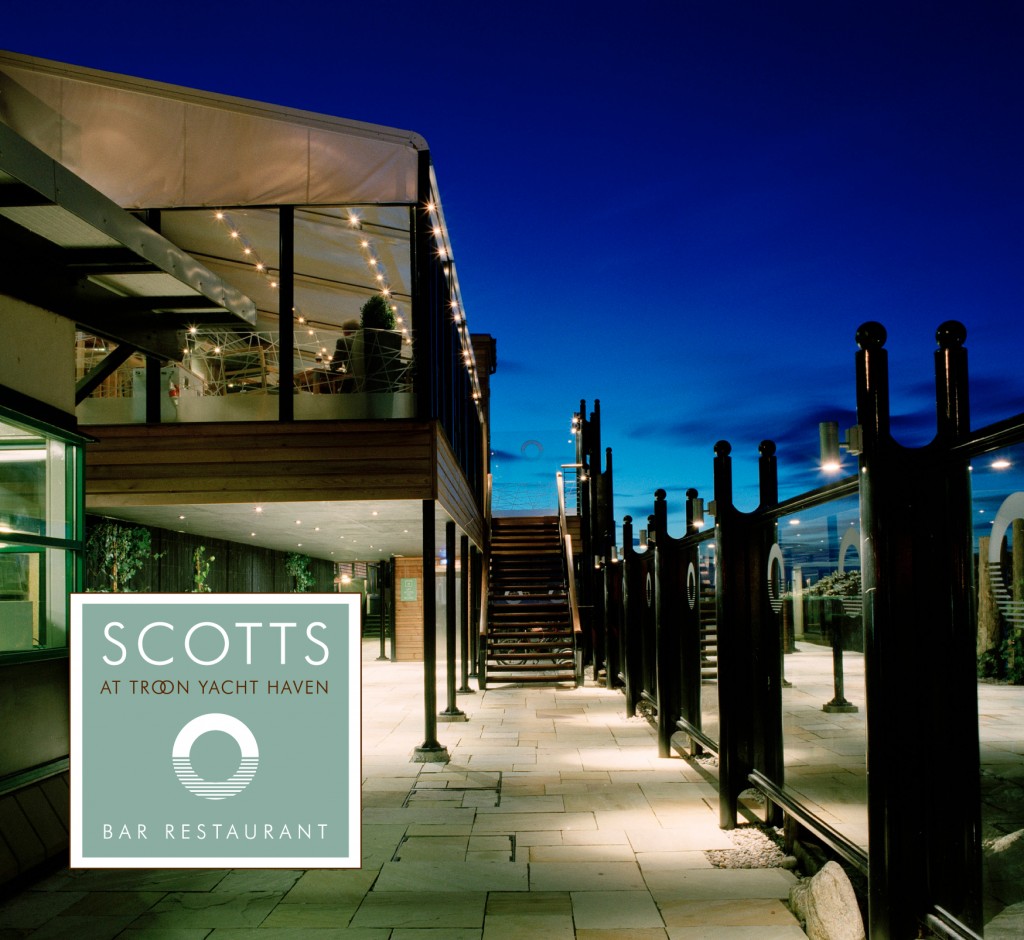 After checking into the Marine and getting out of our soaking wet clothes, dinner was enjoyed at Scotts overlooking Troon Harbour.  It was but one of many wonderful culinary experiences the group had in Scotland, proving that there is indeed some very fine fare to be enjoyed here.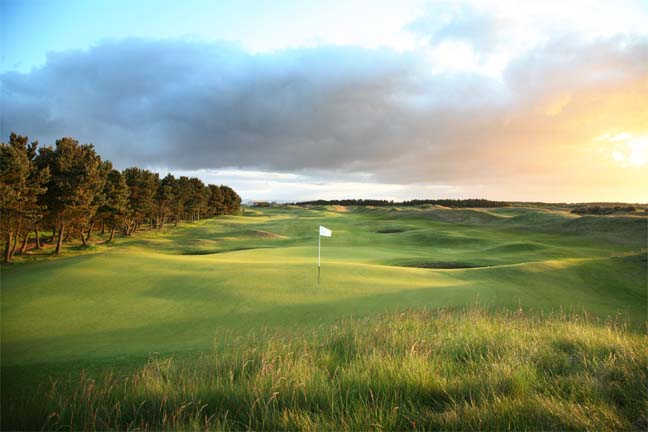 Monday, May 14
The "workweek" began for the Golf Road Warriors bright and early at Dundonald Links — a great Kyle Phillips-designed course that is, in my opinion, one of the most underrated courses in Scotland.  This is a true championship course and it gave our group all it could handle on a day that threatened rain but wound up being mostly sunny.  After play, we enjoyed lunch with Guy Redford, one of the most affable golf directors you'll ever meet.  If you haven't played this course, put it on your bucket list now.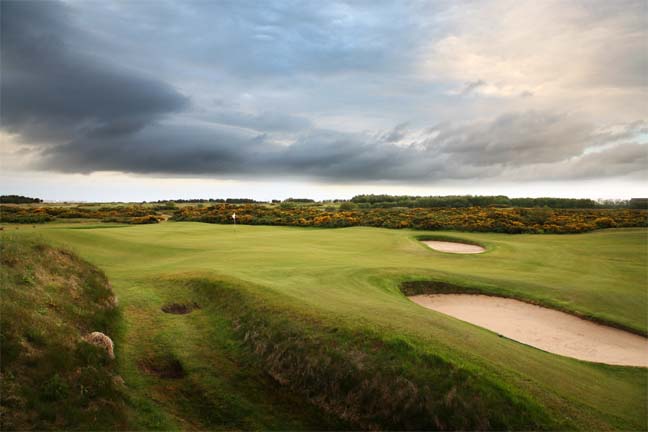 Dundonald's 3rd hole — a three-shotter that requires you to avoid a wee burn that runs up the right side and in front of the green.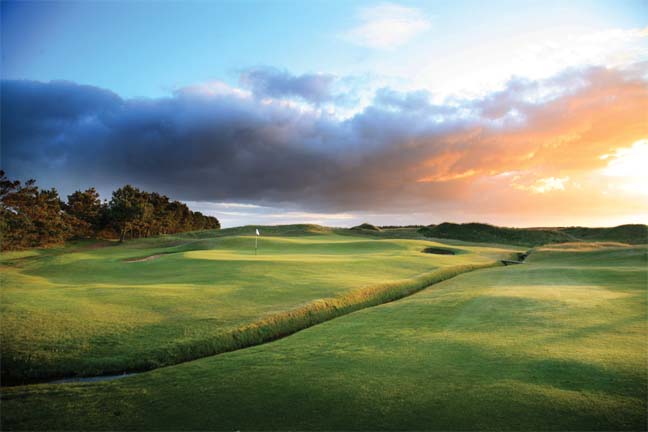 The 13th at Dundonald — there's that burn again, backstopped by a two-tier green that's a lot of fun to putt.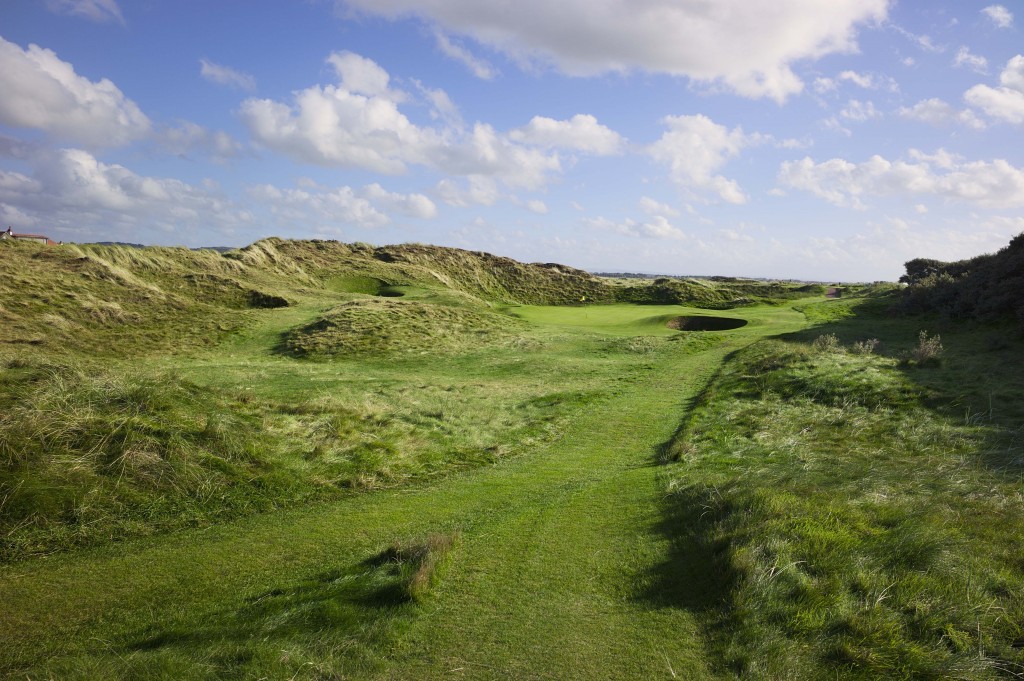 After lunch at Dundonald, we crossed the railroad tracks (literally) and were warmly welcomed at Western Gailes GC by club manager Jerry Kessel and two other members, who treated us not just to a round of golf on this wonderful classic course but to some beers afterward in the historic clubhouse.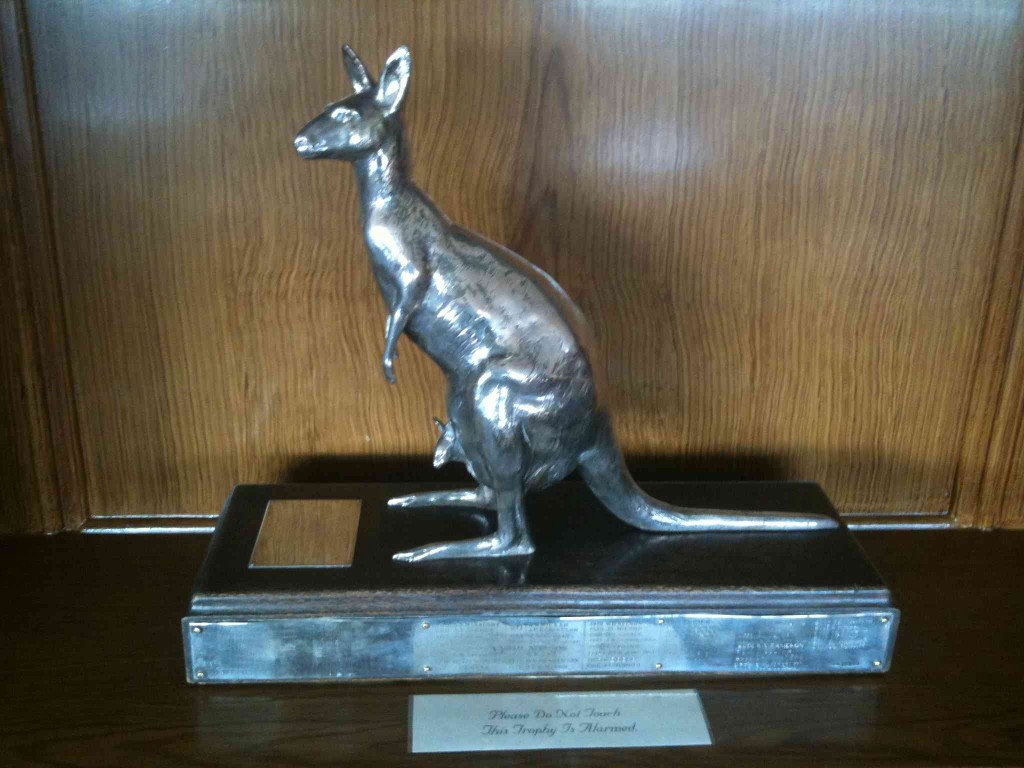 Each year, members of Western Gailes compete for this solid silver trophy, which was given to the club by the Gailes Golf Club of Queensland, Australia.  Sadly, but understandably, the winner doesn't get to keep the actual trophy.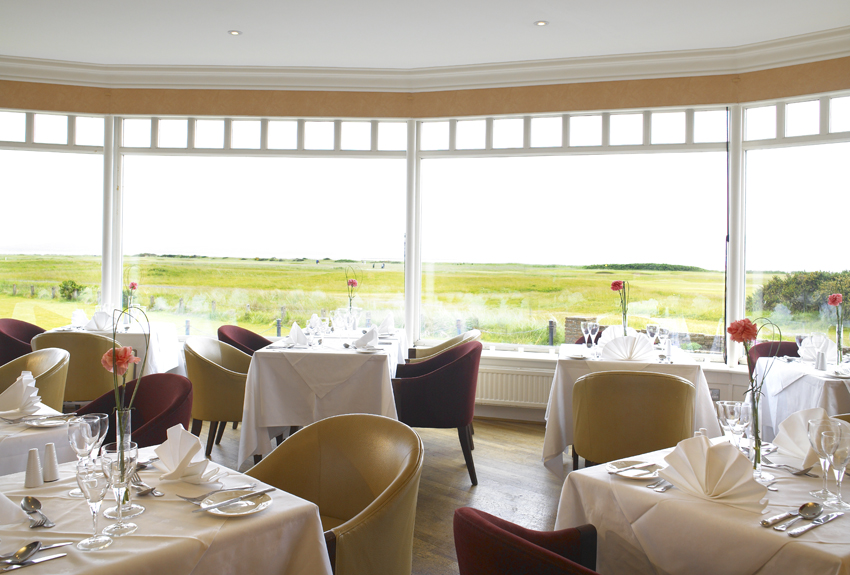 We ended our time in Ayrshire with drinks and a wonderful dinner at The Marine that was hosted by the ever-energetic Allie Barr, the hotel's sales manager.  The food was superb — as were the views.
Tuesday, May 15
Tuesday was a travel and writing day.  No great photos to share.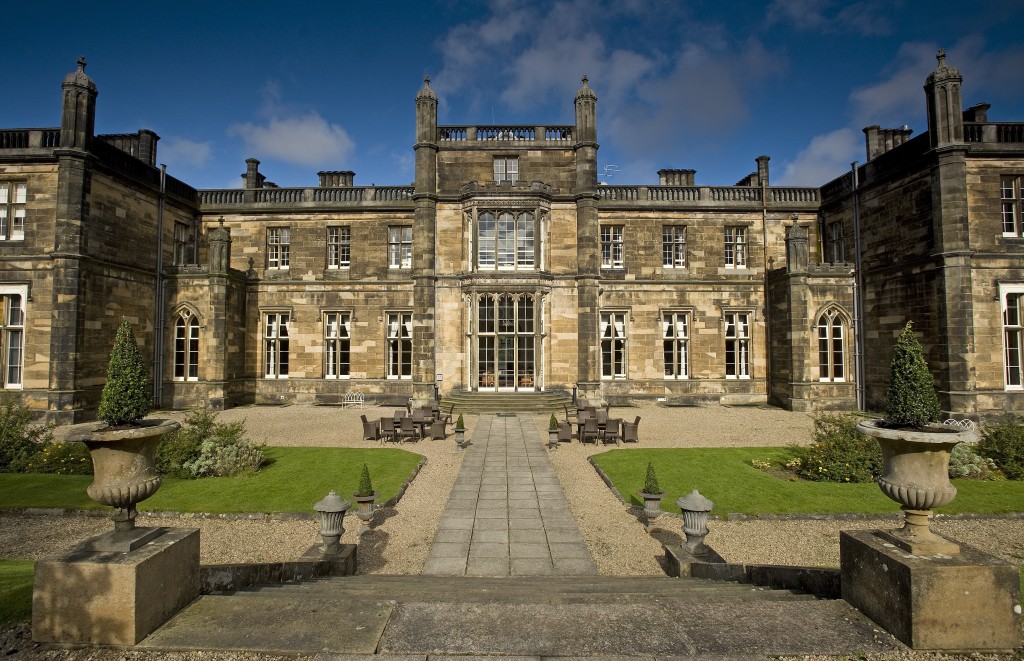 Wednesday, May 16
Our final stop — Mar Hall.  And what a grand place it is.  Built in the early 1800s to be Lord Blantyre's country home just outside Glasgow, it is now an elegant hotel with fine dining, spa, golf course and much more.  Anyone visiting the area, or flying in and out of Glasgow Airport, should consider staying for at least a night here.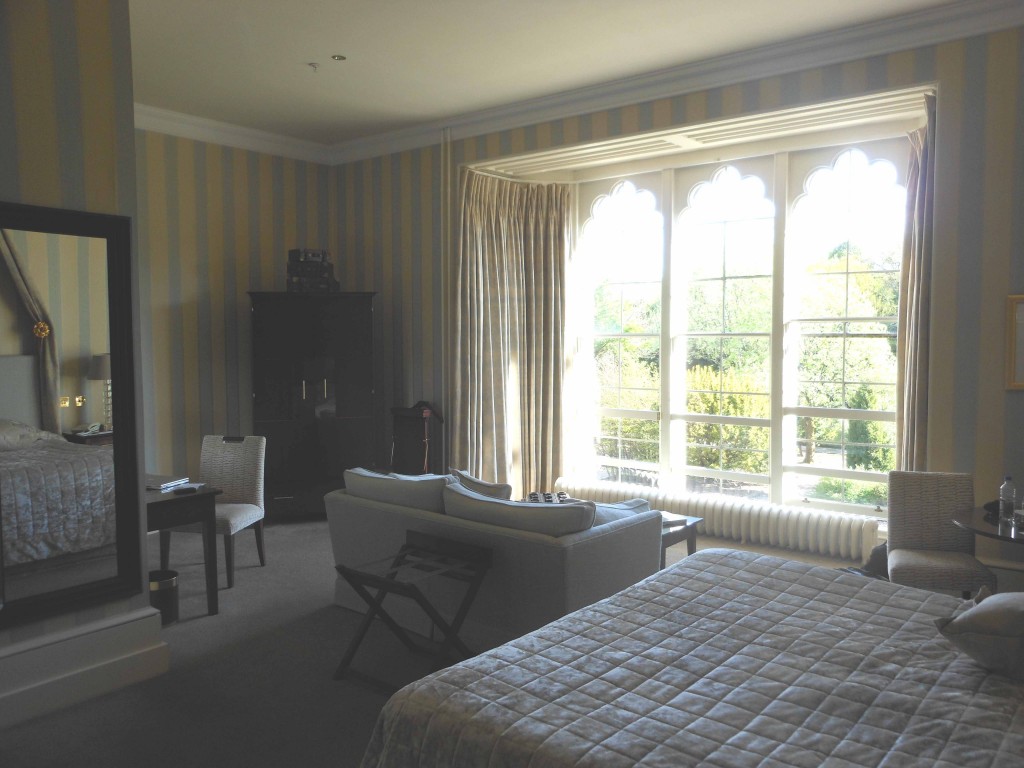 My room at Mar Hall overlooked the beautiful gardens.  If you think the room looks big, you should see the bathroom.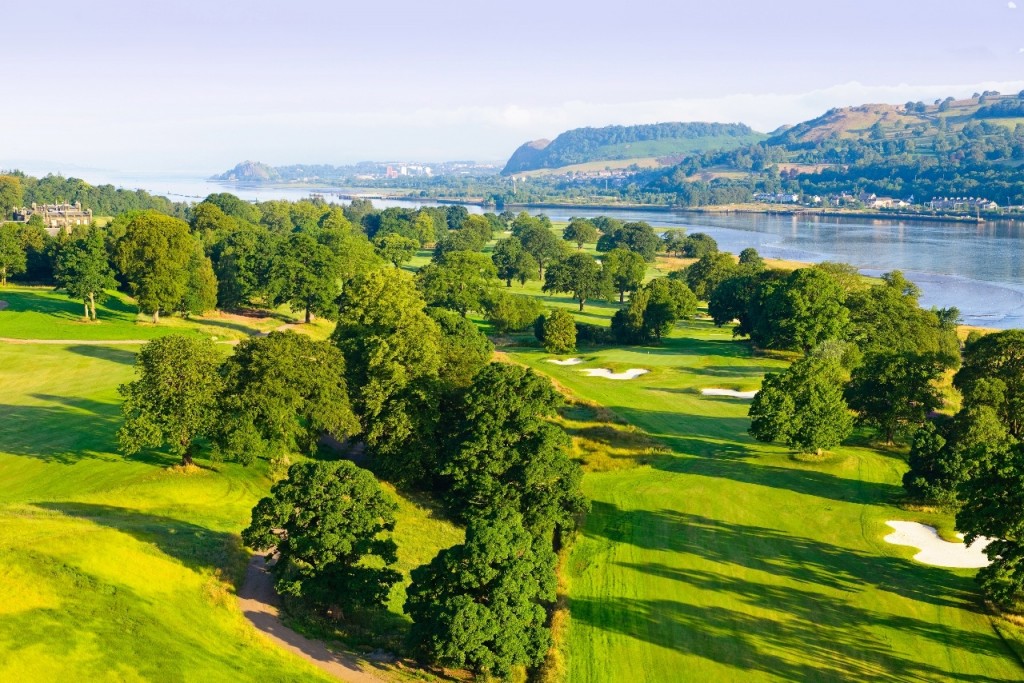 The Earl of Mar course at Mar Hall is a parkland course, but it's no walk in the park.  The course plays along the bank of the River Clyde and in the shadow of the majestic Erskine Bridge.  Its close proximity to Glasgow Airport make it a great place for a first round when you land or your last round before flying home.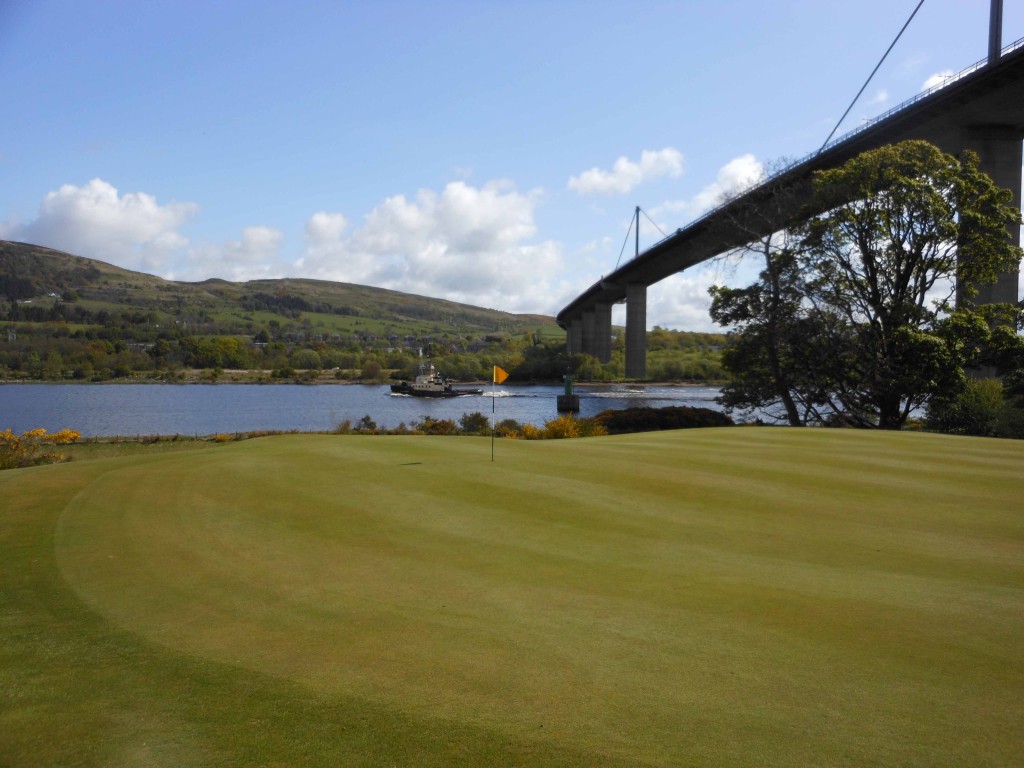 Mar Hall's par-4 3rd hole is a great dogleg-left hole that plays down a hill toward the river, with traffic on the Erskine Bridge up above watching your every shot.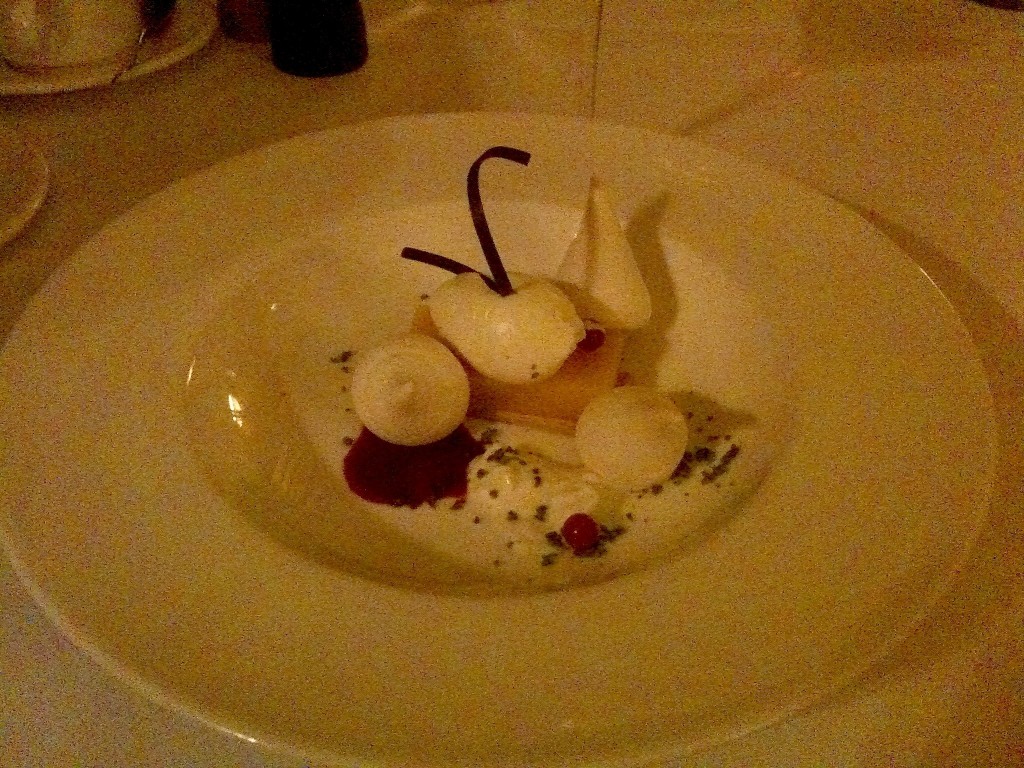 Our visit to Scotland culminated with an 8-course dinner with wine pairings for each course prepared by Mar Hall chef Sam Carswell.  It was four hours of proof that anyone who thinks they can't find gourmet cuisine in Scotland is sadly mistaken.  The taste of the lemon curd tart with meringue accents is something that, like the rest of our trip, I'll remember for a long, long time.