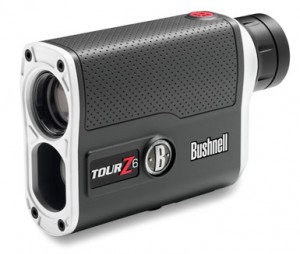 It's a bit chilly but clear on the first tee at the Machrihanish Dunes golf course on the southwest coast of Scotland.  I'm armed with a set of nice rental clubs (that sadly have the wrong shafts for me), but I have a secret weapon that I've brought along: the Bushnell Tour Z6 Rangefinder. I'm going to put it through the paces here, under Scottish links golf conditions, and in Portugal, where I am hoping for slightly warmer temperatures.
The opening tee shot from the back tees calls for a driver or 3-wood to the fairway, which doglegs left in the driving area.  But which one?  Out comes the Tour Z6.  It gives me a carry distance of 213 yards over the bunker at the dogleg and 267 yards to the far side of the fairway where the heavy rough starts.  With a breeze in my face, I can hit the driver.  I block it a bit, but find the short grass.  The Tour Z6 tells me that I have 107 yards left to the hole.  A three-quarter wedge (there's no sand wedge in the bag!) leaves me hole-high, 15 feet away for birdie and I make the putt.  Score one for the Tour Z6.
On the 4th hole, my Bushnell tells me I have 114 yards to the flag, only the top of which I can see.  I nail another three-quarter wedge perfectly (or so I think).  Walking to the green, I can only see one ball on it – that of my partner who's hit his shot a little long and left.  Did the Tour Z6 give me the wrong yardage?  Did a gust of wind come up and cause me to air-mail the green?  No.  The ball is in the hole for an eagle two.
Over the rest of the jaw-droppingly beautiful round at Machrihanish Dunes, I pull out the Tour Z6 on every full swing – and toy around with it in other ways.  Can it give me the distance back to the golf house from the middle of the 10th fairway?  Yep – it's 396 yards.  A bit farther than I can hit it, but nice to know that the Tour Z6 can see that far, even if I can't.  Some people might say that yardages aren't that important on links golf courses like Mach Dunes, where the game is played on the ground and the winds wreak havoc with your ball flight.  I totally disagree.  While it's true that I may need to play a knockdown shot here or there rather than hit the ball high, or play a low running chip shot from 100 yards, I still want to know that it's 100 yards and not 75 or 125.  Armed with the Tour Z6, I make two more birdies and shoot the best score I've ever recorded on this course.  Coincidence?  Maybe.  But maybe not.  Using the Tour Z6 in Portugal a few weeks later (in much warmer and sunnier weather, thank you), I find myself once again zeroing in on flagsticks and getting good birdie chances.  The fact that I only drop two of those birdie putts isn't the rangefinder's fault.
Bushnell's Tour Z6 is one of the world's best rangefinders.  Essentially a smaller, more compact version of the company's much-heralded Pro 1M, it's about as advanced as these units come.  It operates simply – no gimmicks.  It's tour certified so it's not one of those models that will automatically adjust for elevation, but I don't want that from a rangefinder anyway.  What I want is a compact, accurate, easy-to-use unit that's built to stand the test of time. This Bushnell delivers that and more.
LIKES
-Accuracy
Bushnell's "PinSeeker" technology latches on to flagsticks quickly and lasers the yardage even more quickly.  "Lightning fast" would not be much of an exaggeration.  I don't have the steadiest hands in the world, but I didn't have to hunt for the stick with this Bushnell.  It saw it, lasered it, and it gave me true yardages every time.  Bushnell claims that the Tour Z6 is accurate to ½ yard.  I can readily believe that.  And as I mentioned, the Tour Z6 had no problem measuring to distant objects.  I measured to a flag 325 yards away at the Oceanico Victoria course in Portugal without any problem.  Bushnell says the unit will pick up a flag at 450 yards, but I didn't have occasion to measure a shot quite that long.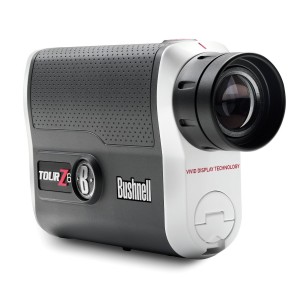 -Visuals
The Bushnell Tour Z6 has amazing optics.  Bushnell's "Vivid Display Technology" absolutely lives up to its name.  In bright sunshine or under dark rain clouds, the target was illuminated and easy to see.  It was dramatically sharper (and brighter) than other rangefinders I've used, painting the target in a pleasant orangey hue and offering yardages in a number display that almost looked 3D.  Very cool.  I don't have the best eyesight in the world anymore (and can't/won't play with glasses) so the fact that the Tour Z6 offers 6x magnification was a big plus.  It's really nice to be able to see the contours of the green and all the greenside features from 190 yards away.  Once I had adjusted the diopter, it gave me clear, accurate views the rest of the way.  Seeing what you're shooting at is half the battle.  Seeing it this clearly breeds confidence.
-Size
The Tour Z6 fits nicely into the palm of your hand.  You can easily use it with one hand (though I generally use two).  It's smaller than Bushnell's Pro 1M, but offers pretty much the same technology and accuracy.
-Sturdiness
If you've ever used a cheap rangefinder, you know how unreliable they can be.  Some just feel flimsy, and others seem to burn through batteries faster than you can add up your score.  The Bushnell Tour Z6 is a well-built rangefinder that feels solid, like it could survive Armageddon.  The housing is metal covered with a perforated rubber that makes it easy to hold on to, even in wet conditions.  It's also waterproof – something that came in handy on the 17th at Machrihanish Dunes when the heavens decided to give us a wee soaking.  Even the lens has a "RainGuard" coating on it, so getting yardages in a Scottish storm is easily do-able.  Changing the battery is a snap, too.  I haven't worn out the one that was included with the unit yet, but inserting the 3-volt battery that came with it was a cinch.
-APPEARANCE
Does appearance matter in a rangefinder?  Not really.  The performance is what counts.  That having been said, you use your rangefinder a lot during a round of golf.  It's like a caddy – or a friend.  Ideally, you don't want an ugly one.  You want one that inspires confidence.  The Tour Z6's black, red and white design looks sleek, modern and professional.  I like it.
DISLIKES
There's not much to dislike in the Tour Z6.  You'd really have to be a harsh critic to X this unit off your list for any reason.  There were only two things I'd change in the next model:
-Firing button could be a tad bigger – or seated in a way that makes it easier to find and push in the midst of a hurried round.
-Carrying case is larger than it needs to be – unless you have a tour bag, you can't really store the unit (when in its carrying case) in the pocket of your golf bag.
BOTTOM LINE
The Bushnell Tour Z6 is the best rangefinder I've tested.  It's solidly built, very accurate, easy as pie to use and its optics are flat-out brilliant.  Priced at over $350, it's not cheap.  But I'm willing to bet that owning this sweet piece of technology will do more for your game than a new driver will.  Get your hands on one and you'll see what I mean.