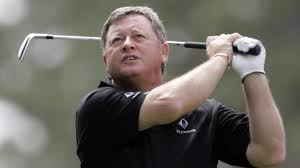 I'd like to take a moment and explain that, to qualify as a Golf Road Warrior, one must display impeccable golf etiquette. I'd like to do that, because it would good for Warrior PR, but in truth I wouldn't say we are any more or less polite on the links than your average veteran golfer. Jeff Wallach talks on his cell phone occasionally—that's borderline behavior, as I come to think about it. I myself will walk through a huge long bunker, raking it in my wake to smooth the footprints, rather than go around—but really, that's all in the name of speeding up play.
Brian McCallen takes the complementary tees protruding from those little holes on his side of the golf-cart dashboard and he will freely take the tees on the other side, if he needs one. I saw him do it. Peter Kessler smokes cigars when he plays, and he smokes them all the way down to gum-drop size, so if he just tosses those butts out into the rough that wouldn't be the worst thing, and I actually have never seen him do that, but a trash receptacle is really the proper place for them. So, a gentle reminder to Kessler.
All that said, the GRW award for Polite Warrior goes to me, for letting a group through on No. 11 of the magnificent Creek Club.  McCallen, Wes Forester, the Creek Club head golf professional and I were down on the green of this Bud Chapman-esque par-3 and the group behind suddenly appeared, with us in some disarray. I suggested to Wes that we give them free passage. Mark Lammi, vp of golf ops at Reynolds Plantation, was in the foursome, as were three Welshman, including 1991 Masters champ Ian Woosnam, who was encamped at Reynolds Plantation for the week,
prepping for the Masters. For the record, Woosie hit a lofted iron to 14 feet, missed his birdie bid, tapped in for par and moseyed on, thanking us for the courtesy.