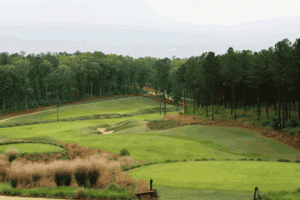 To begin with, Jim Engh's design of The Creek Club at Reynolds Plantation can only be understood in light of the fact that Reynolds had a bunch of other golf courses sprinkled about the acreage, pleasing members and earning accolades, when Engh arrived to work his corner of the property. Just as the Winged Foot members of a century ago told  A.W. Tillinghast, "Build us a man-sized course," the leadership at Reynolds asked Engh for something new, novel, stimulating and even stunning.
Engh had some license, in other words. The situation is comparable to that of Landmark Land Company decades ago, wherein Landmark CEO Gerald Barton told Pete Dye to build a super-intimidating PGA West because, as Barton nonchalantly said, "It would attract national attention for being a brutally hard course, and after our guests took their beating from it, we could set them up with tee times the next day on any of our many playable and easily
enjoyable courses."
What we experienced on the final day of Golf Road Warriors trip was Jim Engh's Old World-New Age response to the tumbling, pine-topped parcel they gave him. It's a hair-raising spectacle of split fairways, multiple greens and astonishing little villages of bunkers and mounding. People shook their heads at first, self-styled purists, especially. This five-year-old stem-winder of a golf course is widely admired now, funky bounces and all. The assignment was to break free of convention, and not every course designer has the chops or the cajones to do that.
Engh shaped and shimmied this golf course to a high level of artistry. He sent it flying through the woodland and whipping around corners in a series of stirring surprises. There is more a chutes-and-ladders look to the fairway contours than your ball will actually experience. Up at the greensites, in many cases,  C.B. MacDonald's imported concept of the Punchbowl  is explored in vivid and even dizzying detail. Even if you don't talk to your ball while it's in the air, you can deliver entire speeches to it as it skips and rolls along the 3D complexity of sideslopes, hollows, bays and bumps.
And all through the rhythm of the routing are the pretty creeks—natural, unaltered, never piped and covered, just where Engh found them. The entire effect is rousing, inspiring and gratifying.