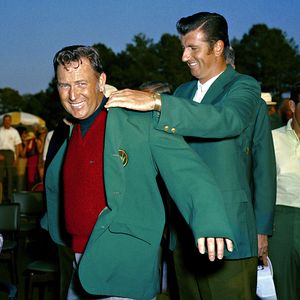 Billy Casper, who 40 years ago won his only Masters, was a putter for the ages—rolling his ball so prodigiously at the 1959 U.S. Open that he was able to execute one of the strangest stratagems in major championship history.
Ken Venturi and Gardner Dickinson wore Hogan-style caps, symbols of their esteem for Ben Hogan's skill and style. Nick Faldo devoured Hogan's "Five Lessons" and tried to assemble a swing from its pages. Grinders like Tom Kite and Chip Beck practiced all day, imitating Hogan's diligence.
There is no end of top players influenced by Ben Hogan's systematic approach to tournament golf. But it was Billy Casper, winner of the 1959 U.S. Open at Winged Foot Golf Club, who throughout his career emulated Hogan's willingness to make seemingly quirky decisions about course management and scoring strategy.
When he laid up on the 217-yard third hole of the West Course all four rounds of the '59 Open—getting up and down each time for a 3—it was surely the oddest piece of championship golf strategy since the Open at Merion in 1950. That was the year Hogan played each day with no 7-iron in his bag, after intently studying the layout and concluding that "there was no place on the golf course" where a 7-iron would be needed.
One of the craftiest spot-to-spot players of his generation, Casper credits Hogan with teaching him that trait. The lesson was learned one day in 1948 when Casper was still in high school and Hogan was in town to play a two-day exhibition at San Diego Country Club, where Casper worked. Young Bill had hurried over after school to watch the newly crowned Open champ play his practice round. For an hour or two, it was just Hogan and his caddie out on the course, with a teenage observer hanging 100 yards back, making himself inconspicuous along the treelines.
"On one par-4," recalls Casper, some six decades later, "Hogan hit a drive down the left side of the fairway and played to the green from that position, then he walked over and dropped a ball in the center of the fairway and hit to the green from there. Finally he dropped on the right side of the fairway, and hit that ball onto the green. As he walked to the green he kept looking back. Then as stroked his different putts, he kept glancing toward the positions he'd hit from."
For Casper, already one of the finer high-school players in Southern California, it was a seminal moment. "I had never known of anyone doing that, testing out the golf course that way," he says. "It really registered with me, because to this day I can picture it so clearly. Over the next few years I would think about that practice round many times."
By the time he made the inevitable decision to turn pro in 1954, Casper was fully committed to the strategic preparation Hogan espoused. Not the mechanical aspect, however. Hard to believe all those professional wins could be garnered by a confirmed range-avoider, but when you're ball-striking talents are that natural and that prodigious, hitting bucket after bucket isn't necessary.
"I was not a big practicer," he admits. "I never went out and hit ball after ball after ball. I only practiced after a long layoff, to get my timing down. My big day of the week was Tuesday before a tournament. That's when I was learning the golf course. I would crawl all over it and study it. Once I learned the bad spots I would do anything to avoid hitting it there."
Tomorrow: Part 2 – Calm Amid an Open Storm