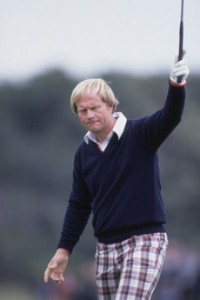 Jack Nicklaus once said that he loved it when other players would complain about conditions, because he knew they weren't going to win.
It's a philosophy that the No. 1 and 2 players in the world seem to have forgotten about lately. At the U.S. Open, Tiger Woods complained after the first round about the "awful" greens at Pebble Beach. Phil Mickelson spent the first two days wallowing in self-pity about his tee times—which was made all the worse by the fact that later developments showed he actually had the better half of the draw!
After the first round, in which he played in moderate winds in the afternoon after the morning players had enjoyed exceptionally calm conditions, Mickelson admitted that the discrepancy affected his attitude as he shot a 73.
After finishing the second round, where he played through a rainstorm early and winds that became pretty strong late in his round, Mickelson sarcastically commented, "I'm so happy for those guys," when play was suspended by whipping winds after he finished, implying that they were catching a break.
"Those guys" then had to go out after the suspension was lifted and play in winds that were much, much worse than what Mickelson had faced the previous afternoon. As evidence, check out these second-round scores of the players in the other half of the draw from Mickelson: Rory McIlroy 80, Ryan Moore 84, Tim Clark 80, Paul Lawrie 82, Ross McGowan 80, Ernie Els 79, Oliver Wilson 79, Ross Fisher 77, Justin Rose 77, Andrew Coltart 77.
Granted, Mickelson didn't get quite as much of a break as those in the top part of his half of his draw who started about two-and-a-half hours before he did, namely Louis Oosthuizen and Mark Calcavecchia. But his times were close to Lee Westwood and Paul Casey, who were tied for third place, whereas the opposite half of the draw ended up producing only obscure Englishman Steven Tiley among the leaders, and he still had eight holes to go in the suspended third round.
It was the players who played Friday afternoon who had the legitimate gripes (though publicly airing them still goes against the Nicklaus dictum). Hole locations and green speeds were not set up for heavy winds–even though the forecast called for a windy day.
Woods was in what turned out to be the wrong end of the draw, but he managed a 73 to finish at 4-under 140, eight off Oosthuizen's lead but only three out of second place. Notably, Woods did not complain, saying, "You just have to go out there and deal with it." Perhaps it was a sign that mentally he is getting back to where he needs to be.