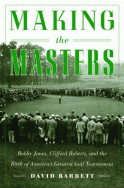 The following adaptation of my book Making the Masters: Bobby Jones and the Birth of America's Greatest Golf Tournament (Skyhorse Publishing) appeared in the spring issue of Links magazine. It covers Bobby Jones's return to competition, which was a much bigger deal at the time than is appreciated today. In fact, it was the dominant theme in coverage of the first Masters, and Jones was considered the favorite to win.
For a couple of posts with other highlights from the book, click here and here.
As soon as he wrapped up the Grand Slam in 1930 by winning the U.S. Amateur, Bobby Jones told defending champion Jimmy Johnston in the locker room that he was through with competition. "The game of golf is wrecking my health, stunting me in my business ambitions, and I am sick of it all," Jones confided.
The greatest amateur golfer of his, or any, time competed in only a handful of tournaments a year. But those tournaments took a lot out of him. He "blew up completely," as he later wrote, after the 1926 U.S. Open, weeping uncontrollably in his room as he waited for the rest of the field to finish. And in 1930, after completing the British Amateur and Open double, writer George Greenwood observed, "I never saw a man closer to collapse than was 'Bobby' Jones."
So, even though he was only 28 years old, it was no surprise when Jones announced his retirement in November of 1930. He had other priorities in his life, including his family (a third child was on the way) and the Atlanta law practice he had started in 1927. It didn't hurt that he was able to cash in on his fame in a way he couldn't as an amateur golfer, signing a lucrative deal for film shorts with Warner Brothers and joining the A.G. Spalding Company to create a Bobby Jones line of golf clubs.
His other significant post-retirement venture was launching Augusta National Golf Club, fulfilling a dream that he had confided to his friend Clifford Roberts in the late 1920s. Roberts took that dream and ran with it, finding the site through connections in Augusta and taking care of the myriad details required to get the club off the ground.
There was one big problem: The Depression was precisely the wrong time to try to start a golf club. The financial underwriting efforts fell short of the club's goals and the membership drive was also faltering. Not even the name of Bobby Jones was enough in those hard times to get a sufficient number of men to join Augusta National to sustain the club, which was unable to make its mortgage payments nor pay its bills from course construction.
Roberts had a solution. Shortly after the course, designed by Alister MacKenzie with help from Jones, opened formally in January of 1933, the USGA had considered Augusta National as a U.S. Open site. But the club closed each year in early spring, and the USGA didn't see any feasible way to change its usual June dates.
Roberts's big idea was for Augusta National to hold its own tournament, starting in 1934. One reason he had been excited about the possibility of an Open was the publicity it would generate for the club—publicity that could lead to new members. If there was any way out of the hole Augusta National found itself in, this was it. Thus, the Masters was born primarily as a way of drumming up membership for a struggling new club.
A tournament staged by the club wouldn't have the inherent prestige of a national championship. But there was a way that it could have as much impact as a U.S. Open—it could boast of Bobby Jones as a competitor.
Would Jones agree to come out of retirement to play in a tournament? He wouldn't have played in a U.S. Open. That would be a return to the competitive grind he had left behind and clearly never wanted to join again. But he might play in a more low-key tournament.
Jones wanted his club to survive and he wanted to showcase the golf course. The tournament was a means to those ends. A tournament without Jones might not be enough to accomplish those goals; a tournament with Jones might. It would attract much more media attention and bigger headlines nationwide, and it would mean higher gate receipts.
The one thing that probably made Jones hesitate was that he didn't want this to become a Return of Bobby Jones story that would turn the event into a pressure cooker for him. In the back of his mind, he must have known that's exactly what would happen. But the other points were too persuasive. If that's the way it had to be, Jones would just have to deal with it. He was essentially painted into a corner.
The tendency decades later is to think of Jones's appearances in his tournament as purely ceremonial. In reality, his 1934 appearance was anything but. The press angle going into the tournament was the same as at any open event in the 1920s—could the pros beat Jones?
Associated Press sports editor Alan Gould wrote that the pros entertained "more hope than convictions" that they could. "I would feel confident in [Jones's] old competitive spirit asserting itself. No performer dominant for so long as Jones was could sensibly feel other than a strong urge to do his absolute best in attempting even a transient comeback.
"Championship golf . . . is not like boxing in respect to the angle that a long layoff is so costly in speed, stamina, and competitive edge," Gould wrote. "I'll be surprised if he doesn't finish among the first three at Augusta."
If that seems overly optimistic for a player who had been retired for four years, it's worth reviewing his record from 1922 through 1930. Jones played in 12 U.S. and British Opens during that time, winning seven and finishing second in four.
That extraordinary record, combined with his gentlemanly manner, made Jones a revered figure. While he was involved in founding Augusta National Golf Club and starting the Masters, the staff of the Augusta Chronicle found themselves unable to refer to him as simply Bobby Jones. He was "king of the links for probably all time," "the incomparable Bobby Jones," "the modest young man whose honors have not spoiled him in the slightest," "the greatest of them all," "who has been to golf what Babe Ruth is to baseball," "the wizard," "the king of golfdom," and, naturally, "Emperor Jones," which was his popular nickname.
Jones would be coming into the tournament cold in terms of competitive play, but he was taking his preparation seriously. Three weeks before the March 22-25 tournament, he set the course record with a 65 during a visit to Augusta. Bookmakers—yes, they were a part of the scene in those days—installed Jones as a co-favorite with Paul Runyan, the hottest player on Tour at the time, at 6 to 1.
There were troubling signs from Jones as tournament week dawned. On Monday he complained that he hadn't been making any long putts in his practice rounds (he had arrived the previous Wednesday)—and in the next two days his putting woes were extended to the shorter ones.
After Wednesday's round, Jones solicited help from fellow players Bobby Cruickshank and Willie Macfarlane on the practice green. Cruickshank suggested that Jones should stand up straighter instead of leaning out over his toes.
"I've tried standing up, and sitting down," Jones lamented, "and I think the only way I'll ever be able to putt again will be from a sand-bag rest. Like shooting a rifle."
Jones stayed at it for an hour, without much success.
"Ah, well—today's only today!" Macfarlane said.
As the first day of the Masters dawned, one question loomed largest over the proceedings: Did the Emperor of Golf still have clothes? While the answer wouldn't definitively come in a single day, this first round would go a long way toward showing what Jones still brought to the table as a player.
The results were highly discouraging to Jones's supporters: The Emperor was naked on the greens. While striking the ball nearly as well as ever, Jones was practically helpless with the putter. The result was a four-over-par 76, six strokes out of the lead and in a tie for 36th place.
Having lost none of his prodigious power off the tee, Jones took advantage of his own course design by going for the green in two on all four par fives. He missed a 15-foot eagle putt on the fourth hole, known today as the famed 13th and a four-foot eagle putt on the 11th, one of an astounding seven misses on putts of five feet or less.
Jones pulled no punches in describing his own putting woes in a conversation with famed sports writer and Augusta National member Grantland Rice after the round. "I had no putting stroke at all. . .I hope to be better, for I know I can't be worse around the greens, not even if I use my shoe or an old rake," he admitted.
In preparing for the tournament, Jones had shot par or better in nearly all of his rounds at Augusta National. But when the bell rang he proved the dictum that he had earlier written in his book, Down the Fairway: "There are two kinds of golf: golf—and tournament golf. And they are not at all the same thing."
O.B. Keeler, the Atlanta writer who had covered every one of Jones's championships, tried to strike an optimistic note in his report, opening it by noting that Jones had been in a nearly identical position after the first round of the 1927 U.S. Open, and he ended up winning. But even Bobby's Boswell had to admit this wasn't the same Jones.
"That Jones was a youngster in the first rush of the greatest career competitive golf has ever known; a Jones with the world of sport before him; a Jones with nerves of steel wire, tuned to concert pitch for the smashing cords of the 'Marche Militaire,'" he wrote. "The difference—well, the difference is being at concert pitch."
The stories in the newspapers briefly glossed over the leaders—eventual winner Horton Smith, Jimmy Hines, and Emmet French were tied at 70—and devoted most of their space to Jones's disappointing round. The Chronicle later reported that more words were transmitted by telegraph from Augusta than the previous year's U.S. Open. That kind of media coverage was directly attributable to interest in Jones's return to competition.
The saga of Jones and his putting continued on Friday. After his long practice session the previous evening, Jones came out on Friday morning and spent another hour on the practice green before his afternoon tee time. He raised the hopes of onlookers by holing putts with impressive regularity, but gave an indication as to his mindset by saying, "I hope I don't leave this luck on the practice green."
That's exactly what happened. If anything, Jones was worse on the greens in the second round than the first, taking 38 putts and even missing twice from a mere 18 inches. Jones hit the ball well enough that he improved his score to a 74, but he was now eight strokes out of the lead.
Gould wrote that Jones's "hands seemed to shake" and Keeler wrote that he "stabbed jerkily at the ball," which sounds like the malady that today we know as the yips, where short putts become the thing of nightmares as hand control goes away.
"I honestly have been afraid of even a foot putt," Jones told Rice after the round. "I almost missed three of those today. . .The minute I walked onto the green I had the jitters. Even the sight of that cup made me sick. It looked to be smaller than the ball I was putting. It looked like a thimble. When I got close to the cup I felt as if I was looking at the fangs of a rattlesnake."
Gould wrote that the pros were galloping toward their biggest golfing "kill" since they routed Jones at the 1927 U.S. Open, where he finished 11th.
Such a perception of his play was the risk Jones took in taking his game out of mothballs for a return to the national stage. Gould did acknowledge that Jones's role as tournament host, and his long absence from competition, took something out of him: "So far he has played exactly like a perfect host, happy to see his old friends having a good time but quite unequal to the personal job of keeping pace with them after a lapse of four seasons."
Jones played with his old 1920s rival Walter Hagen in the third and fourth rounds, a pairing suggested by the 41-year-old Haig himself. Jones's putting improved in the third round, thanks perhaps to an old, rusty putter that a friend had brought from Atlanta on Friday night. "Calamity Jane III" was a relative of Jones's old reliable Calamity Jane (unavailable to him since he had given it to Spalding to use as a model) and was rescued from Bobby's mother's golf bag.
"The club appeared out of place, along with his other shiny instruments," the New York Times report noted. "It was rusty and the shaft was of wood."
Despite holing some long ones and finishing with 30 putts, Jones missed three times from four feet or less as a 72 left him ten strokes behind after three rounds.
No matter what his score, the Emperor was still king to the galleries. Walking down the fairway of the second hole during the final round, he siphoned off a good portion of what was originally a sizable gallery following tournament leader Smith, who was just completing the nearby fifth hole (pairings were not made according to score in those days).
Jones put on a good show, making five birdies in a round of even-par 72 as he tied with Hagen for 13th, which would stand as his best showing in 12 Masters appearances. Remarkably, Jones had more subpar holes for the tournament than winner Smith, finishing with 17 birdies while Smith was notching 15 birdies and an eagle. But Jones finished 10 strokes behind, and six-over par, because he made seventeen bogeys and three double bogeys.
Rice asked Jones if he'd had fun. "Not a bit this time," Bobby answered. "When you hit your drives and approaches and all your harder shots and can't putt, you suffer, no matter what your handicap. It is the worst suffering in golf."
Jones had only agreed to play for the sake of keeping his club afloat in tough economic times. However, the nation's writers weren't aware of Augusta National's financial woes, and thus didn't know the real reason Jones had joined the field. There was speculation that Jones would play in other tournaments besides the Masters, particularly the U.S. Open. Asked by Keeler if he would play in the Open, Jones replied, "Nerts!"
He did confirm that he would play in the next year's Masters.
Jones would once again be one of the favorites in 1935, only to finish 25th. By the end of that week it had dawned on everyone that Jones would probably not be a threat to win his own tournament. But the tournament was already past needing that. The writers initially drawn by Jones's comeback would continue to come to the Masters to tell whatever stories happened to develop at Augusta National.
Adapted from Making the Masters: Bobby Jones and the Birth of the World's Greatest Golf Tournament, published by Skyhorse Publishing.