Played golf with all the other Road Warriors today, Jeff, Tom and Jay at Talking Stick Golf Club.  The day couldn't have been better. Bright sunshine and a temperature of 75 degrees. Perfect. The golf course was in fantastic condition with superb greens that were faster then some of the girls I dated in college. Everyone had a great time and the staff was extremely cordial to all of us.
After our round, we all checked into the Talking Stick Resort. My room is tremendous with every luxury you could want. The casino downstairs was buzzing with a great atmosphere. The Warriors are having dinner tonight at Orange Sky on the 15th floor, featuring a menu rivaled only by the 360 degree view. Since opening, Orange Sky has won numerous awards for its outstanding dining. (I'm thinking Maine Lobster….)
Talking Stick Resort is also a cultural center, with traditional art and artifacts and an extensive contemporary Native American art collection spread throughout the property. It's all well worth seeing,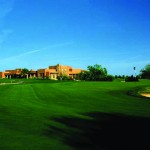 as is the golf course and all the amenities.