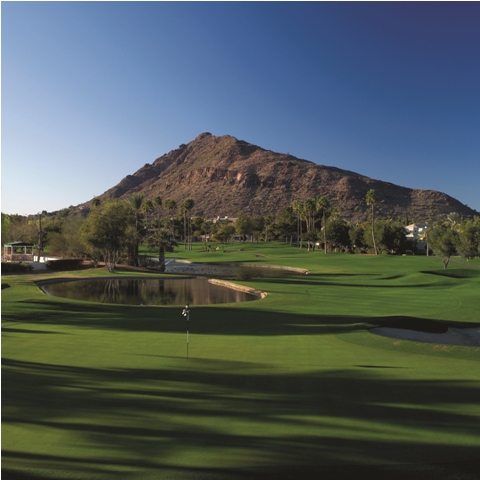 It was another warm, sunny day when the Golf Road Warriors, made up of yours truly, Jeff Wallach, Tom Harack and Jay Stuller, arrived at the Phoenician Golf Club ready to play golf. We were confronted with which of the three 9-hole courses we wanted to play. Canyon, Desert or the Oasis. After almost coming to blows as to which everyone wanted to play, we settled upon the Desert course and the Canyon course.
I had the pleasure (some would call it bad luck) of riding with Tom Harack. We started off playing the Desert course with its manicured fairways and receptive greens. Oh, yeah, did I mention lots of desert too? Everyone was really enjoying the challenges that confronted all of us, keeping the ball in the fairway and making sure you hit the right club to the green. All of the holes on each of the courses are challenging for every level of player but they are all fair.
Ranked among the Top 75 Golf Resorts in America by Golf Digest, you knew that the design work done by its architects, Ted Robinson, Sr. and Homer Flint, really fit within the surroundings beautifully. My riding partner Tom was having a rough day on the Desert course. In fact, he spent so much time in the desert  looking for his golf ball, the Pro shop  decided to send out some canteens of water. Tom later became know as "Tom of Arabia."  Yours truly spent his fair share of time in the desert as well and made friends with some of  the creatures to be found there.
The Canyon course was just as beautiful, but instead of desert, several of the holes offered….well, canyons for your golf ball to find. You still had to put a premium on finding the fairway. The same beautiful, manicured fairways were evident on the Canyon side as well with greens that were like putting on carpet. Some of the other Road Warriors were having a bit of a rough time playing the Canyon with their golf balls being swallowed up in the cracks of the earth where they remained as no one was outfitted with climbing ropes to be able to retrieve them! Let's just say it was our sacrifice to the Golfing Gods.
The next day we were all treated to playing the last of the courses, the Oasis course. This 9-holes presented a different challenge. Unlike seeing desert and canyons, you were treated to palm trees, beautiful, colorful flowers and water, lots of water. Same lush fairways, same receptive, undulating greens, but you had to escape those nasty water hazards. Some of us had more luck then others. My riding partner, who shall remain nameless at this point, spent so much time in and around the water that the Pro shop once again was on the ball and sent out some scuba gear for this poor guy. Even with generous fairways and unobstructed views of the greens, golf balls have a way of finding water. Make sure you have enough ammo. This turned out to be my favorite side oddly enough. Maybe it was because it reminded me of being on an island surrounded by water. Nope, nope.  It was because I played my best on the Oasis but enjoyed every single hole of all 27 holes offered at the Phoenician Golf Club. Maybe that's why it was named North America's Leading Golf Resort by World Travel Awards. Just go to www.thephoenician.com and learn more about the golf club as well as the entire facility. You won't be sorry.