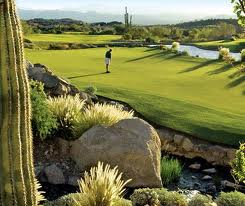 All of the Golf Road Warriors were excited about playing at SunRidge Canyon Golf Club located in Fountain Hills in Scottsdale because of hearing about the infamous Wicked 6. What is the Wicked 6? Considered the most challenging holes on the golf course, it's made up of two Par-5's, two Par-4's and two Par-3's that make up the last 6 holes on the course….all playing uphill except the Par-3's. What a test of golf! Thank goodness we were riding in a golf cart so we avoided getting a visit from the paramedics.
Whether it was by design or limitation on land use, this 6,823 yard, Par-71 golf course, designed by noted Keith Foster, winds its way around rugged landscape and ridges that's unique to the desert mountains in the area. As a golfer, you will also notice subtle elevation changes on many holes making you have to think your away around each hole. I think that the architect decided to leave Mother Nature alone when it came to the Wicked 6, proven by the very evident change in elevation. I for one am glad he left it that way. Keep in mind that even if there were no elevation change to the Wicked 6, these holes would play from moderate to long anyway.
The overall condition of the golf course was fantastic. Lush fairways that were defined by fairway rough…something that we all experienced a bit too much. The greens were in wonderful condition and were all receptive to the right kind of shot. When we played, most of the pin positions were generous, but some were very challenging as well. Like with any other golf course you might play, local knowledge here is valuable….especially on the greens. We were lucky to be playing with one of the instructors at the Jim McLean Golf School located at SunRidge Canyon. Pomp Braswell II really enhanced the experience of playing SunRidge. He's a tremendous player and great guy. He was very generous with his time helping all of us with our swings (that would take more time then he can imagine) and reading the greens.
There are a lot of great golf courses in the Valley of the Sun, but I would highly recommend playing at SunRidge Canyon because of the many challenges you will be faced with….especially the Wicked 6. Check the facility out at www.sunridgegolf.com. You will, as we did, find the staff very friendly and helpful. Oh, yes, if you should happen to run into Pomp, tell him hello from all of the Golf Road Warriors!