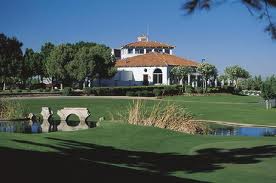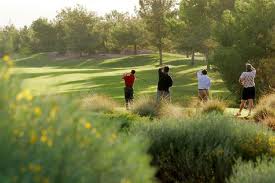 For the first time on our trip, all of the Golf Road Warriors ventured just outside the confines of the Scottsdale city limits to play at the Raven Phoenix Golf Club, formerly known as The Raven at South Mountain. Even though you might not think it, the Raven still provides the golfer with a unique golf experience in the desert… by not playing a desert-style course.
This Gary Panks and David Graham golf course design is well worth playing. The course layout is challenging but fair to every level of golfer. Condition-wise, it did not disappoint. Lush fairways combined with rapid-paced greens makes for the perfect combination. The Raven was recently enhanced with new bunker renovations, landscape enhancements in addition to clubhouse improvements. Since opening in 1995, the Raven Golf Club has earned several accolades and has hosted a number of quality events such as qualifiers for both state and national events.
When you play this par-72 layout, you will grasp the unique beauty of the course with rolling fairways lined by thousands of mature trees all within a backdrop of beautiful mountain vistas. In 2009, the Reader's Choice Awards named the Raven as one of the Top 50 Public Courses in Arizona. Arizona Golf Quarterly named the Raven as the Best High End Public Course in Arizona. Golf Digest ranked the Raven as the #1 Guest Service in Arizona. There are more but you get the idea.
One of the things I noticed while playing, are the very subtle elevation changes on several holes so club selection is key. If by chance you hit an errant shot trying to hit the green, chances are you will hit one of the many sand or grass bunkers that surround large multi-tiered greens. If players choose to play from the back tees (black) they will be faced with a good test of golf at just over 7,000 yards and will have a chance to use every club in the bag. As with any golf course you play, I think to get the most enjoyment out of your round, it's important to play from the right set of tees.
One of the things I also appreciate about the Raven is its location. Just minutes from Sky Harbor Airport so it affords you the chance to play a wonderful layout and still have plenty of time to catch your flight to your next destination. I would  recommend this golf course on your next trip to  Phoenix/Scottsdale without hesitation. For more information, just go to www.ravenphx.com. You will find all of the staff very friendly and willing to help.