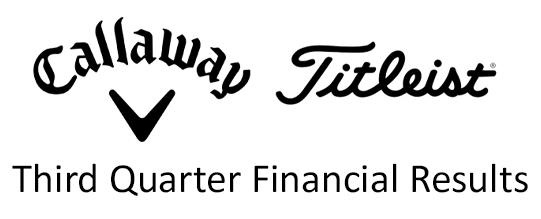 The two largest and only publicly traded golf equipment companies, Acushnet Holdings Corp. (NYSE: GOLF) and Callaway Golf Company (NYSE: ELY) reported sales gains in the third quarter though both said finances have not recovered from the pandemic-induced shut down of the worldwide economy.
A strong third quarter could not erase the year to date declines compared to one year earlier.
Acushnet whose brands include Titleist balls and clubs plus FootJoy apparel:
Third quarter net sales $482.9 up 15.7% versus same quarter 2019
Third quarter adjusted EBITDA $99.2 up 77.8% versus same quarter 2019
Year to date net sales $1,191.7 down 9.2% versus 2019
Year to date adjusted EBITDA $185.1 down 5.4% versus 2019
Sales in Japan were the most impacted by COVID-19 down 25% year to date
Titleist has introduced the TSi line of drivers and fairway woods
Pro V1/Pro V1x, dominant ball on professional tours, will be updated this winter
FootJoy will announce two new shoe lines, the Stratos Spikeless and Premiere Series
Callaway Golf Company in addition to Callaway brand clubs and balls also own Odyssey (putters), Ogio (bags), TravisMathew (apparel) and Jack Wolfskin (apparel):
Third quarter net sales $476 up 12% versus same quarter 2019
Third quarter adjusted EBITDA $87 up 53% versus same quarter 2019
Year to date sales $1,215 down 13% versus 2019
Year to date adjusted EBITDA $175 down 19% versus 2019
Major new club line Big Bertha B-21 woods, hybrids and irons introduced
Chrome Soft golf balls are expected to be updated
Two better-player category iron lines introduced
Note: $ figures are in millions. EBITDA – Earnings Before Interest, Taxes, Depreciation, and Amortization.
Due to all other manufacturers being privately held or part of a multinational corporation financial results are not available, and analysis is restricted to these two, albeit the biggest, manufacturers.
Unlike some smaller manufacturers big firms have the financial strength and management depth to survive the difficult circumstances of the past two quarters. For smaller companies there is also the potential negative effect of next January's PGA Merchandise Show being converted to a virtual event. Companies with narrower product lines gain significant exposure to industry buyers by exhibiting at the Show while larger corporations can compensate at least in part with more robust marketing budgets.
Early in the pandemic golf was recognized as the go-to outdoor activity easily meeting social distancing requirements and the surge in equipment sales over the summer and into the fall was a result of increased rounds played by beginners, returning players and regular players.
Golf Datatech reported that in September rounds were up by approximately 12 million or 26% versus 2019 and initial indications are that play in October was also higher leading to the conclusion club companies will continue to recover for the rest of 2020.