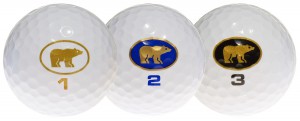 Golf's greatest champion Jack Nicklaus has many diverse business interests and earlier this year added golf balls to his lineup of products. And though not strictly a new idea, Nicklaus is pitching them for golfers to pick the ball that suits the set of tees they play. 
The idea is golfers usually playing for example the most forward set or white tees don't especially hit the ball a long distance and have driver swing speeds of less than 90 mph. According to Nicklaus they would enjoy playing the Nicklaus White ball. It has a soft Surlyn cover and gradient core with a mantle formulated for less spin…in other words just what someone needs who doesn't hit his or her driver over 200-yards.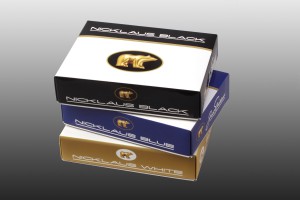 The other balls, Blue for blue tee players and Black for those on the tips, have different construction to reflect the higher swing speeds typical of golfers playing the longer tee sets. The Blue is of 3-piece construction similar to the White but made for swing speeds from 90 to 110 mph while the Black is a urethane cover 3-piece for driver swing speeds over 95 mph.
As part of their ongoing charitable effort the Nicklaus Companies will donate a $1 to St. Jude Children's Research Hospital and the Nicklaus Children's Health Care Foundation for every dozen Nicklaus Golf Balls sold. Plus if shipment is made using FedEx an additional $1 will be donated. 
Nicklaus Golf Balls are available for sale on Nicklaus.com and more information about the partnership with St. Jude is available at http://www.youtube.com/watch?v=lhxyTaxaGGU.