Quagmire Golf has the reputation for making trendy, even cutting edge golf clothing. Therefore it was somewhat surprising to this reporter when it was announced they were signing a contract with 82-year old Arnold Palmer to create and market an apparel line. At the time of the signing Palmer made the point he was looking for someone to put some fresh thinking into the golf attire bearing his name.

 Quagmire has accomplished that goal.
Called "Arnie," the shirts and sweaters and slacks are being worn on the PGA Tour by Ryan Moore and come in several collections built around the styles and colors prevalent in the 1950's, 1960's, and 1970's the most productive years of Palmer's career. Even with modern fabrics and styling the entire collection certainly gives more than a nod to the past.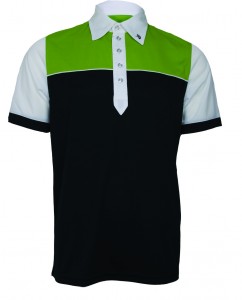 Quagmire is based outside Toronto and run by founders Geoff Tait and Bobby Pasternak. The duo did research into the "looks" Palmer had on the course including visits with The King and 'tours' thorough his closet. And they weren't afraid to propose modifications to the traditional look associated with Palmer. 
"The Arnie line of apparel represents the styles of clothing that are as popular today as they were in the earlier part of my career," said Palmer. "It's been a real thrill to see some of my signature pieces come back to life, and experience the enthusiasm Geoff and Bobby have for introducing them to the next generation." 
And if you don't think of him as a fashion icon GQ magazine ranked one of "The 25 Coolest Athletes of All Time" and previously had named him one of the "50 Most Stylish Men of the Past 50 Years." He was also honored as one of "The 75 Best Dressed Men of All Time" by Esquire.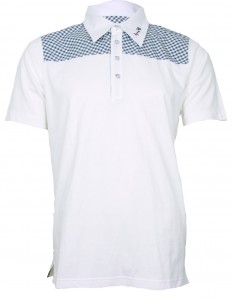 The first obvious modernization is Palmer's iconic umbrella logo no longer is shown with multicolor panels but in black and white with "Arnie" in an artsy type font.  
The 1950's wear features straight fit items with smaller collars with shirts having shorter plackets and sleeves. Moving into the 1960's line collars are somewhat wider and plackets longer with wider legged pants. The 1970's shirts have a modern fit with mid-length plackets and pants are boot-cut. 
There's also a small collection featuring items such as plaid pants and shorts plus solid basics all with a modern fit plus some collectable polo shirts and belts. Performance fabrics are also in the line up each sporting the update Palmer logo umbrella. See the entire line at ArnieWear.com.