13 UNIQUE REASONS WHY MALAYSIA IS EMERGING AS A PRIME GOLF DESTINATION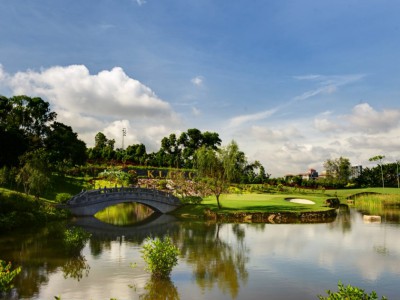 REASON #1: AMAZING DESTINATION DIVERSITY
"Malaysia, Truly Asia" definitely captures and defines the essence of the country's unique diversity. It sums up the distinctiveness of Malaysia that makes it an exceptional destination.
In addition to its 200 golf courses, this South-East Asian paradise boasts white sandy beaches and lush prehistoric rainforests, the oldest and most diverse in the world. The country´s wildlife is second to none as well; home to the rare and majestic Orang Utan.
Historic towns offer culinary delights from street hawker stalls to traditional fine dining and the country´s multi-cultural capital Kuala Lumpur is considered a retail heaven for shopping lovers.
More than any other spot in the country, Kuala Lumpur is the focal point of new Malaysia and one of its key attractions is its extreme contrasts. Towering skyscrapers look down upon colonial buildings and wooden houses built on stilts, and five-star hotels sit several meters away from ancient reefs.
From modern city life and cultural attractions to relaxing beach and island holidays, culinary adventures and thrilling outdoor activities – everything can be perfectly combined with stunning and diverse golf.
Malaysia has it all and is an amazing country to discover! Timing is 100% right as well!
REASON #2: DIVERSE WORLD-CLASS GOLF COURSES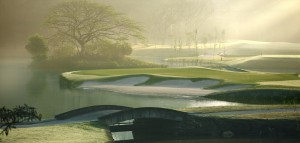 Malaysia is a high quality and vibrant golf destination with a rich golfing history.
More than 200 golf courses offer an incredible variety of golf experiences throughout the Peninsular Malaysia, as well as the islands of Penang, Langkawi and Borneo with a number of new high quality courses opening every year. You can play championship quality golf on sky-high mountains or alternatively head down to the fringes of the South China Sea. You can enjoy a round of golf surrounded by the cool hills and tea plantations at Tropical Highland retreats, in the heart of a bustling city or in millions-of-years-old rainforests. Premium golf resorts have sprouted up along with old, established club courses in Malaysia.
Kuala Lumpur, as a golf heaven in Southeast Asia, is one of the best kept secrets. While it was one of the earliest cities in the region with a golf course built by British colonialists, it did not emerge the way other more illustrious golf destinations did in the last century. Today, Kuala Lumpur has a wide array of golf courses with great layouts and pleasant greens.
You'll find that each golf course you visit in Kuala Lumpur is unique with its own challenging obstacles and terrain. A delightful mix of cross-cultural influences and traditions, Kuala Lumpur radiates an exciting, enticing charm, which will only add to your Malaysia golf experience.
Numerous courses in Malaysia have received recognition, prestigious awards and titles. Designed by legends such as Jack Nicklaus, Arnold Palmer, Greg Norman and Robert Trent Jones all of whom have perfectly incorporated their own styles in the beautiful environment, your Malaysia golf experience can only be truly memorable. In addition, Ernie Els, Vijay Singh, Greg Norman and even Padraig Harrington are currently choosing Malaysia for their new golf course developments.
It is not surprising that Malaysia – due to its world class golf courses – is one of the very few countries in the world that hosts events of all major tours (European Tour, PGA TOUR, LPGA Tour and Asian Tour). And it was only recently in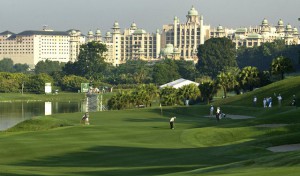 Kuala Lumpur, that the EurAsia Cup, a contest between Asian and European teams in a Ryder Cup-style format, was inaugurated causing a bang across the globe.
REASON #3: EXCELLENT AIR ACCESS
Kuala Lumpur is well connected within Asia; its modern airport KLIA is home of the two major airlines, Malaysian Airlines and low cost carrier AirAsia. In addition, it is a major destination for over 40 international airlines such as KLM, Singapore Airlines, China Eastern, EK, Etihad, CX, Air Berlin…etc. KLIA ranks among the top 25 airports in the world! Malaysia Airlines flies to 100+ destinations including nonstop to major cities in Europe (AMS, LHR, LGK..) and Australia (BNE, SYD, MEL, PER..). There are also numerous Inter-Asian and Far East nonstop connections and the # of weekly seats to Australia (+ 2169 weekly seats) and China is rapidly increasing due to Malaysia´s popularity and its amazing offerings as a (golf) holiday destination
REASON #4: ACCOMMODATION – RANKED AMONG TOP 10 IN THE WORLD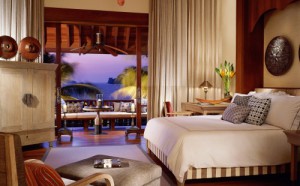 Kuala Lumpur´s luxury hotels are ranked among the top 10 in the world based on value for money!
No matter where you are in Malaysia, you'll find accommodation to meet your budget: from impressive five-star luxury hotels and resort properties to small privately owned lodging. An additional 3000+ rooms in the 4 & 5*category were added in 2012 making Malaysia one of the top destinations in the world. Malaysia is truly set up to cater to the competitive golf tourism market.
There are certainly not many destinations in Asia where you can stay right in a major city and still play several great courses, all within 30 minutes reach. In Kuala Lumpur you can. In fact, you can even stay right in the tranquility of a golf resort with two stunning golf courses on site – such as The Saujana Resort – and still enjoy everything the city has to offer.
REASON #5: VALUE FOR MONEY – HARD TO BEAT
From the wide choice of hotel accommodation and golf, to shopping in the local markets or world-class department stores and shopping malls, to the wide array of eating choices and nightlife, for the quality provided, Malaysia offers tremendous value for money.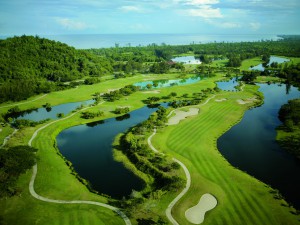 Where else can you stay in a luxury 5 star hotel for about US$ 150 per room including breakfast and buy a can of coke for less than 50 cents, (with the current exchange rate of 3 Malaysian ringgit to 1 US$). Dining at fancy restaurants can equal North American prices though, eating at local places (for more adventurous spirits) is dirt cheap and averages about US$ 5.
As for golf, according to recent studies conducted by Golf Travel Consulting, Inc., green fee rates in Malaysia are on average less than those in competing destinations such as Thailand.
In Malaysia you can play top golf courses for around US$ 100.
Average green fee for visitor (on courses of international standards)
                     Malaysia*        Thailand*      
Weekday         US$ 83             US$ 120
Weekend         US$ 118           US$ 132
                       Vietnam*        China
Weekday         US$ 100           US$ 128
Weekend         US$ 131           US$ 173
*based on average green fee rates of top 10 courses promoted by inbound golf tour operators & an audit conducted by the Global Golf Tourism Organization and MGTA. (2012)
REASON #6: ALL YEAR ROUND GOLF
Malaysia experiences tropical weather so golf can be enjoyed all year round. The east and west coasts of Malaysia experience their wet months at alternate times of the year. But even during wet season on the west of the peninsula (Apr-Oct), you can play golf as the thunderstorms are usually in the afternoons. Those are usually brief, the odd downpour is refreshing, cooling  and a welcome way to reduce the humidity.
REASON #7: EXCELLENT INFRASTRUCTURE, SAFETY REGULATIONS & HEALTH INSTITUTIONS
The tourism industry, especially golf, is top priority and fully supported by both The Ministry of Tourism and Tourism Malaysia. This means that there is excellent information, infrastructure, and regulation, all of which assures the traveling golfer of a high quality holiday.
In addition, MGTA – the non-profit Malaysian Golf Tourism Association, was launched in 2011 to unite golf courses and golf resorts and set standards across the board to enhance the experience for the visiting golfer.
Malaysia is a peaceful, friendly country and traveling is extremely safe. All the road signs are in English and in accordance with international signage. So you can easily rent a car and discover the beauties of the country on your own.
The health system is excellent and you can be guaranteed to get world class treatments in case of an emergency. In fact, medical travel in Malaysia as such is on the rise as various surgical procedures available are far less expensive and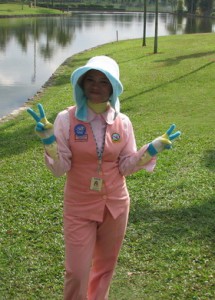 available more quickly than in the West. Technology, hospitals and practices used are at the very cutting edge, the envy even of doctors and surgeons in the USA and UK.
REASON #8: CADDIES ADD TO THE EXPERIENCE ON THE GOLF COURSE
Caddies are an integral part of playing golf in Asia and provide exceptional value-added service. Three high quality Caddie Programs in Kuala Lumpur have been established to ensure well trained caddies. Due to the fact that most of the caddies in Malaysia speak English; you will enjoy their service even more!
REASON #9: NO LANGUAGE BARRIERS
English is the official language in Malaysia and therefore spoken mostly everywhere. There are no language barriers, which is not the case in other Asian countries such as Thailand, Vietnam or China. Alternatively Malay (the national language) is pretty easy to pick up as well. Written Malay uses the same letters as the English language and pronunciation is pretty straightforward (mostly pronounced the same way it's spelled). Colloquial Malay borrows a lot of English and German words so you can mostly figure out what the locals say in the proper context.
REASON #10:  DESTINATION FOR CULINARY ADVENTURES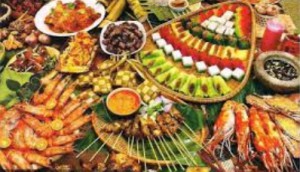 Multi-culturalism has made the country a gastronomical paradise and few cities are better suited for soaking up atmosphere in a rooftop bar than Kuala Lumpur. You find a huge variety of delicious food, all of which combine to reflect the country´s multi-cultural history. From local to cosmopolitan cuisine, from hawker street stalls to traditional banana-leaf cuisine to the ultimate in fine dining; there is a huge variety in choice.
While local dishes- hawker stalls and street food can be found at every corner – is inexpensive and delicious for the more adventurous spirit, a wide selection of international restaurants is available for those who prefer a bit of something closer to home. No doubt that Malaysia´s passion and reputation for quality food is truly without equal.
So take a taste-bud tour around this gastronomic heaven!
REASON #11: WIDE RANGE OF UNIQUE ACTIVITIES IN ADDITION TO GOLF – THE CHOICE IS YOURS
There is so much to do outside golf-you will be spoiled for choice:
When staying in the vibrant city of Kuala Lumpur, tour the iconic Petronas Towers , the world´s tallest twin towers (which even had a Hollywood appearance in the movie "Entrapment" starring Sean Connery and Catherine Zeta-Jones), visit world-renowned UNESCO World Heritage sites as well as the local night markets and street stalls which are selling everything imaginable.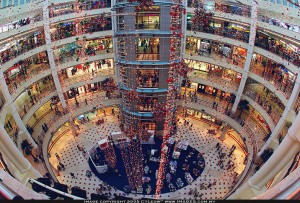 Whether your taste runs to fancy shopping malls, bazaars or markets, it's there. In fact, Malaysia has taken over as the world's newest retail hot spot, with Kuala Lumpur voted as the best city for shopping in South East Asia by global news network CNN.  There are more shopping malls in a square mile than anywhere else in the world. So forget about Singapore; In Kuala Lumpur mega-malls like Suria KLCC offer high-rise levels of shopping heaven. Loosen your purse strings and shop till you drop in this shopping mecca!
If you need to rewind and recharge your batteries after shopping, head over to the nearby Mandarin Oriental for a traditional afternoon tea or indulge in one of the numerous world class and award-winning Spas for a well-deserved massage.
Ready for a change of scene?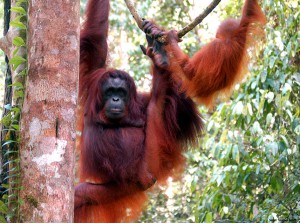 Then head into the beautiful and vast rural regions of Malaysia. Explore the country´s overflow of fantastic plant and animal diversity – many species are exotic or even endemic to the particular region and are protected. Did you know that the world´s largest flower can also be found in Malaysia (Rafflesia)
Visit Sabah, explore what Tourism Malaysia calls "the Amazon of Asia" and look for Borneo's most endangered animals including elephants, rhinos, tigers, orang utans and the redish-brown long-nosed monkeys. You might not see them all, but they're there! Spend time in a traditional Iban longhouse, and pay a visit to the rare and majestic orang utan in their natural habitat near the Shangri-la Rasa Ria Golf Resort. Don´t miss this memorable experience which can be perfectly combined with golf.
Relax at white powder beaches, enjoy a boat trip to idyllic islands or visit Asia´s first Legoland theme park…etc.  The list of activities and options is simply endless!
REASON #12: VIBRANT NIGHTLIFE VERY FEW KNOW ABOUT
Nightlife is not promoted as much in Malaysia as it is in other destinations. But after dark, the capital city Kuala Lumpur turns into a hotbed of nocturnal activities with plenty of entertainment. In fact, Malaysia´s vibrant nightlife makes it one of Asia´s most fun destinations. A regular among tourists and locals is the Sky Bar on the 33rd floor of Traders Hotel KL. The cocktails are some of the finest in the city and the views are simply spectacular – a fantastic experience.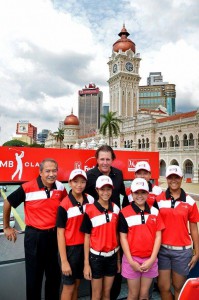 REASON #13: TIGER WOODS, PHIL MICKELSON, LUKE DONALD & CO RAVE ABOUT MALAYSIA
Even Tiger, Lefty and Luke Donald, just to mention a few, have nothing but positives to say about the golf destination Malaysia. There is a reason why. Malaysia offers World Class Golf and everything else that it takes to provide a fantastic stay and a memorable experience.
What legends say:
It´s fun to come to Malaysia. I enjoy sightseeing in the city and it´s especially beautiful at night. I´d definitely recommend people to come visit Malaysia. It´s such a safe city and the entire region is a fantastic place.
Padraig Harrington
Malaysia has been a happy hunting ground for me. I have felt very comfortable here. I enjoy the weather. I have often brought my family with me and we all enjoy it. The courses are fantastic, I am amazed about their quality. KL is a super city, very enjoyable and safe. I would recommend it to everyone.
What golf tourism experts say:
Paul Clare, Elite Golf Experiences, US
Malaysia is one of the most vibrant, dynamic and diverse countries I have visited in Asia. It is home to some of Asia´s best golf courses and offers an amazing variety of experiences in addition to golf. You have a one-shop stop (MGTA´s inbound operators) which makes it easy to work with the destination. Malaysia is a great alternative to more established destinations in Asia and definitely worth promoting.
There is no doubt that Malaysia truly stacks up positively over most other Asian destinations due to its appeal to golfers from all over the world.
Don´t go for the "same old, same old destination". Discover this hidden gem in Asia. You will not be disappointed! Take our word for it!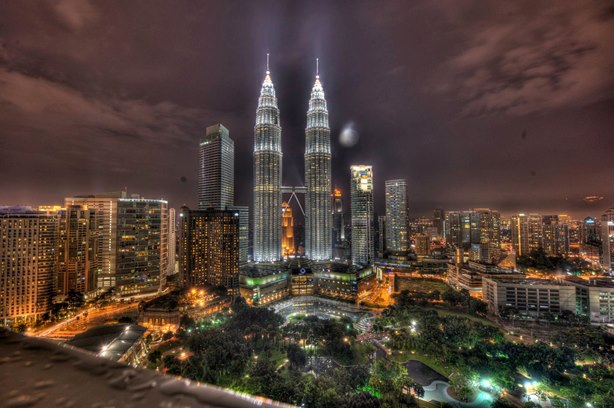 For more info contact your preferred golf tour operator in your country
Or
Malaysia Golf Tourism Association (MGTA)
www.GolfTourismMalaysia.com
Tel: +603 7660 8535
Email: enquiries@mgta.com
Malaysia´s approved Golf Tour Operators:
Liberty Travel & Tours, MST Golf Vacations, Delta Trend Golf & Leisure Holidays, Fuego Travel & Tours
MASholidays, WOW Travel & Leisure, Asian Trails, Asian Overland Services Tours & Travel
Selamat datang ke Malaysia! Welcome to Malaysia!