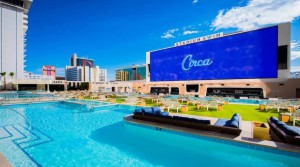 I have been to Las Vegas many times; the lure of periodic returns to this fascinating city is irresistible to me. Rightfully, Vegas has earned a reputation as the ultimate playground with its unique combination of sexy glamor and glitz.
.
But I love this colorful and vibrant city for a variety of different reasons. Its excellent golf and culinary offerings provide some of the most unique experiences in the world. Where else can you enjoy breakfast on the Canal Grande of Venice, have lunch at the Pyramid of Giza and indulge in fine dining on the Eiffel Tower, all served with spectaculars views of the Bellagio Fountains?
.
Las Vegas is also home to over 50 diverse golf courses. They all showcase the magic of a desert transformed into a golfer's oasis but impress with its own character and specialties. The price tags at Shadow Creek and Wynn Golf Club may not be for everybody, but there are very decent options as well. Have you ever played the lit-up par-3 course at Angel Park?
I typically stay at one of the luxury hotels on the strip, I have experienced pretty much all of them over the past 10 years. I believe that no other destination in the USA provides the same bang for your buck, especially on weekdays. These luxury hotels that would sell for $800/night in New York or San Francisco can often be booked in Las Vegas for as little as $100/night. Awesome!
.
The new landmark in downtown Las Vegas!
At my last visit I was introduced to a brand-new luxury hotel – the Circa Resort & Casino. This ultra-modern hotel and casino property opened in October 2020 and is the first US$1 billion-plus casino to open in the city since the financial crisis a decade ago. It is one of the few adults only resorts and located right in the heart of downtown Las Vegas, just a few steps from The Freemont Street. No new hotel had been built here for 40 years.
Downtown Las Vegas, however, has recently been in a revival due to renewed developments. The Fremont Street Experience unveiled a $32 million renovation of the 25-year-old canopy, the central feature and attraction of downtown Las Vegas' open-air promenade for the past quarter-century. The Circa hotel, which is independently owned by magnate Derek Stevens, is a tribute to all the fun of Downtown Las Vegas and has quickly evolved as its landmark.
Smart gamblers and locals do their wagering at the casinos on iconic Fremont Street, colloquially also known as "Glitter Gulch." There, you get bigger benefits for loyalty card holders, including dining and entertainment comps I was told by my friend Billy, a Las Vegas native. I ventured out to Fremont Street one night to experience the funky dive bars.
.
Advanced sports betting technology meets 'good old Vegas hospitality!
I spent most of my time in the Circa Resort though as the resort´s amenities are so impressive. Notably, the chic hotel has a 2-floor casino that boasts a 3-story sports-book as its crown jewel. It´s the world largest one, and demand is high.
.
I tried my luck at one of the 55 gaming tables on the Casino floor. It was the first time that I had seen a dancing dealer. These girls take shifts dealing, and then they dance in front of the people in the casino with the goal to enhance the player ´s experience — whether they're winning or losing. It was a lot of fun, simply priceless!
.
As Vegas is a city of superlatives, it didn ´t surprise me that the Circa also boasts Nevada's longest indoor bar. The Mega Bar spans a mammoth 165 feet (50 meters) and features 120 beer taps, 46 double-stacked TVs and 53 spaces for bar-top gaming. I could watch the talented bartenders display their skills as they juggle bottles and glasses in a high-energy atmosphere for hours. Cheers!
But it was the sports-themed pool area that blew my mind!
There is most likely no better place to watch a sporting event than in the 39 degrees Celsius (103 degrees Fahrenheit) heated Stadium Swim rooftop pool amphitheater with a 143-foot-wide TV screen, 2 swim-up bars, and poolside gaming. No doubt, Derek Stevens has been rethinking the Las Vegas pool party concept which had been dominated by clubs such as Drai's with celebrity DJs, thumping electronic music and steep cover charges. Stadium Swim is more of an aqua sports bar than a nightclub and if you stay at the hotel, there are no admission charges. The experience of watching the US Open on this gigantic screen while soaking in the heated pool is hard to top!
.
Did you know that Las Vegas is also home to some of the world's most prestigious museums? The Mob Museum celebrates the city's Mafia traditions and reveals an insider's look at the events and characters of the continuing battle between the Mob and the law. The museum has accumulated awards and accolades from around the globe for its provocative, contemporary look through high-tech theater presentations, and interactive exhibits. This museum was highly recommended to me but sadly my time in Vegas was limited. This, however, is one more reason to head back to one of my favorite cities in America, isn ´t it?
.
Thank you Cherie for introducing me to the Circa Resort & Casino in Downtown Las Vegas, it was a highly unique experience!
Have you experienced Las Vegas? What is a "Must Do and Must See Attraction" for you in this unique city? What´s your preferred lodging option, what are your favorite golf courses? Let me know!
For more info on this epic new Resort & Casino visit https://www.circalasvegas.com/