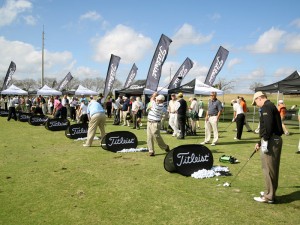 The PGA Fall Expo is next month in Las Vegas.  It's an industry event that really focuses on club pros.  The show has an interesting dynamic because golf manufacturers like Ping, Titleist, TaylorMade, Nike and the rest put their latest drivers, long irons, wedges, putters, golf balls and other gadgets on display for golf instructors.  They also use the show as way to get new products announcements out to the public.  There's another show that is in January and that one was my first.
The thing about the golf industry is that it's clubby in a good way.  I've been called 'Buddy' more times in a week than in my entire Venture Capital career.  It's a change for me from the typical start up I've been involved with and a change I like.  In general the clubby nature of the business means that relationships matter.  Being from Indiana that is more attuned to how I was raised.  While it is still highly competitive the pace is a bit slower than that of the start-up world and people are careful because they know that a contact at one company can suddenly end up at another company and they'll still want to be welcomed.
If you'd like to get a sense of what the start up world is like in pace try reading The New New Thing by Michael Lewis or my most recent favorite The Accidental Billionaire by Ben Mezrich which is about the formation of Facebook.
The other major factor in the golf business is that the business is down in a big way.  There's a big part of the business that is about real estate and course development and a lot of that business has dried up in the US.  But also, the general downturn in the economy has certainly been felt by golf, too.  But if you show up at Interbay on a Tuesday night to hit golf balls and practice your putting skills, say around 9PM just for kicks, you'll find every stall filled with men and women working to master themselves through their games.  So the interest and drive in golf is still healthy at least in Seattle.

But back to the PGA Show.  It's a golfing candy shop.  Oh.  Yeah.  In Orlando each vendor had their own section on the indoor driving range.  And they take you through the full range of clubs and figure out which club and shaft is right for you.  Since it's mostly club pros, the media guys like me have to timidly show off our more limited ability to consistently drive the golf ball long and straight while watching the folks who pounded everyone on their high school golf team firmly into the ground.  But still it's a thrill and I'm looking forward to my second show where it will be easier to separate the business from the displays.
But my biggest takeaway for my game was that I need to have a club fitting and get new clubs.  At one vendor's booth, by the time they were done getting the right driver loft and shaft, my drives where so much more consistent, straight and true.  They same went for the irons where I sampled the 'game improvement' versions.  That euphemism means 'Bob is not a club pro.'  So what.  I mean if you could have told me that there were irons so much easier and truer to hit than my orange dot Ping Eyes I wouldn't have believed you.  But hands down this new golf equipment when properly fitted makes golf a completely different game.  As much as I've loved my Ping irons, their days in my bag are limited.