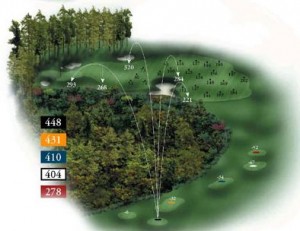 With a the huge gallery watching Freddie Couples on Bear Canyon – the 431 yd, par 4, 14th hole – Freddie went for it.  The 14th is a a horseshoe hole, bending from right to left around a canyon.  But you can cut the fairway and fire straight at the green.  Or hit a provisional if you fall short.
So first up Nick Price takes the easy route and drives it straight down the fairway.  Then Freddie steps up.  It'd be easy to put it where Price did and take the safe route.  But Freddie had the hometown crowd rooting for him.  Just like when your buddies tell you to go for the green in two on a par 5, Freddie did the same.  Playing two strokes behind Price and one ahead of Langer, I'm sure the idea of pressing Langer had some appeal.  I mean Langer did beat him in the US Senior Open in his home town just a couple weeks ago.
With the easiest swing Freddie stroked a beautiful shot about 290 yards just to the edge of the green.  The crowd exploded as the drama of the moment was palpable.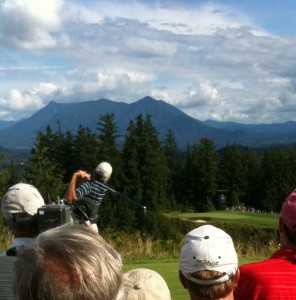 With Price and Langer 80 yards from the green they were both pressed to pitch in well.  Price pitched to within 25 ft. and Langer to within 12.  Freddie missed his 45 ft. putt for eagle failing to capitalize on the risk he took with his drive.

Price nailed his birdie putt and then Langer putting 1000 times faster than his last round at the US Senior Open holed his putt for birdie.  Freddie missed his 6 ft putt birdie coming back.  You could feel the momentum change.