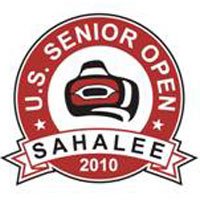 With the U.S. Senior Open coming to my backyard this year–to Sahalee Country Club, outside Seattle, I spent plenty of time there and was interested to see how the national media chronicled it. Here's some of the best reporting on the championship–won eventually by Bernard Langer.
Steve Kelly of the Seattle Times wrote this interesting story in which Freddie Couples talks about playing tour golf as your get older.
Langer was leading after the second round, and this AP Story covers the basics.  The fog was so thick Friday you wouldn't have been able to see where your drive landed.  They had groups tee off from both the 1st and 10th holes at the same time to make up for lost time.  This article has a great picture of the fog.
Phil Stambaugh of the Champions Tour was kind enough to pass on this unsubstantiated story about his chat with one of the marshals here.  As he was walking from the media parking which is on the other 9 on the course he started chatting with the marshal who said that the 9 they were using for parking was just as good as the 18 they're using for playing.
I watched the Roth threesome off the first tee.  Didn't look any different than the rest.  No Couples or Watson in the group.  Look what the club pro did in his first event in 35 years.
Since the money is in the putting every one wants to catch about the greens with obsession.  This article by Tony Dear does a great job of following the greens preparation.
Here's the Sahalee Country Club course map if you didn't get enough of a look watching at home.  Makes it a lot easier to understand what's going on.  And a post about the Director of Golf at Sahalee getting to play in the third round of the US Senior Open to fill out a twosome.
I was chatting with the one of the standard bearers outside the locker room.  His hat was a wall of player's autographs and he was getting signatures from the players he walked with during the round.  He said he was in Fuzzy Zoeller's group on the first day when Zoeller hit an iron to a foot of the hole.  He walked up and told the crown 'This is my first birdie in two week and I hope you enjoy this as much as I do.'  He sank the putt and the crowd erupted with a roar.