In my last post about beginner golf I was being guided through the Interbay Golf Center pro shop by PGA professional Issac Henry-Cano.  I covered the basics of how to learn about golf and the golf equipment you need to learn how to swing a golf club and to play golf.  Once you have a taken some lessons and have a sense of how to swing a club you might then decide to get even more involved and purchase a set of golf clubs.
If your have a sense that you're really, really into the golf, then a higher end set of golf driver, woods, golf hybrids, golf irons, and a putter may be in order.  I'll cover some of the different golf club and golf set options in more detail later on.  But for now, let's say you like golf, want to be able to play it and get better and you're willing to invest some money but not a ton.  It's time for a starter set of golf clubs.  It's great to know a PGA shop pro like Issac because not only does he know his shop and the golf equipment but he is also trained in golf club fitting.  He can also help you navigate around the shop.
When I go into almost any golf pro shop I find it overwhelming at first and I've been playing golf for many years.  All of the equipment and supplies catch your eye and I have little sense of where to start unless I need a dozen golf balls which are usually towards the front.  Which is why you should do the unusual and make an appointment when you're ready to get a set of clubs or learn about your club options.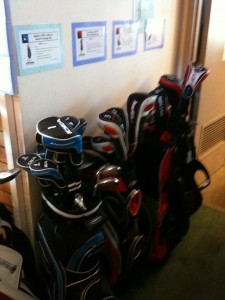 So Issac and I went over the to the beginner club sets.  There's a low price option that's about $200.  Those clubs are good for about 4-6 months.  You'll really just want to be able to play occasionally with friends with clubs like these and you're not sure how you feel about the sport.  But you can play with them and they're fine.  They are pretty generic clubs.  For a $400-500 you'll get a better set of beginner clubs.  These will last for a year to a year and a half, will be made of better materials and most likely will be the lower end line of a branded club maker.  They're pretty good clubs if you want to get more into golf and get you're feet a bit more wet.  This is the type of set I had when I started and they were fine.
So look at the beginner sets.  They're in the back of the shop which is good on a number of fronts.  First, to find them you'll need help and if you're a first time buyer you need it.  Why?  Well it turns out that there is something much more important than how much you spend on a set of clubs.  It is how well the clubs fit you.  You can go out and buy top of the line TaylorMade, Ping, Titleist, or other brand name clubs but if they don't fit you, you're not going to play well.
So you need to know a bit about club fitting.  You don't want the pro shop person to do your fitting unless they are a trained club fitter.  It really matters and it matters that you get club fitted sooner than later.  As Issac said using clubs that aren't properly fitted will lead to learning bad swing habits.  You'll spend a lot of time and effort trying to unlearn those habits.  Getting properly club fitted helps you to enjoy golf much quicker and avoid adopting bad habits.
So there are two types of fittings for clubs.  The first is a static club fitting.  Basically you hold the club and the club fitter adjusts the clubs based upon your stance and how the club sits.  It will work but it's not really the best way to go about it.  For instance at Interbay Golf Center for $45 Issac will give you a dynamic club fitting.  That means he'll be able to figure out the position of the club face as you swing the ball and make sure the club face is even when you hit the ball.  For all of the clubs you're buying.  And if you're a smart negotiator a lot of places will throw in a dynamic fitting with the purchase of a beginner set.  If you need a couple bargaining lines, leave a comment at the end of this post and I'll email them to you.  So go the distance and get yourself properly club fitted.  Then you're ready to play.
Tomorrow I'll make a short post about beginner golf clubs for women.