Golf apparel manufacturer Carnoustie Sportswear has unveiled its Spring '17 men's collection of Performance Knits, Performance Outerwear and Waterproof Styles.
Here's a look at one of the better collections of that season:
Performance Knits
"Our collection of performance knits for Spring '17 continues to expand based upon the tremendous reception this segment of our collection has received since its 2014 introduction," says company CEO Marshall Mancillas. "We introduced a beautiful mélange solid for Fall 16, and for Spring '17 we've developed new colors appropriate for the season — such as amethyst, melon, spearmint and sky. This mélange fabric is nuanced and has a dimension that ordinary piece dyed solids cannot approach. The use of the finest microfiber polyester blended with generous amounts of lycra ensure a luxurious hand and comfort."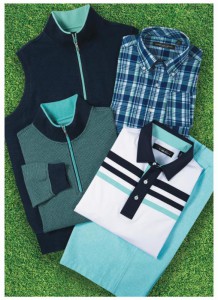 New for Spring '17 is a modern color block style that combines this mélange fabric with an awning stripe fabric, creating a fresh look. Also featured in the new performance collection is a mini floral print that's small enough in proportion to create an all-over look.
A simple jacquard is offered to complement the collection. It introduces a sophisticated look not often found in most performance lines. This style, Mancillas said, affords elegance with all of today's best performance features.  In fact, all of Carnoustie's performance styles, Mancillas said, include moisture management properties, stretchable comfort, odor management and UV protection.
Performance Outerwear
"Along with our performance knits, our performance outerwear has enjoyed a great following since its initial introduction in 2014," Mancillas said. " We use only the finest micro poly and  great workmanship. And our customers notice."
A chest stripe vest and a shoulder stripe 1/4 zip pullover each are new for Spring '17. Each garment, Mancillas said, are a perfect coordinating piece to complement the knits.
Waterproof Styles
"A few seasons back, we introduced our collection of lightweight woven waterproof outerwear that featured taped seams and Carnoustie styling," Mancillas said. "These styles present an alternative to the heavier, often-drab styles in the marketplace that are designed for the gale force winds and rain found at the Open Championship.''
The waterproof styles, Mancillas said, are lightweight and colorful, and they merchandise within the collection to create a handsome ensemble when paired with Carnoustie our knits, bottoms and other poly or cotton outerwear styles.  For Spring '17, Carnoustie also offers for the first time a vest for chilly mornings golfers sometimes encounter.
Carnoustie's Spring '17 collection also  includes exquisite cotton knits, cotton woven sport shirts, worsted trousers, cotton and performance shorts, and new for this year, a washed cotton five-pocket jean.
"Our five-pocket washed cotton jean is one of the most exciting styles this season," says Mancillas. "Its fabric has been washed slightly for a comfortable and casual look. And we've added a touch of lycra to the fabric, for stretchability and comfort. The jean is perfect on or off the course, and is a great addition to our collection."