Rory McIlroy has a problem that most golfers would envy.  Seems his parents' house in Ireland is being bombarded with golf equipment from companies that hope to sign the former world No. 1 player. McIlroy is a free agent of sorts now that Nike Golf is getting out the equipment and ball business.
"I haven't asked for it, but it's there." McIlroy said today at The Barclays at Bethpage State Park (Black) in Farmingdale, N.Y.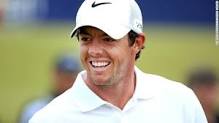 For the record, McIlroy already has switched to from a Nike Method Origin putter to a Titleist Scotty Cameron putter, has by his estimation three years' worth of Nike golf balls and perhaps most important, says he's not in a hurry to sign a new equipment deal.
"No reason to start changing just because I can. I'm comfortable with everything," McIlroy said. "I've got them to save me three years' worth of golf balls, so at least I've got a golf ball that I like and that I know that I can play well with.
"I'm not going to commit to anything. I wouldn't be surprised to see me not go with a manufacturer for a year or two, just sort of play with what I want to play, play with what I'm comfortable with, and go from there."