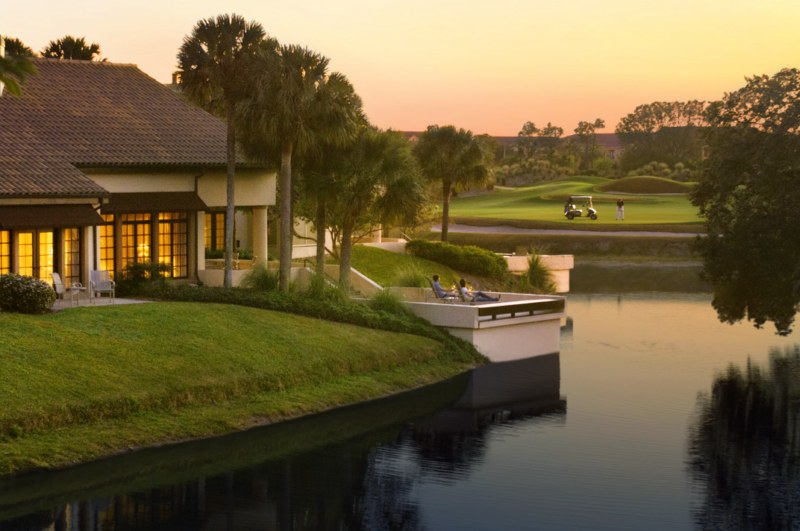 Lawrance, Kan. –  Golf Course Superintendents Association of America Chief Executive Officer Mark J. Woodward, CGCS, announced Feb. 2 that the association's philanthropic organization – The Environmental Institute for Golf – will create and lead a program that will provide the golf industry with a sustainable approach to golf facility management.
The program is being distributed as "Golf's Drive Toward Sustainability."
Woodward noted that sustainability in golf is about ensuring profitable operations while making decisions that are in the long-term interest of the environment and communities. The aim is to continue to make improvement through professionally managing and conserving resources and inputs, and reducing waste, while providing playing conditions that satisfy today's golfers and will appeal to tomorrow's golfers. Woodward indicated the three most pressing issues facing golf facilities today are water conservation, water quality protection and energy conservation. The program's tools and resources will concentrate on these areas.
Backed by the golf industry through the support of the World Golf Foundation, "Golf's Drive Toward Sustainability," builds upon the success the industry has enjoyed and provides resources to improve performance in the future. The objective is to facilitate collaboration among associations and organizations to build a toolbox of resources that will be available to facilities to strive toward sustainability.
"All too often critics and supporters want to paint a black or white picture," Woodward said. "Nothing is an absolute. Backed by research, education and technological advances, golf has demonstrated it can be compatible with the environment. But we also know improvements can be made. The debate should not be about where we are or where we are not, but on whether there is a concerted effort for improvement. Golf's Drive Toward Sustainability represents that effort."
Woodward, who also chairs the WGF's Golf 20/20 Environmental Committee, indicated that GCSAA and The Institute have been focused on sustainable management for several years. That concentration began with the GCSAA Golf Course Environmental Profile, which is a series of surveys that provide data on property features, management practices and inputs. Funded by The Institute through a grant from Toro Company's Giving Program, the Profile provides a baseline of information for the industry. The surveys will be repeated in the future to document changes in performance over time.
In addition, GCSAA has already established new competencies for golf course superintendents that include a strong element of environmental management. These new competencies will be addressed through the association's education program. Going forward, a menu of resources will be developed for the entire golf facility to use to demonstrate continuous improvement. The cornerstone will be a comprehensive list of best management practices (BMPs) that will prompt the creation of new tools and support existing programs. Those BMPs will be developed, reviewed, refined and communicated throughout the year.
WGF chief executive officer Steve Mona applauded the direction of the program and congratulated those associations and organizations who have committed to it.
"This program and its wide support base are vital to the continued health of the golf industry," Mona said. "Golf is not unlike any other industry in that government, the media, special interest groups and the general public are casting a more critical eye. This program will validate where we are making progress and identify what actions are needed."
Woodward, a long-time certified golf course superintendent, noted the strength of the program is its systematic approach.
"We sought and achieved widespread support to keep this from being seen as a program for only the golf course," Woodward added. "Second, the profile project gave us a body of data that was previously non-existent. We then established competencies for superintendents with an environmental focus and have developed education to support them. Next, we will roll out the BMPs later this year that will allow all components of golf facilities to demonstrate and document progress. This all sets the stage for the golf industry to better advocate and position itself as one that is committed to continuous improvement."
For more information on "Golf's Drive Toward Sustainability" visit www.eifg.org/sustainability.
The Environmental Institute for Golf is a collaborative effort of the environmental and golf communities, dedicated to strengthening the compatibility of golf with the natural environment. The Institute concentrates on delivering programs and services involving research, education and outreach that communicate the best management practices of environmental stewardship on the golf course. For more on The Institute, visit www.eifg.org.
The Golf Course Superintendents Association of America is a leading golf organization and has as its focus golf course management. Since 1926, GCSAA has been the top professional association for the men and women who manage golf courses in the United States and worldwide. From its headquarters in Lawrence, Kan., the association provides education, information and representation to more than 20,000 members in more than 72 countries. Visit GCSAA at www.gcsaa.org.
Golf 20/20 is a unique collaboration of all segments of the golf industry, from the associations and manufacturers to golf course owners/operators and the media. It was launched in 2000 and is designed to galvanize the industry around strategic initiatives and grass-roots activation to ensure the future vitality of the game. The fundamental principle behind Golf 20/20 is that golf benefits individuals and society and that accelerating the growth of the game and expanding its accessibility will improve the quality of life for those who are introduced to its positive values. Golf 20/20 is managed by the World Golf Foundation and is overseen by an executive board comprised of leaders from a broad cross-section of the golf industry. For more information about Golf 20/20 visit www.golf2020.com.
The World Golf Foundation is a nonprofit organization that develops and supports initiatives that positively impact lives through the game of golf and its traditional values. The Foundation, which was founded in 1993 and is supported by major international golf organizations and professional Tours, is comprised of the World Golf Hall of Fame, The First Tee, Golf 20/20 and other industry initiatives in support of its mission. For more information on the World Golf Foundation visit www.worldgolffoundation.org.