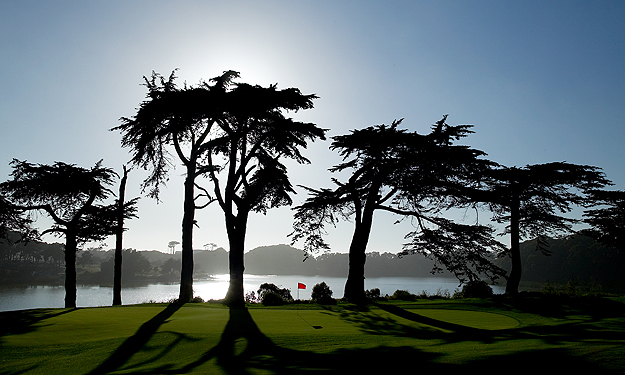 San Francisco, Calif.-  The City of San Francisco and the PGA TOUR announced Nov. 3 that historic Harding Park has become part of the TPC Network and will be operated by PGA TOUR Golf Course Properties for no management fee.
Through terms of the 9½-year agreement, the facility will be known as TPC Harding Park. The championship Harding Park Course will maintain its iconic cypress tree as part of a revised logo, and a new logo has been created for the facility's Fleming 9 course, as well.
While not specifically included in the deal, the PGA TOUR pledged to donate any incentive bonuses received for successfully operating the historic course to The First Tee of San Francisco, a chapter of The First Tee that is based at the Fleming 9 course, as well as to other local charities.
The First Tee is a non-profit initiative of the World Golf Foundation dedicated to impacting the lives of young people by providing learning facilities and educational programs that promote character development and life-enhancing values through the game of golf.
The announcement was made during a press conference held at the facility, which is playing host to the Champions Tour's Charles Schwab Cup Championship this week as well as next year. Participants included PGA Tour Commissioner Tim Finchem, San Francisco District 7 Supervisor Sean Elsbernd, defending Schwab Cup Championship winner John Cook and San Francisco residents Kay Cockerill of Golf Channel and Sandy Tatum.
How did Harding Park recapture former greatness to once again become a Bay Area gem? Enter San Francisco native Frank "Sandy" Tatum, a respected lawyer and former USGA president. Rallying together local business and political leaders, the PGA Tour, USGA, local golfers and the San Francisco Recreation and Park Department, Tatum spearheaded a campaign to restore Harding Park to its former glory
Tatum, who spearheaded the renaissance of Harding Park eight years ago and was instrumental in the creation of The First Tee of San Francisco, for which he serves as Board of Directors chairman, was honored for his leadership with proclamations from the city and the PGA TOUR Policy Board.
"Harding Park has a storied history and is a longstanding source of pride for San Francisco," Elsbernd said. "We wouldn't be here today if it weren't for the incredible dedication and perseverance of Sandy Tatum, who helped bring the facility back to life. And now, today's announcement begins an exciting new chapter for Harding Park and guarantees its long-term quality as a world-class venue and provides the opportunity to host more PGA TOUR events here."
The agreement expands the PGA TOUR's presence in the San Francisco Bay Area, which includes the operation of TPC Stonebrae in Hayward and several tournaments in addition to the Charles Schwab Cup Championship:  the Nationwide Tour's Fresh Express Classic, held April 15-18 at TPC Stonebrae; the Frys.com Open, held Oct. 14-17 at CordeValle Golf Club in San Martin; and last year's Presidents Cup, which took place at TPC Harding Park.
"The PGA TOUR is pleased and proud to further expand our involvement with Harding Park, as well as our presence in the San Francisco area with this new agreement," Finchem said. "Harding Park truly is one of the country's great municipal golf facilities and has been a terrific host site for the 2005 World Golf Championships-American Express Championship, last year's Presidents Cup and now the Charles Schwab Cup Championship. We look forward to a wonderful long-term partnership with the City of San Francisco at TPC Harding Park."
Phil Ginsburg, general manager of the San Francisco Recreation and Park Department, agreed. "The TPC designation elevates Harding Park to one of the premier public courses in the country," he said. "The accolades the course has received in recent years are a direct reflection of the hard work our partners and our staff have put into realizing its potential."
The original Sam Whiting and Willie Watson-designed championship course at Harding Park opened in 1925 and began hosting amateur tournaments soon after — most prominently the San Francisco City Championship and the United States Golf Association's National Public Links Championships in 1937 and 1956. Harding Park's legacy for hosting professional tournaments began with the 1944 Victory Open and won by the likes of Byron Nelson and Jimmy Demaret. Professional golf continued with the Lucky International Open in the 1960s, an event whose champions included World Golf Hall of Fame members Gary Player, Gene Littler, Jackie Burke, Jr., Chi Chi Rodriguez, and San Francisco's own Ken Venturi.
Having fallen into disrepair, Harding Park underwent a monumental restoration in 2002-2003 that was spearheaded by Tatum, a respected lawyer, accomplished golfer (having won the 1942 NCAA Championship while at Stanford) and former United States Golf Association President. Under Tatum's stewardship, in partnership with the City of San Francisco, the course was restored to its original glory through a re-design by former PGA TOUR architect Chris Gray, with consultation from Venturi. The result is a highly acclaimed championship course that maintains the character and integrity of the original layout, but incorporates design elements and infrastructure to accommodate today's players.
"We are excited to provide local residents, tournament fans and the community with an outstanding PGA TOUR experience, while preserving and perpetuating the rich history and traditions of this treasured City of San Francisco landmark," said David Pillsbury, president of PGA TOUR Golf Course Properties and executive vice president for the PGA TOUR's Championship Management division. "It's important to note that this is a true non-profit arrangement that will benefit The First Tee of San Francisco and the city. We look forward to impacting lives and enhancing communities through our support of local grass roots charitable organizations and causes throughout the Bay Area."