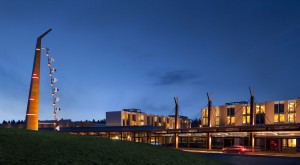 Worley, Idaho – The Coeur d'Alene Casino Resort Hotel – home of Circling Raven Golf Club, ranked among the 100 best public golf courses in the United States by GOLF Magazine and Golf Digest – debuted a substantial resort expansion this month to rave reviews, ushering in many new amenities at the popular resort tribally owned by the Coeur d'Alenes
 "When we announced we were going to undertake a $75-million expansion – many thought we were crazy," said Coeur d'Alene Tribal Chairman Chief Allan. "The Tribe didn't sit back and wait to be victimized by the economy. The Tribe took control of its own destiny. We moved forward with a vision, the results of which can now be found inside this beautiful resort."
The project – which broke ground in May, 2009 – marked the seventh expansion completed at the resort since it opened as a 30,000 square-foot bingo hall in 1993. It created more than 200 jobs and brings the total tribal employment to more than 2,000, making the tribe North Idaho's largest employer.
"The amenities we added have dramatically expanded the resort and the overall experience our guests can expect here," added Dave LaSarte-Meeks, Chief Executive Officer of the Coeur d'Alene Casino Resort, which is located in the Idaho panhandle, within an easy, scenic drive from eastern Washington's Spokane Airport.
The new amenities include:
•    Nearly 100 upscale hotel rooms in two wings, overlooking Circling Raven, the native wetlands and rolling Palouse hills. The open, airy rooms feature the latest technology, built-in cabinetry, dramatic 10-foot doors and floor-to-ceiling windows.
•    A gourmet steakhouse called Ts'elusm (pronounced "T-sell-OOS-m"), which means "stand before the fire." Guests can watch as chefs grill the finest dry-aged prime and Kobe beef over an open-wood fire. With a vast wine list, Ts'elusm offers a leisurely atmosphere with views of the natural grasses in the meadow outside.
•    A 15,000 square-foot, full-service spa called Ssakwa'q'n (pronounced "SOCK-wah-kin"), which describes a small, refreshing lake on a mountain top. Inspired by the tribe's rich connection to nature and tradition, Ssakwa'q'n offers an all-season, open-air pool, Vichy shower, cedar saunas, 10 treatment rooms and a tea lounge.
•    A 10-acre "Front Yard" that will serve as an outdoor amphitheater for concerts and other outdoor events as well as provide a location for a year-round fire circle.
•    A sports bar and café called "Yap kee num" ("a gathering place"), offering a vast selection of beers, wines and spirits and a pub-style menu. Outdoor seating is available alongside the new sweeping "front yard" area.
Stay-and-play packages at Coeur d'Alene Casino Resort Hotel and Circling Raven are now available and start at $199, based on double occupancy. This price includes a standard room and golf for two at Circling Raven, a Gene Bates design.