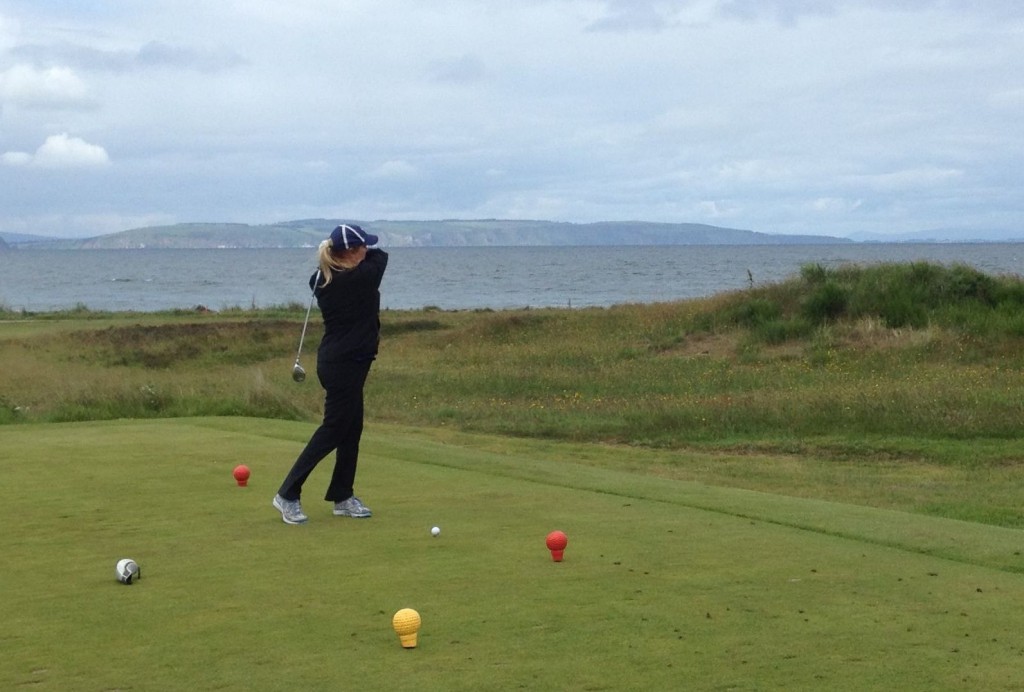 With all but a few holes hugging the Moray Firth and a great designer pedigree, Nairn is everything you want in a Scottish links course.
But Nairn is so much more than a golfing experience. It's a quaint and gentle seaside town that can serve as a good base camp for Highlands golf. (It's also well-located for Speyside whisky distillieries. Our plan didn't allow time for that. Next time.)
Castle Stuart, the modern links where Phil Mickelson won the the 2013 Scottish Open, is just 20 minutes down the road, and Royal Dornoch, the rolling seaside Highlands classic, is 75 minutes away, to name a couple of popular golf destinations. We're sorry we missed the other course in town. Nairn Dunbar, which looks enticing, and distilleries such as Glenfiddich and Glen Livet are high on our list the next time we get to the Highlands.
Our stay in Nairn was a delight. Sheellagh, our hostess at the Greenlawns B&B, could not have been more welcoming, from cozy room to exceptional breakfast. I'm not a big B&B guy back home, but in Scotland I've come to appreciate the way each inn takes on the personality of its proprietor from food to decorating, and they've all been remarkably inviting.
Nairn is a great little walking town. A longtime resort, it has attracted the likes of Charlie Chaplin, who was an avid golfer, as well as upscale British families who appreciated its seaside, its reputation for (relatively) warm weather.
We enjoyed excellent meals at the Classroom and the Bandstand, a pair of local restaurants.
But most of all, we enjoyed the Nairn golf course. As luck would have it, we were playing in the afternoon because it was a busy Saturday. By the time we teed off, the morning drizzle had gone away—and all that was left was a nice wind at our backs.
That meant six of the first seven holes were downwind. And while that was enjoyable, it also added an element of pressure to make good use of that wind before we turned back into it.
Continuing my Scottish pattern, I started slowly, finding the left greenside bunker on No. 1 and the burn on No. 2, although I did manage a good recovery shot there. Between the gorse and bunkers on the left, No. 3 was a complete disaster. But after that, I was ready to play golf.
A birdie on No. 6 from this swing? Almost as unbelievable as. . . 
I found the green on the par-three fourth hole, even though it headed back into the breeze, and chased one up—don't ask how—between the half-dozen bunkers that guard the 175-yard sixth, then sank a rare birdie putt.
All the while, we were pretty much walking along the Moray Firth, gazing at the waves on the beach and the land across the water, in the general direction of Dornoch.
Nairn's opening stretch is a nice flat classic links. Originally designed by Archie Simpson in 1887, it was tweaked by Old Tom Morris shortly after that, and further altered by James Braid a couple decades later, in the early 20th century, completing a hat trick of Scottish golf architect legends.
The nice part is, they really didn't overdo anything. On No. 1, for example, Liz struck the ball well a couple of times and left herself a birdie putt on a 368-yard hole that would be beyond her reach at home.
Yes, there are a lot of bunkers, but they're manageable for players who focus on direction rather than length. And the gorse is there mainly to punish the truly errant shot.
One unique feature of Nairn is the three-hole stretch of No. 13 through No. 15. No. 13, which makes a hard right turn away from the sea, is the No. 1 handicap hole for good reason. It climbs straight up a steep hill to an imposing green with a false front.
Adjacent to it is the visually imposing 14th, a lengthy (195 yards from the yellow tees) par three. It's pretty much no man's land from tee to near the green, which is guarded by four bunkers. What you might not see is that there's a generous apron beyond the front two bunkers, so a short shot isn't necessarily as bad it appears from the tee.
I'll remember that next time.
No. 15, meanwhile, is one of Nairn's many inviting short par-fours. It's a blind shot off the tee, but driveable for many players from a distance standpoint at 281 yards from the yellow tees.
The three finishing holes are very worthy. No. 16 is a longish par four in which the green is guarded by a burn and three large greenside bunkers. No. 17 is shorter, but features similar greenside peril. And No. 18 is a solid par five that has 10 bunkers, all of which seem to be strategically placed.
For all the dangers, we really enjoyed our round at Nairn. The club also has a huge modern clubhouse with an excellent view of the first and 18th holes and the sea. As we enjoyed our pints after a round that felt leisurely but lasted barely more than three hours, we watched golfers heading off No. 1.
It was approaching 6 p.m. They were going to play 18 holes before dark at a brisk but comfortable pace. Yet another reason we appreciate golf in Scotland.
———————————-
For further information, http://www.nairngolfclub.co.uk/
———————————-
Please click on photos to see enlarged view. Click twice for detailed jumbo view.