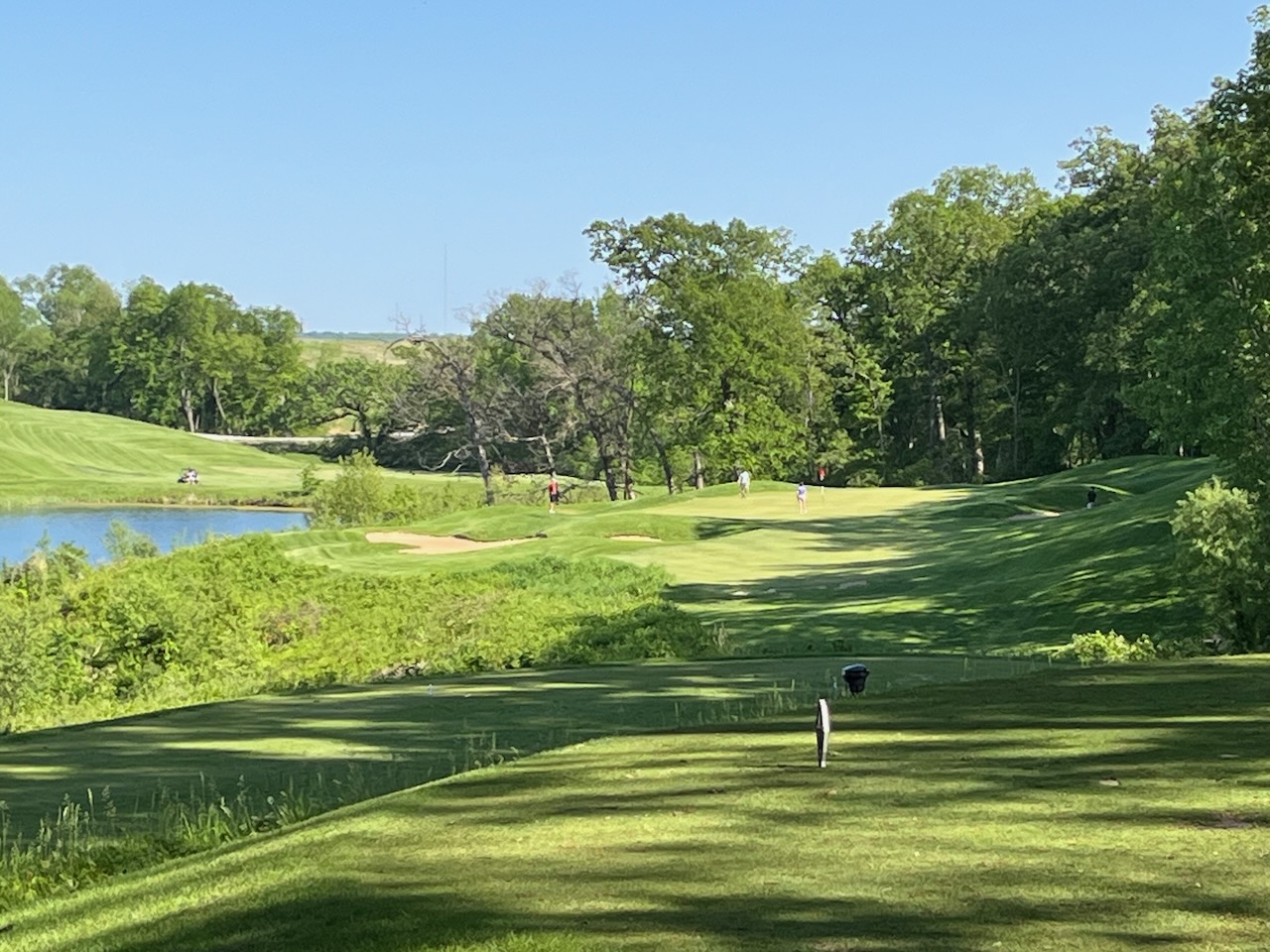 I vaguely remember a long-ago buzz about the Amana Colonies Golf Club, which is nestled in the rolling hills of eastern Iowa, about half-hour northwest of Iowa City.
In the 1990s, golf writers I knew said it was beautiful and fascinating. . . and difficult.
It was kind of on my list. Covering Big Ten football, I often played on Fridays on the way to the campuses that were within driving distance of Chicago. I found courses on the way to Illinois, Indiana, Purdue, Iowa, Wisconsin, Michigan and Michigan State.
That could be a column. There were some good ones. And in the late fall, they were empty. You could play 18 holes in two hours. Hitting two balls.
I never made it to Amana Colonies, though. It wasn't really on the way.
We finally got there the other day, on the way to Chicago from Arizona.
And what a delight. It's a special course.
Every hole is a feast for the eyes. Every hole climbs or descends up  rolling, forest-lined fairways.
Amana Colonies also is easy on the wallet. Greens fees are $65 on the weekend, and $50 on weekdays—for a course that compares very favorably with the most high-end courses in the Midwest. If this course was in the magnificent Golf Belt of Wisconsin with places like Blackwolf Run, Sand Valley and Erin Hills, it could command a far higher price of admission—and still have golfers lining up at the first tee.
Disclaimer No. 1: I am not a fan of difficult, as in forced carries over water and other hazards. A difficult course that allows a short hitter with a low ball-flight, however, is a different matter. The best golf courses allow everybody to play.
I have seen grumbles that Amana Colonies is too hard. That made me leery. Having been there and done that, see  the next disclaimer.
Disclaimer No. 2: You need to be on the right tees at Amana Colonies. You know who you are. I'll just leave it at that.
The first hole gives a good indication of what the course is about. From the elevated tee, you shoot over a valley to the ridge of a fairway. No green is visible. Get up to the ridge and you can see the green below, with yet another small valley in front of it.
Get on the green and be prepared for adventure. Amana Colonies greens are slick and undulating—and not always easy to read.
I learned that quickly. After spraying my first three shots on No. 1, I was still about 10 yards short of the green, facing an uphill chip. i though I had pulled it left, but the ball dove right as it approached the hole and dropped in. I'll pretend I was aiming left. And mark down a par with a smirk.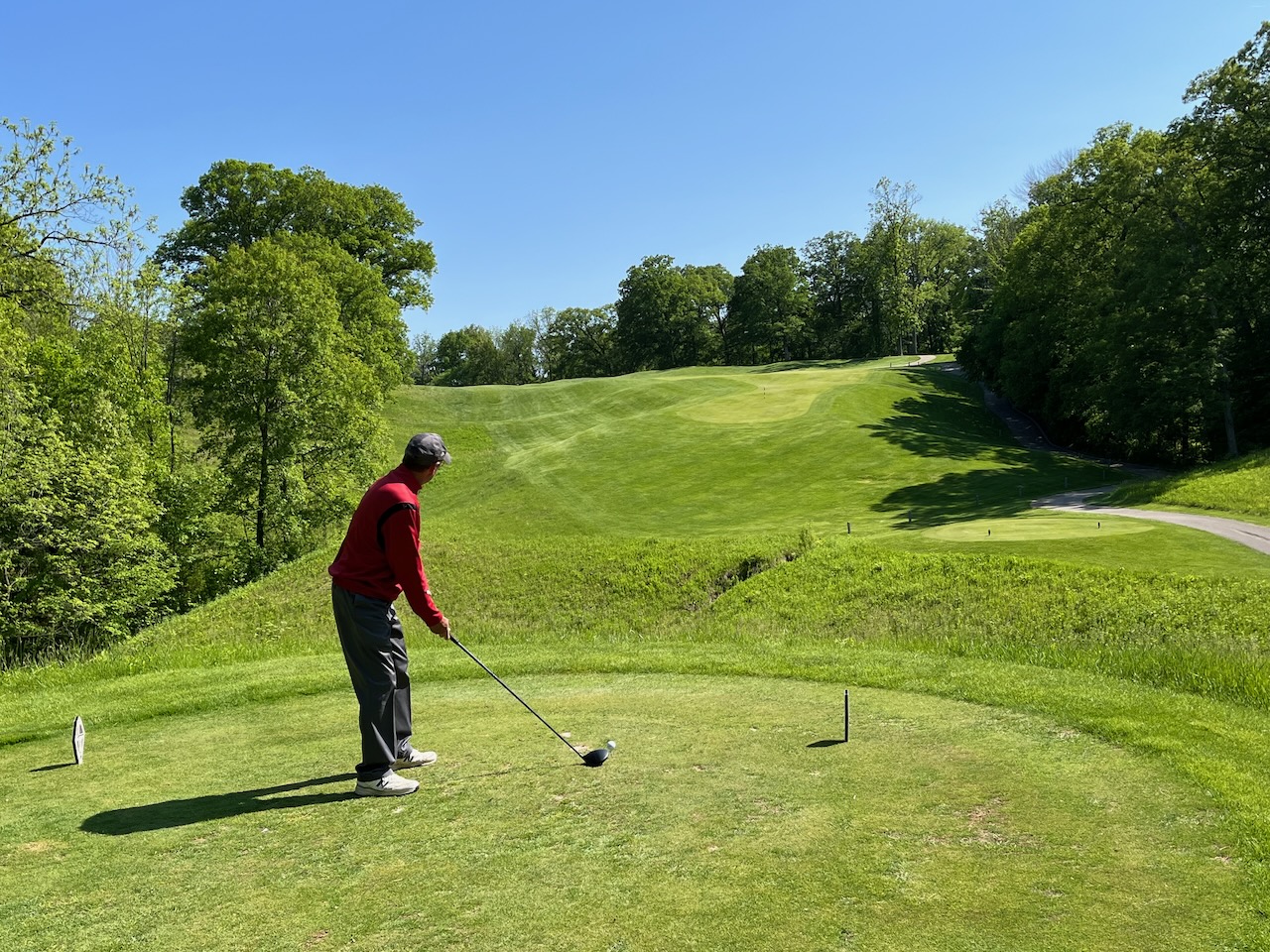 That's another thing. We encountered a course that was remarkably well manicured—especially the greens—which were in what you'd call perfect condition.
Our playing companion—and guide—Scott, who has a home off the seventh fairway, mentioned that while the greens were rolling true and faster, they roll even faster in the summer. As much as I like fast greens, I'm not sure they needed to be any faster.
Scott's best tip of the day, though, was a way to ward off the aggressive gnats that make golf in eastern Iowa difficult in the spring. Daub on a little Absorbing Jr., he said. It worked amazingly well.
Although the par-5 second is the No. 1 handicap hole, the par-four 12th, which is the No. 2 handicap, is probably the most difficult hole on the course. It's a long narrow adventure to an elevated, diagonal green with a false front. And yet, if you keep the ball right—the left side is filled with the peril of sand and woods—and putt well on the sloping green, it is very playable.
Two holes later, No. 14 is a very entertaining short par-4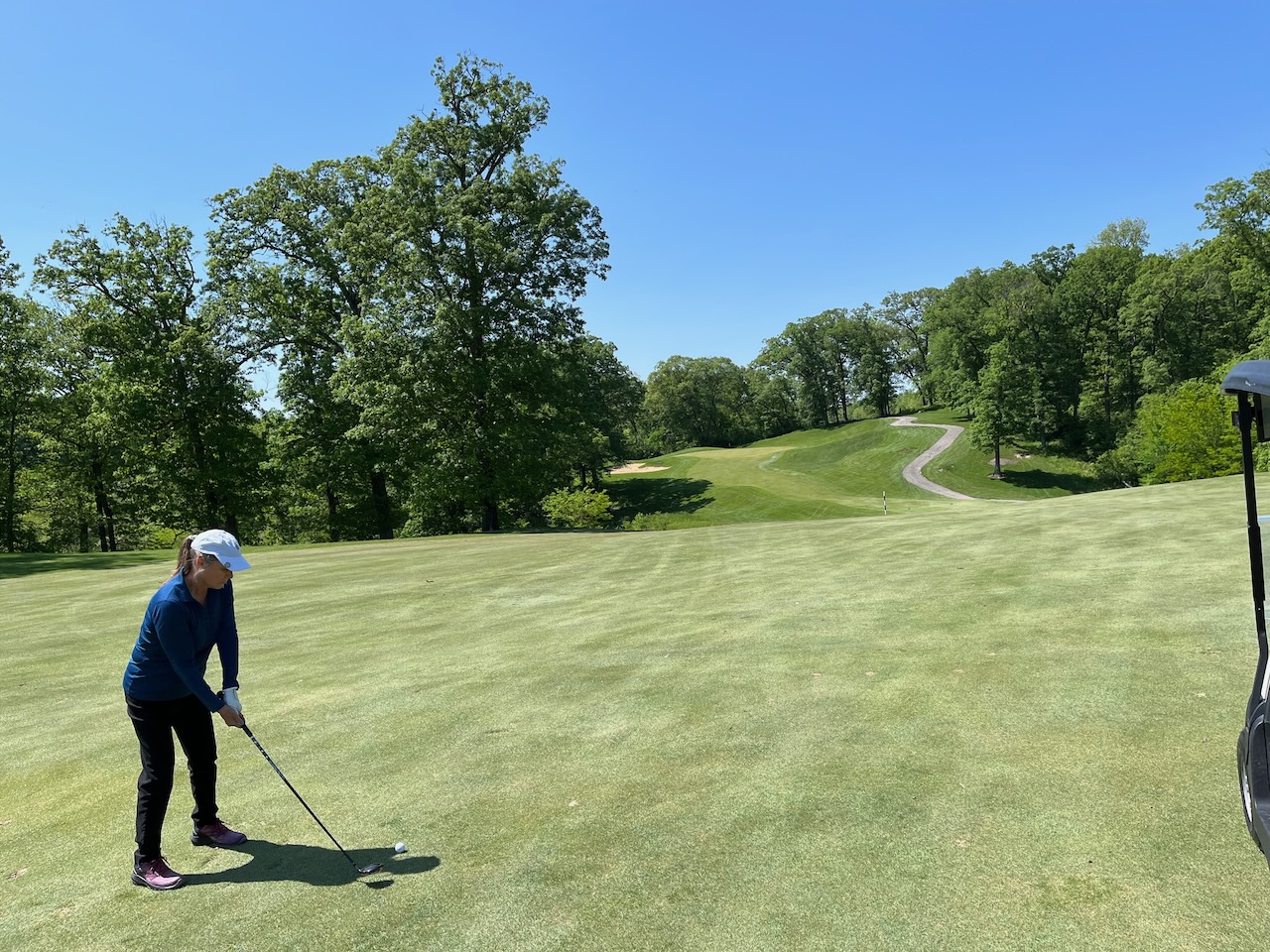 That's the other thing about Amana Colonies. The variety of holes is remarkable.  There are short par 4s, long par 4s, epic par 5s and reachable (for some) par 5s. And a gorgeous set of par 3s, where the rolling, tilted greens are especially interesting and maddening.
Scott, who has the enviable task of playing Amana Colonies all the time—110 rounds last season, good use of the $2,000 annual pass—said he and his friends refer to the last three holes as The Gauntlet.
No. 16 is a short uphill par-4 that doglegs left. Hang it out to the right and you're fine. But don't get fancy around the green.
No. 17 is a gorgeous par-3 where the right is the only way to go. Left is a no-go zone with a bunker and a sloping messy hazard area. Problem is, the green slopes right to left big-time. It's a putting adventure from anywhere except directly below the hole.
No. 18 is a relatively short par-4 that requires a drive into a wide valley, followed by an uphill shot to the green. The big hill in front of the green is so steep that it's all rough. Great stuff.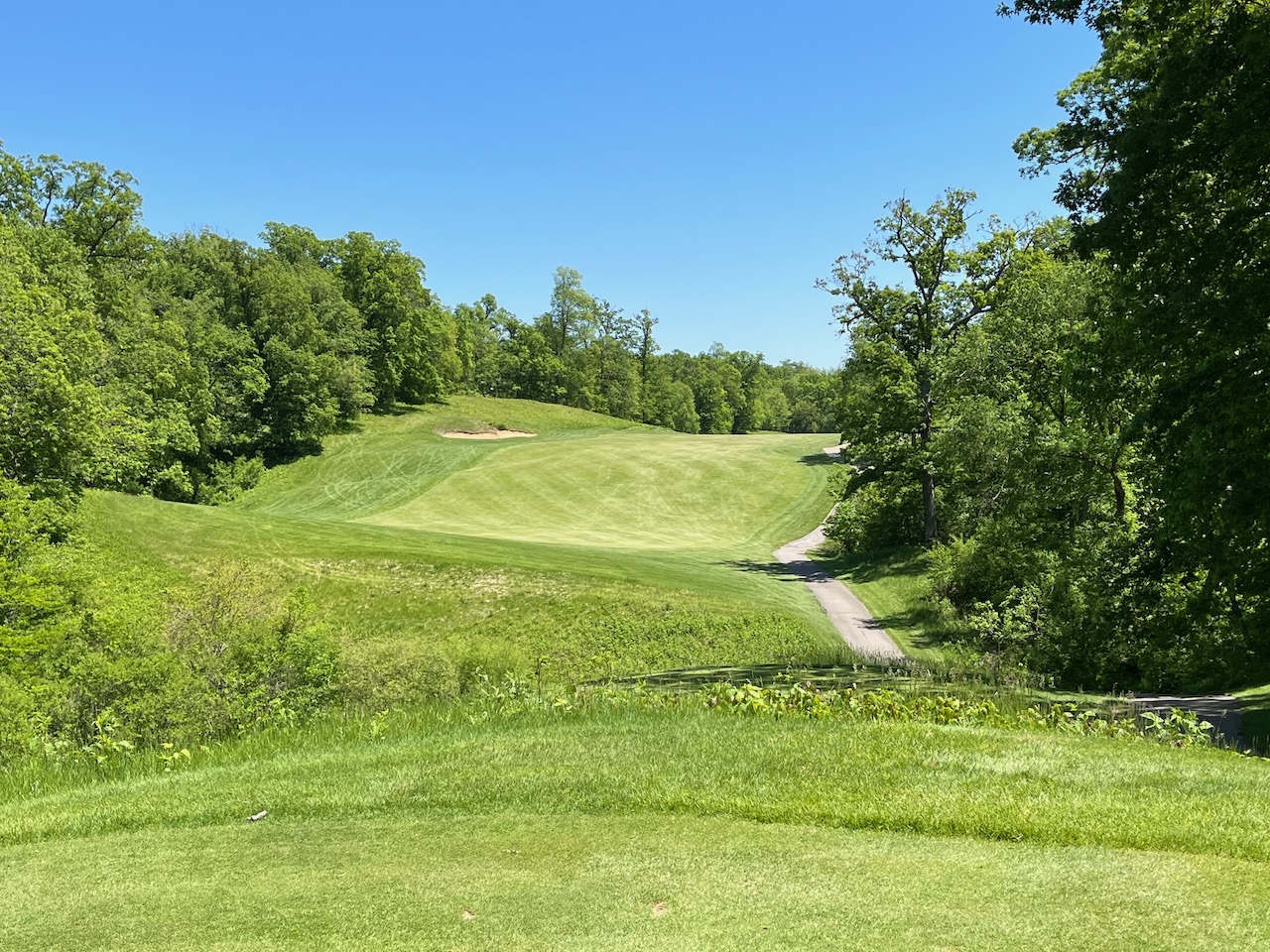 Amana Colonies opened in 1990, during an era when difficult, new courses were in vogue. Thankfully, course design has evolved toward courses that are playable, with an eye toward sustainability—which is golf's euphemism for not gobbling up any more water than necessary.
It frequently makes lists as one of Iowa's top five courses you can play. It also makes lists as one of the most difficult courses you can play.
The Amana Colonies are seven villages originally populated by German immigrants in the 1850s. The Amana appliance company, which was a pioneer in refrigeration and microwaves, started there in in the 1930s, but is now a part of Whirlpool.
The Amana Colonies Golf Club was designed by William J. Spear, an Iowa City native who was one of the many disciples of Chicago legend Robert Bruce Harris. Marengo Ridge, Highland Woods and Randall Oaks are mong Spear's Chicago-area designs.
While playing the course, I couldn't help but think that the architect had a blast routing 18 holes through such marvelous thickly wooded, hilly terrain. Spear, who died at 81 in 2010, had a wonderful site to work with—and he used it well.